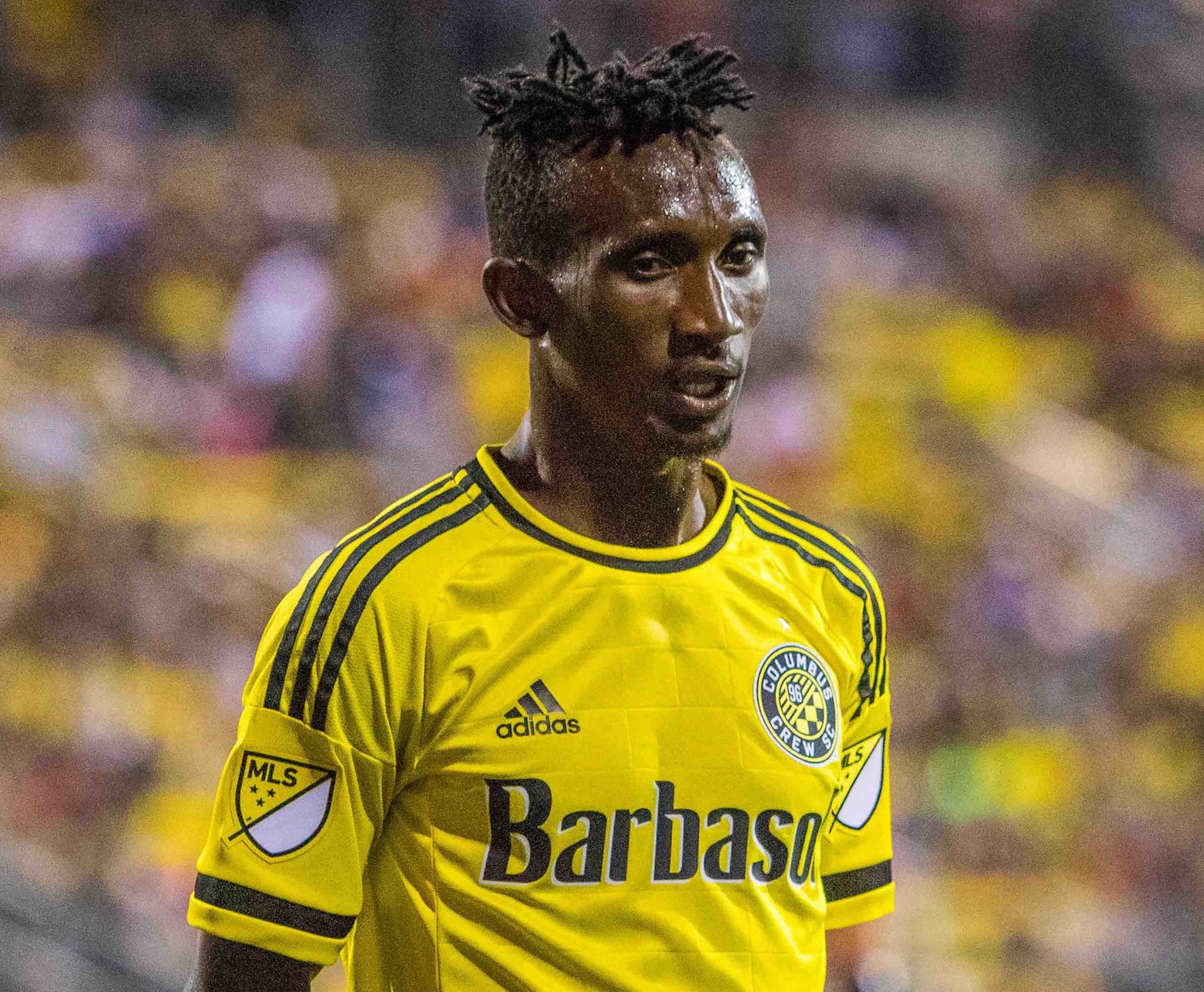 OBETZ, Ohio – As foreign players entering MLS in the middle of the summer, it would be easy to write off Gaston Sauro and Harrison Afful's 2015 campaigns. Adjusting to the speed, timing and rigors of MLS is never easy, and it's not unfair to say players tend to struggle throughout their initial foray into MLS.
Afful and Sauro have had no such issues, with the duo becoming two of the biggest contributors to the Crew's run to the MLS Cup.
Afful and Sauro signed with the Crew on July 30 and August 6, respectively, signaling a significant midseason haul for the club. In Afful, the Crew have found themselves a lockdown fullback with international experience as a member of the Ghanaian national team, while Sauro's play in the center of defense have helped the Crew form a virtually unbreakable backline throughout the postseason.
"They're important parts of our team and they were brought in for a reason," said head coach Gregg Berhalter. "Harrison has a lot of experience and he's played in a lot of big games and, by and large, he doesn't get flustered by playing on the big stage. He played in the World Cup and had an assist against Germany. He's very used to performing.
"Gaston's a guy that we saw a lot of potential in. When we were scouting him, we thought it would be a great opportunity to bring a player like that into the club. Gaston is used to playing in big games. He played in Champions Leauge, he played for Boca (Juniors). He's no stranger to a big stage. We're not surprised that they were able to fit in that quickly."
Goalkeeper Steve Clarke was quick to agree with Berhalter's assessment. Having felt the effects of playing behind the two, Clarke believes the two have made a major difference in their first MLS campaigns.
"Gaston has given us a lot of muscle back there in a little bit of an enforcer role," Clarke said, "and Harrison has been so good on the ball, which has helped us in possession. They've both been big. They gelled very quickly, which was huge, and they're a big part of our team."
Here are some of Thursday morning's MLS Cup news and notes:
YOUNG TIMBERS FAN ATTICUS LANE-DUPRE MAKING THE TRIP TO MLS CUP
Young Atticus Lane-Dupre has inspired many since having his wish granted by the Timbers, and now the 10-year-old will be on hand if the club is to capture its first MLS Cup.
Timbers owner Merrit Paulson announced Thursday that Atticus and his family will be in attendance for Sunday's game. As an eight-year-old, Atticus was diagnosed with Kidney Cancer, but saw his wish granted by the club and the Make-A-Wish foundation when his youth-league team, the Green Machine, took on the Timbers in front of 3,000 fans in 2013.
Since, Atticus has been deemed in the clear with regards to his cancer with a low possibility of the disease recurring.
CREW PLAYERS EMBRACE ROLE AS PART OF 'DYSFUNCTIONAL FAMILY'
In the world of sports, teams are commonly referred to as families. The Crew are no different, although they're quick to admit that they're far from the cliche.
Goalkeeper Steve Clarke was quick to state his belief in who dysfunctionally functional the Crew have come in recent months, as the group has seemed to bond throughout their season together. A generally young group, it has been far from a smooth ride, but Clarke believes that the group's trials and tribulations have brought them even closer together despite all of their reasons to be different.
"We call ourselves a big dysfunctional family. We're just like any Thanksgiving dinner," Clark said with a laugh. "There's a little crazy guy here and there, but at the end of the day we work and we really care about each other. I've been saying that for three weeks. I look around and I'm like 'man, we're dysfunctional', but it works."
Clark was quick to admit that he may be typecast as the crazy uncle, while Michael Parkhurst has become the team's de-facto elder statesman for a group that continues to rally around one another heading into Sunday.
"I think more people look at me as the father figure, probably," said a grinning Parkhurst. "I'm one of the older guys on the team and one of the few guys that has kids. That's a good way to put it. It's a weird group, but we love each other.
"The season's long, so we're around each other a lot. Bonds form, things get heated sometimes, but that's all part of the game and all part of the family. I don't think you can get to MLS Cup if you have too dysfunctional of a locker room. Chemistry is important and that's definitely been a driving force within the team."
TIMBERS' LOG TRAVELING TO COLUMBUS, BUT WILL NOT BE IN STADIUM
One of the Portland Timbers' most recognizable traditions will be a part of MLS Cup final weekend, even if it won't be in stadium.
The Timbers will be bringing the club's ceremonial victory log to Columbus ahead of Sunday's finale, according to Oregon Live, even though the log has been banned from the stadium. The log, which has become a major part of Timbers' culture, will arrive Saturday and is being transported by Daimler Trucks North America.
Following every goal and clean sheet, Timbers mascot Timber Joey cuts a slab of the log for present to each goalscorer, while members of the Timbers Army have held a ceremonial blessing prior to each of the past seven MLS seasons.
BERHALTER BACKS KAMARA FOR MVP
The 2015 MLS Most Valuable Player award was accepted by Sebastian Giovinco on Wednesday in Toronto, but in Berhalter's eyes, the league's true MVP was seen practicing on the fields of Obetz, Ohio.
Berhalter told media Wednesday that, in his opinion, Kei Kamara was more than deserving of the league's Most Valuable Player award. Kamara, who registered 22 goals and eight assists, finished second behind Giovinco in club, media and fan voting.
"I said that all along. His contribution to our team has been tremendous," Berhalter said. "I view it as how successful the team is and what role that player plays on that team and I think we've had a decent team this year and he's been a huge part of that. He's certainly worthy of the MVP award."