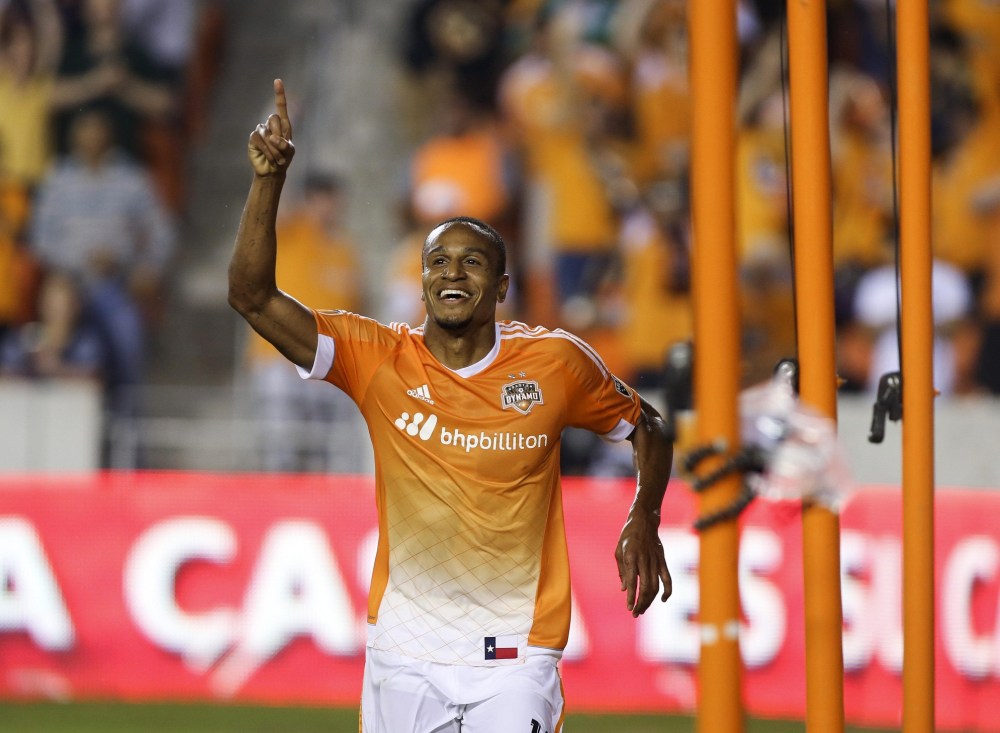 Ricardo Clark was one of many high-profile veterans that headlined the first MLS free agency class, but it appears as though he is already off the market.
Clark confirmed on his social media account that he had indeed signed a new contract with the Dynamo, forgoing his chance to test the free agency market and potentially sign with a new MLS club.
The 32-year-old midfielder has been a part of the Dynamo since the very beginning, as he played with the San Jose Earthquakes before that team was relocated to Houston ahead of the 2006 season. He has scored 25 goals for the Dynamo, netting a personal best, eight, during the 2015 regular season.
MLS granted free agency to any player 28 years old or older who also has at least eight years of service time. The players must be either out of contract or had their previous contract option declined.
Here are some more news and notes from MLS:
UNION TO KEEP CARROLL, CASEY TO TEST FREE AGENCY
The Philadelphia Union have apparently decided to keep one 34-year-old veteran while letting another test the free agent market.
According to Union head coach Jim Curtin, Brian Carroll will be back in 2016, while forward Conor Casey will be let go.
"Brian (Carroll) will be back with the team," Curtin told Comcast Sportsnet Philly. "He contributed a lot to the team in terms of minutes, so I see him as a guy who can contribute. He'll also have a little bit of a role helping Bethlehem Steel, being a leader and mentor for some of the players on that team. He'll be helping those guys and helping me a great deal."
Carroll has been a part of the Union since 2011, playing in 139 MLS games. Prior to moving to Philadelphia, Carroll spent three years with the Columbus Crew and five years with D.C. United.
Casey, a nine-year veteran of the league, has scored 71 MLS goals.
LAFC APPOINTS FORMER MLS, USMNT PLAYER VP OF SOCCER OPERATIONS

A former veteran of the league has joined Los Angeles FC.
The club, set to take the field in 2018, announced that former U.S. Men's National Team member John Thorrington will be the team's executive vice president of soccer operations. Having rose through Manchester United's youth system before signing his first professional contract with Bayer Leverkusen, Thorrington will be responsible for player and personnel decisions.
"Having played both in the U.S. and internationally, John brings an unparalleled depth of insight and experience to  our Club," Tom Penn, LAFC's president and owner said in a press release. "John knows our game, he knows our league, and is the right soccer mind to build our team on a global level. "
"John played at the highest levels of soccer throughout Europe and on the international stage and he understands the impact and power that soccer can have around  the  world,"  LAFC managing partner and owner Henry Nguyen added. "John is committed to  growing enthusiasm for the world's game in our country and community. We are happy to have him on our team and are confident that he has the vision and skills to build another winning team in Los Angeles."
Thorrington's last MLS campaign as a player came in 2013 with D.C. United. In the past two years, Thorrington worked with the MLS Players Union.