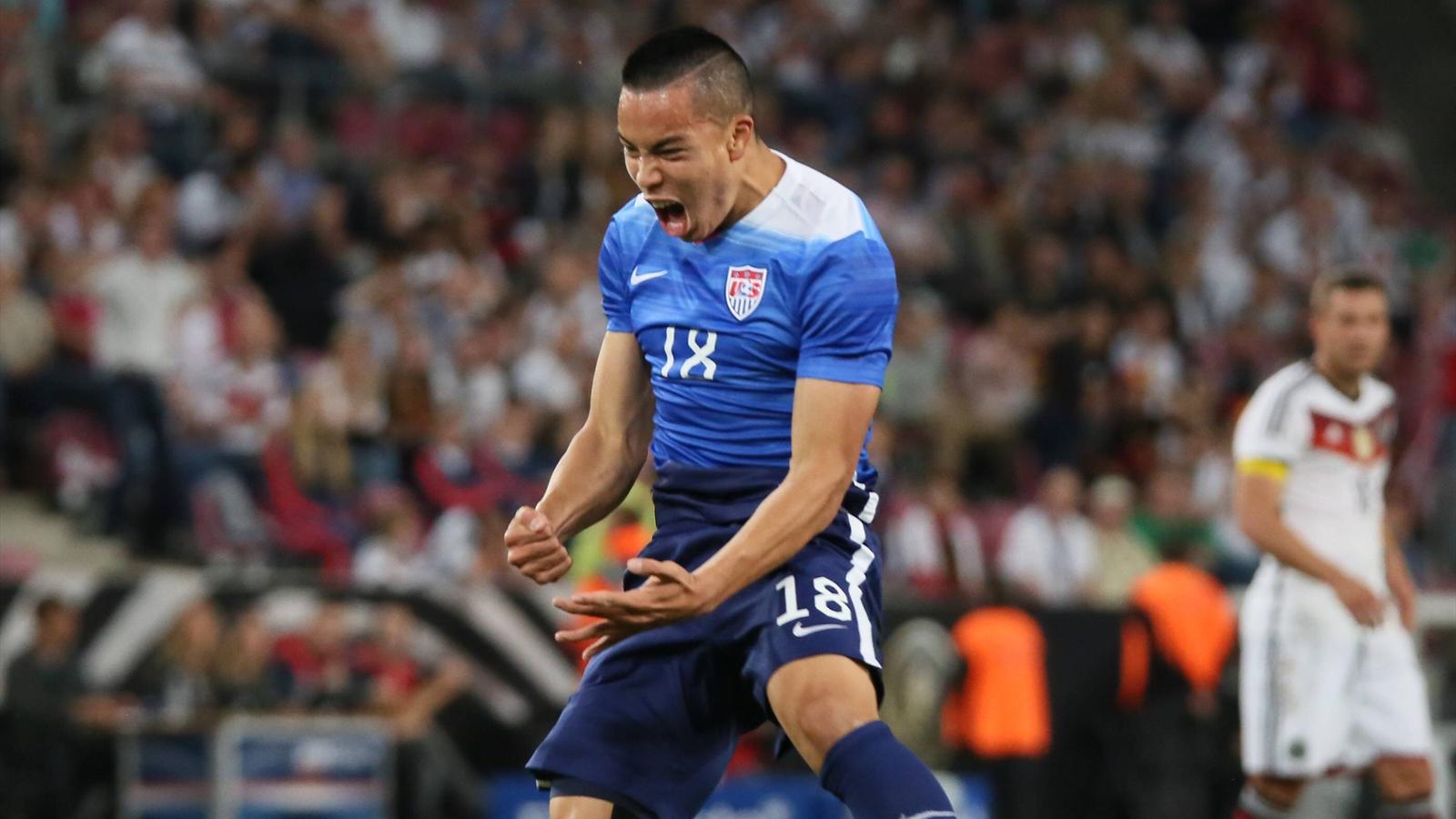 As poor as some of the results and performances were, the U.S. Men's National Team still managed to score some gorgeous goals in 2015. Quite a few of them, actually.
A year that will largely be remembered for failing to place at the CONCACAF Gold Cup and falling to arch-rival in Mexico in the CONCACAF Cup was foiled thanks in part to the number of memorable goals that the U.S. scored. In total, the Americans netted 42 times in 20 games in 2015, with several coming off of splendid finishes or at timely moments. Sometimes both.
There was a rare olimpico, an impressive long-range blast vs. a world power, a magnificent chip, an incredible late winner against the World Cup champions, a picture-perfect free kick, and so much more. The quality of some of those strikes was undoubtedly a major positive for Jurgen Klinsmann, his players and U.S. fans.
Everyone considers different things when ranking goals, but SBI has come up with its annual list of top U.S. strikes. Taken into account are the aesthetics, degree of difficulty, build-up play, quality of opponent, importance of the game, etc. There were plenty of candidates in the bunch, so much so that our usual list of top 5 finishes was expanded to 10.
With that in mind and before we move on to the new year, here are SBI's top U.S. goals of 2015:
10. Timmy Chandler vs. Guatemala, July 3
Known for his attacking qualities more so than his defensive ones, Timmy Chandler opened his goal-scoring account in impressive fashion in the Americans' final friendly before their forgettable CONCACAF Gold Cup campaign. Chandler received a back pass in the second half of the game, and proceeded to dribble before unleashing a laser-accurate, left-footed shot that picked out the far bottom corner. The goal allowed the U.S. to breathe easier with a 2-0 lead before prevailing, 4-0.
[youtube https://www.youtube.com/watch?v=A2gew2y39bE]
9. Brek Shea vs. Chile, Jan. 28
The goal-scoring came quickly for the U.S. in 2015, and it was Brek Shea who buried the first of the year with an absolute blast. Playing on the road against Chile during the January camp, Shea struck six minutes in when he used his athleticism to race onto a Matt Besler pass and fired a perfect shot to the far post. Chile wound up taking a 3-2 victory, but Shea's effort was still nonetheless impressive.
[youtube https://www.youtube.com/watch?v=4UjQMsL5vyU]
8. Aron Johannsson vs. Cuba, July 18
It was Clint Dempsey who stole the headlines with his first hat-trick performance for the U.S., but it was Aron Johannsson who scored the prettiest goal in the quarterfinals bout in the Gold Cup. Johannsson found the back of the net with a delightful chip, demonstrating some skillful finishing by taking advantage of porous goalkeeping with a lofted effort from outside the penalty area. The floater gave the Americans a 3-0 first-half lead, which eventually turned into a 6-0 triumph.
[youtube https://www.youtube.com/watch?v=jeqX1RI3fi0]
7. John Brooks vs. the Netherlands, June 5
Some might observers might overlook this goal because the finish was rather simple, but it was everything that led up to John Brooks' slotted shot that makes it stand out. Brooks not only starts the sequence by committing a (foul?) tackle just before midfield, but he darts forward on the ball before passing it. Astutely, Brooks stays high on the play and is rewarded with a low cross from DeAndre Yedlin that the unmarked centerback just has to push home. Not only was it a solid play all around from Brooks, but it sparked the U.S.'s unlikely 4-3 comeback victory in Amsterdam.
[youtube https://www.youtube.com/watch?v=TYowdAEcNBQ]
6. Bobby Wood vs. Mexico, Oct. 10
Scoring against Mexico in a game of this magnitude is why Bobby Wood's equalizer almost cracked the top five. Wood gave the U.S. a brief glimpse of hope in extra time of the CONCACAF Cup, running onto a slipped ball in behind from DeAndre Yedlin and placing it in between the five-hole of Moises Munoz with a one-timed effort. The goal from the substitute was not enough to force penalty kicks, as Mexico found a late winner to take a 3-2 result, but it was still a huge goal at a key moment of an intense game played in front of 90,000 fans.
[youtube https://www.youtube.com/watch?v=wU-QnG-3qes]
5. Danny Williams vs. Brazil, Sept. 8
Down 4-0 in the 90th minute, the U.S. could have just called it a day. Danny Williams had other plans, however, as he uncorked a rocket from distance that surprised Brazil goalkeeper Marcelo Grohe and nearly everyone else at Gillette Stadium in Foxborough, Massachusetts. It was merely a consolation prize for the U.S. in the 4-1 friendly defeat, but what a consolation prize it was.
[youtube https://www.youtube.com/watch?v=dsuKdWvKqdk]
4. Brek Shea vs. Switzerland, March 31
The U.S. does not have a free-kick expert, but you would have been hard-pressed to guess that based on the way Shea smacked his effort from 24 yards out against Switzerland. Shea opened the scoring in the spring friendly with a precise effort from right-center that required a short run-up. He shot the ball over the leaping wall and got it to dip just under the crossbar, but the 1-0 lead at halftime would be erased and the road game ended at 1-1.
[youtube https://www.youtube.com/watch?v=u0HkJ5AQWc4]
3. Bobby Wood vs. the Netherlands, June 5
Having already dug deep to pull level, the U.S. did the unimaginable by finding a late winner in that 4-3 triumph against the Netherlands. A determined Michael Bradley dribbled his way through the gut of the Dutch midfield and defense before laying a perfect ball to Jordan Morris, who had the composure of a veteran in hitting a low cross to Wood. The finish was simple from there, but the play and what it meant was nice all-around.
[youtube https://www.youtube.com/watch?v=QJdYhsEGEWs]
2. Michael Bradley vs. Panama, Feb. 8
A good case could be made for this being the U.S.'s Goal of the Year given how rare olimpicos are. Michael Bradley began what wound up being a 2015 trend of going directly for goal on corners, rifling the ball from the left over the crowd of Panama and U.S. players and over the outstretched arm of opposing goalkeeper Jaime Penedo. The execution on the set piece was a thing of beauty, and served as the winner in the 2-0 friendly victory.
[youtube https://www.youtube.com/watch?v=r5SzMG9u5YQ]
1. Bobby Wood vs. Germany, June 10
What is not to love about this gem of a goal? Aside from the fact that it gave the U.S. a late 2-1 road win over World Cup champion Germany in a road friendly, the play was great all-around. Brad Evans' accurate diagonal pass started the sequence, Jordan Morris pulled off an incredible dummy, and Bobby Wood's first touch and turn to set himself up was sublime. The finish was not too shabby either, and something worth watching over, and over, and over again.
[youtube https://www.youtube.com/watch?v=2zVT5pnZq5w]
—–
What do you think of SBI's Top 10 USMNT goals of 2015? Agree that Woods' strike was the year's best? Should another goal have cracked the list?
Share your thoughts below.