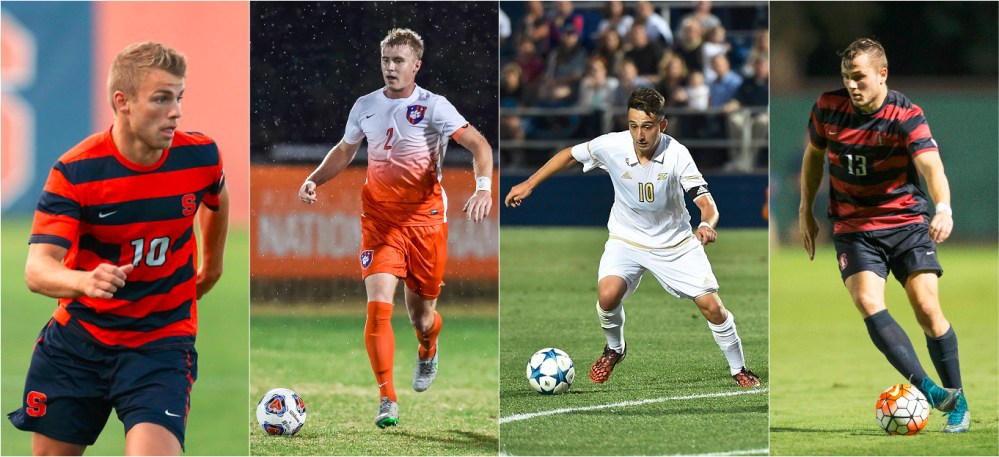 It all comes down to one weekend in Kansas City.
The College Cup kicks off at Sporting Park on Friday, and a team will be crowned champion by Sunday (2 p.m., ESPNU).
In the first semifinal, the highest overall seed remaining in No. 2 Clemson takes on No. 6 Syracuse (6 p.m., ESPNU), guaranteeing an ACC team in the final. Subsequently, there has now been an ACC representative in eight of the previous 11 finals.
Meanwhile, No. 4 Akron, arguably the tournament's most explosive team, takes on No. 8 Stanford in Friday's second matchup (8:30 p.m., ESPNU).
Here is a closer look at the two semifinals:
CLEMSON vs. SYRACUSE
For the first time in 10 years, Clemson is a part of the College Cup.
Meanwhile, this is Syracuse's first-ever Final Four appearance.
The Orange had never reached this stage of the competition until now, and a little more than a month ago, many didn't see them as a possible ACC champion, let alone College Cup participant.
The incredible play of forward Ben Polk and Julian Buescher have helped the Orange advance this far in the tournament. The latter was recently named a MAC Hermann Trophy semifinalist, and he's more than earned that honor. The German-born sophomore has been superb for the Orange, scoring eight goals and providing 11 assists so far.
The Tigers are coming into this match on the heels of a penalty kick shootout victory, meaning they have played more minutes than the Orange. That should not be too much of a concern, though, as Clemson's bevy of scoring options up front gives them a depth advantage few other teams across the nation, and specifically in this tournament, have.
Players to watch: Paul Clowes (Clemson), Kyle Fisher (Clemson), Kyle Murphy (Clemson), T.J. Casner (Clemson), Ben Polk (Syracuse), Julian Buescher (Syracuse)
SBI pick: Clemson. Syracuse may have won the ACC tournament title, but the Tigers have too many talented individuals to not advance. The Orange will surely test the No. 2 seed, especially given the fact that they have produced four shutouts in their last five ACC encounters. However, Clemson's attack, which has 52 goals this season, is arguably the best remaining in the field. Goals are bound to occur, and Clemson is likely to score the majority as they have done multiple times this season.
AKRON vs. STANFORD
There will be no shortage of talent during the second semifinal on Friday.
U.S. Under-23 Men's National Team forward and MAC Hermann semifinalist Jordan Morris has scored 11 goals in just 16 games for Stanford. He'll look to add to that number against an Akron side that has conceded its fair share of goals, 29, so far this campaign. Corey Baird, meanwhile, is extremely gifted and dangerous in the final third, and is likely to be the one starting all the attacks for the Cardinal.
However, the Zips boast talented individuals as well, especially in Adam Najem. He's scored 10 goals and provided 11 assists for the Zips this campaign, including one goal and three assists during the playoffs.
Here is his sublime game-winning free kick against Creighton in the NCAA Tournament quarterfinals:
Players to watch: Jordan Morris (Stanford), Corey Baird (Stanford), Brandon Vincent (Stanford), Adam Najem (Akron), Richie Laryea (Akron)
SBI pick: Stanford. The Cardinal have proven time and time again this tournament that they are one of the nation's best teams when players are healthy and Jordan Morris is in the lineup. Akron has a high-flying attack that is expected to cause many problems for the Cardinal, but Baird, MAC Hermann semifinalists Vincent and Morris, as well as Foster Langsdorf, can match the Zips punch for punch.
—
Who do you think will play in the final? Which team do you see winning the College Cup?
Share your thoughts below.