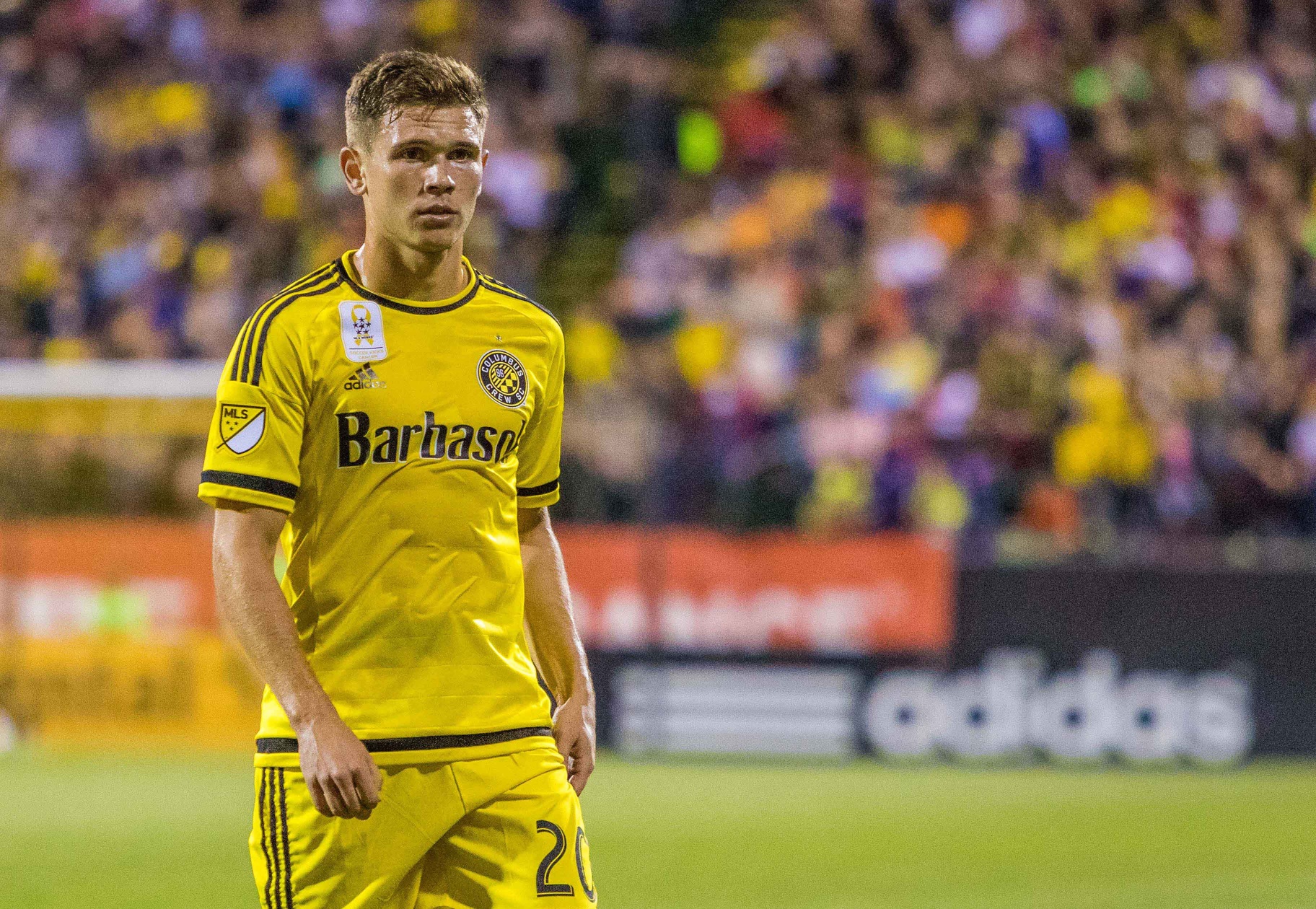 COLUMBUS, Ohio – In his three seasons as a professional, Wil Trapp has rapidly emerged as one of Major League Soccer's most effective deep-lying midfielders while earning the praises of everyone from Jurgen Klinsmann to Thierry Henry.
Now, heading into the biggest game of his professional career, Trapp is tasked with going up against the the man that he credits with helping him find his true calling on the soccer field.
When Trapp and the Columbus Crew take the field on Sunday afternoon at Mapfre Stadium, one glimpse towards the Portland Timbers' bench will yield the sight of Caleb Porter, the coach Trapp acknowledges has helped him become the player he is today.
Previously serving as head coach of Akron University, Porter managed a Trapp very different than the one who patrols the Crew midfield today. An attack-minded player in the No. 10 position prior to his time with the Zips, Trapp was moved into a deeper position by Porter. That change has helped shape Trapp into arguably MLS's premier young midfield prospect.
"I owe him a great deal," said Trapp of Porter, who took charges of the Timbers in 2013. "The evolution of my couple of years at Akron were huge in my development and making it to where I am now. I owe him a lot. The mentality, the soccer awareness was something that he really instilled in me."
Not that making that positional switch was easy.
"It's always difficult when you're growing up playing a certain way you're whole career and he's telling you to do something that's maybe a little different," said Trapp. " You have to be adaptable. That's something that I really worked on and it has paid dividends."
Trapp admitted with a smile that the two have kept in touch throughout the season, even if they don't talk as much as they did when Trapp was still finding his feet in MLS. Still, Porter has made sure to watch his former player from afar, and he has seen Trapp do nothing but thrive in the seasons since he has left Akron.
To put it simply, Trapp has become exactly the player that Porter envisioned he would be when he first implored the midfielder to develop his skills in a new area of the field. Still, Porter thinks that there is still plenty of growth on the horizon for the 22-year-old Trapp, even if the head coach hopes that growth doesn't manifest itself on Sunday against the Timbers.
"He's been a big part of their team. He's a key guy and everything goes through him," Porter said. "He's a deep-lying playmaker and he's their rhythm player. The way they open themselves up and drop him in to start attacks has been instrumental to their possession game, their attacking game.
"It was pretty much the same role we had for him at Akron. We did the exact same thing. We split the centerbacks and dropped him in between. He was a converted (No.) 10 into a 6, and I've been very impressed with his ball-winning because that was always the area in which he needed to improve on the defensive side. He's become a real complete player and he's got a bright future."
A member of the U.S. Under-23 Men's National Team, Trapp does appear to have a long, bright future ahead of him. Nonetheless, Trapp isn't focused on that nor is he thinking too much about the coaching mind that molded his game along the way.
Rather, Trapp's only desire is to deliver an MLS Cup to his hometown club, even if he has to best an old friend and mentor to do it.
"It's hard not to think about that," Trapp said of crossing paths with Porter. "Really, it's ultimately about our team performing and executing in this game. Those are little storylines that, sure, are exciting and will bring attention, but at the end of the day, I'm out there trying to win the game and focus on what I can control.
"I'm very grateful for (everything Porter has done), but it doesn't change the fact that Sunday, I'm going to go out there to try and beat his team."