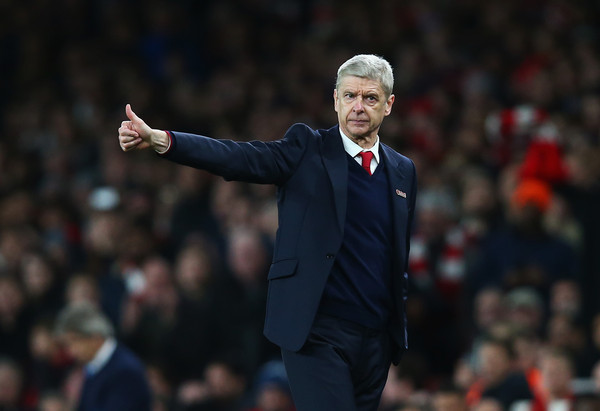 Arsenal enters 2016 atop the Premier League table, and the club looks set to try and push to remain there throughout the rest of the campaign.
According to reports from ESPN, Arsenal is nearing a deal for Basel midfielder Mohamed Elneny, who would serve as a potential replacement for the injured Francis Coquelin, Santi Cazorla and Jack Wilshere.
While manager Arsene Wenger would not confirm the deal, the Frenchman did insist that Arsenal would have a "busy" month of transfer dealings.
"We cannot announce anything at the moment. Nothing has been concluded," Wenger said."I will be busy that is for sure. I have already said we are short."
One player that could depart the Emirates is fullback Mathieu Debuchy, who has lost his place in the starting lineup to Hector Bellerin. Wenger acknowledged that he would like to hold on to the defender, but revealed that it was "not impossible" that Debuchy departs the club.
Here are some more news and notes to kick off your Wednesday morning:
ESPN INVITES FIFA PRESIDENCY CANDIDATES TO DEBATE
FIFA's presidential election is set for Feb. 26, and ESPN is hoping to give the candidates a platform to state their case to the general public.
ESPN has invited candidates Prince Ali Bin Al Hussein, Sheikh Salman bin Ebrahim Al Khalifa, Tokyo Sexwale, Gianni Infantino and Jerome Champagne to take part in a televised debate ahead of February's election.
"Our goal is to provide a forum for open, transparent discussion about the future governance of the sport in advance of the election that will determine who occupies the most powerful position in global football," ESPN said in a statement.
Champagne has already revealed that he would be interested in participating.
"I can tell you that ESPN proposed to the candidates a televised debate in London on Jan. 29," Champagne said, "and I have already expressed my agreement."
VILLA TARGETS REMY
Aston Villa will need a miracle to survive the 2015-16 Premier League season, and manager Remi Garde hopes that miracle can be aided by the addition of Loic Remy.
Garde revealed on Wednesday that he is interested in signing his fellow Frenchman, who he previously worked with at Lyon. As things stand, Villa sit bottom of the Premier League table and 11 points from safety.
"Loic is a guy I know well, of course it would be an interesting player for the team," Garde said. "He is part of some players I'll try to attract to Aston Villa, for sure. Loic is a special one because he knows the country and the league. I have got some targets who could be at this level without knowing the country and the league.
"I have to work with the players I have currently but if you don't achieve that too much and you can bring in players with more confidence and with a lot of experience it could be helpful for the team."
QUICK KICKS
Barcelona is reportedly in pursuit of Ajax midfielder Riechedly Bazoer. (REPORT)
Michel Platini could face further punishment after appearing at an award show despite being banned from "all football related activities". (REPORT)
James McCarthy has been ruled out of Everton's clash with Tottenham, while Tom Cleverly's status remains up in the air. (REPORT)
Manchester City defender Vincent Kompany will be out for a month due to another calf injury. (REPORT)
Inter Milan defender Nemanja Vidic has returned to training for the first time since August. (REPORT)