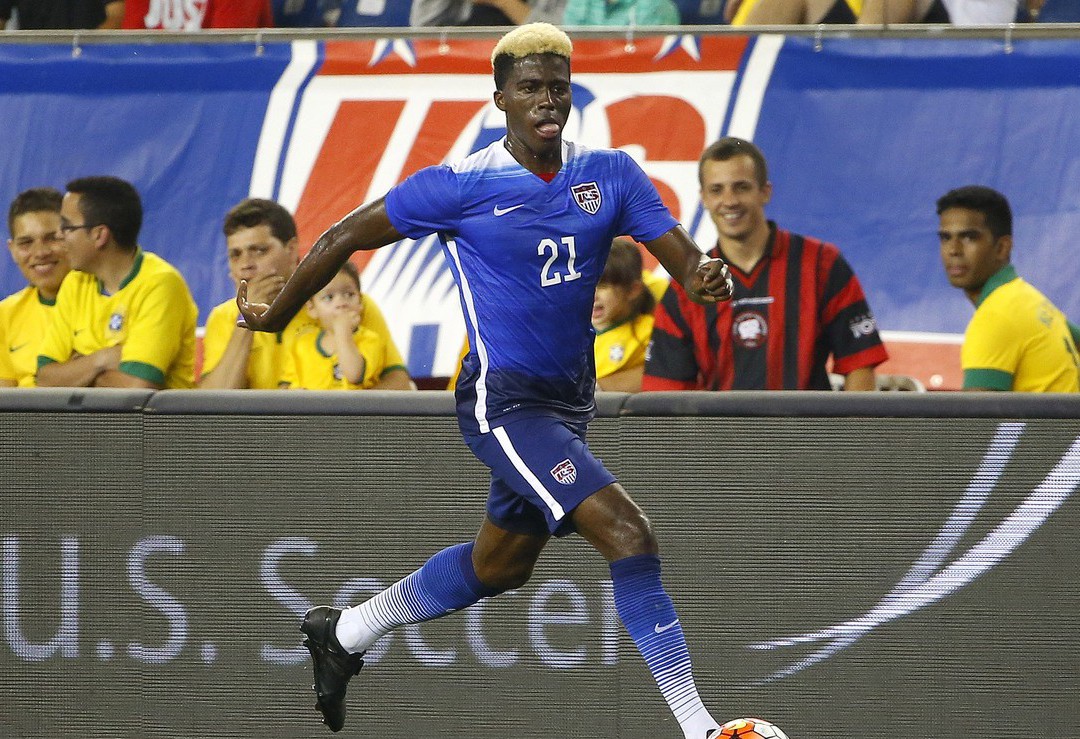 Almost exactly one year ago, Gyasi Zardes was the newcomer to the annual U.S. Men's National Team January camp. Previously uncapped on any level, Zardes was riding impressive club form and an MLS Cup crown into a brand new experience with the senior team ahead of a busy 2015 season.
Now, one year and 19 international appearances later, the Los Angeles Galaxy forward is ready to embrace his status as a regular while pushing towards an even more memorable 2016.
With no prior experience on the international scene, Zardes proved to be one of the USMNT's more reliable pieces in 2015. The 24-year-old earned his first 19 career caps in 2015, equaling Claudio Reyna's mark for most appearances in one year. Spread across his 19 performances was three goals and four assists, including a tally against the highly-favored Netherlands that helped create one of few highlights of the USMNT campaign.
"I look back on my year with the national team and it has been a phenomenal year," Zardes said. "It's been great just learning from the coaching staff but also the players. This was my first time ever getting called up to represent my country and it means the world to me.
"It's something very serious and motivating as a player because you're always looking to get better each and every day. I think just being a part of the various camps throughout the year has really helped me progress as a player."
With Zardes' string of international appearances comes much-needed experience, especially given the variety of players in the current camp.
Featuring 10 U.S. Under-23 Men's National Team members, the current U.S. camp has been organized with one eye focused on the Olympics. With so many newcomers and unfamiliar faces brought into the senior team camp, its up to the current group of veterans to set the tone throughout the gathering.
One year ago, Zardes was one of those unfamiliar faces, but is now viewed as a veteran to the international game. In response, Zardes is expected to serve as a role model to the newcomers while also making significant leaps in his own game.
"Now that I'm coming into my second camp, I feel like I'm much more prepared because I know how the system works," Zardes said. "I've been in camp a couple of times throughout the year, but it helps me as a player to be more confident coming into these camps. And I know that I need to work hard day in and day out because there's a lot of great American soccer players coming up and everyone is always trying to get a spot on the roster.
"I'm just me. If the coaching staff thinks of me as a veteran, then I'm a veteran," Zardes added, "and if they don't, then that's okay. I actually look up to Michael Bradley, Jozy Altidore, Jermaine Jones, Matt Besler. Those guys are clinical and consistent, and that's what I look forward to. I look forward to being like those guys and repeating a good work ethic on and off the field. I see myself working day in and day out. I doesn't matter how many caps I have, I am going to give it my all."
If 2016 provides as many opportunities as the year prior, Zardes looks set for anything but a dull year. World Cup qualifying continues in February as the U.S. looks to seal up a spot in the hexagonal round. Meanwhile, the Copa America Centenario will dominate the summer, as the USMNT takes on some of the world's top teams in an elite international tournament.
With that in mind, Zardes understands that there will be plenty to play for in 2016 in the aftermath of a record-breaking debut year with the U.S.
"I go day by day. Tomorrow is not guaranteed," Zardes said, "but the way I see it is that if an opportunity presents itself then I am going to seize it. By me getting called into this camp, I am taking every opportunity to give it my all. If I get called into various camps to come as far as the World Cup qualifiers or the huge tournament in the summer, Centenario, I'm really looking forward to that.
"If I get called in then I'm going to seize the moment and opportunity and give it my all because that's all I can do."