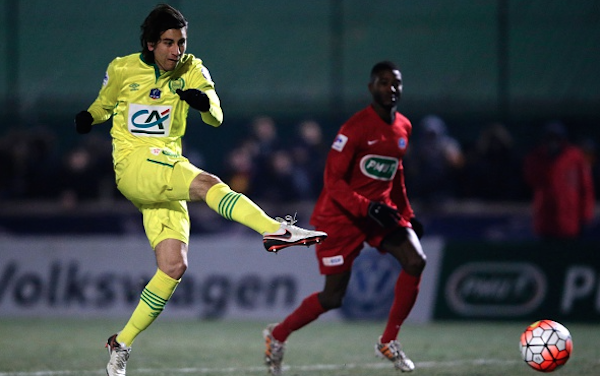 Time was almost up, and FC Nantes needed a goal in order to avoid the coin flip that is a penalty shootout.
In came Alejandro Bedoya to save the day. With his first touch, no less.
Bedoya pushed Nantes on the Coupe de France on Wednesday by coming off the bench and scoring the extra-time winner in a 1-0 triumph over fourth-division side FC Mantes. Bedoya was inserted into the road game in the 104th minute, and found the back of the net two minutes into stoppage time of the first half of the added period.
The U.S. Men's National Team midfielder struck gold when he raced onto a long ball flicked into his path, and fired a shot into the bottom corner with his right foot. Bedoya then helped Nantes close out the match to advance to the Round of 16 of the tournament.
You can see Bedoya's winner here:
[protected-iframe id="7277cf702f8b70ca402ad4dd79e0d7e5-93315145-88029996″ info="https://streamable.com/e/ruu7″ width="600″ height="350″ frameborder="0″ scrolling="no"]
What do you think about Bedoya's goal? Impressed with his composure given that it was his first touch? Wondering what came over the Mantes goalkeeper on the play?
Share your thoughts below.