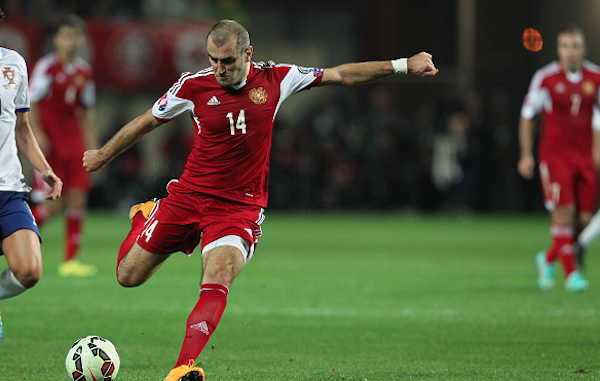 LAUDERHILL, Fla. — Jeff Cassar would not say directly that Yura Movsisyan is returning to Real Salt Lake, but he sure came close.
Movsisyan has been heavily linked with a move back to RSL in recent days, and his agent, Patrick McCabe, even told the Salt Lake Tribune over the weekend that there were discussions taking place between the club and him over a deal for the 28-year-old forward.
Cassar, Real Salt Lake's head coach, confirmed to SBI on Tuesday that talks were being had, but stopped short of saying that a contract had been agreed upon.
"I would say where there's smoke there's fire," Cassar told SBI. "We're in discussions, and we're hopeful that something is going to be announced, but you never know quite until that happens."
Should RSL be able to finalize a deal for Movsisyan, the Armenian international will return to the club that he won an MLS Cup title with seven years ago. Movsisyan spent a little more than two seasons with Real Salt Lake before leaving for Europe in January 2010, and netted eight goals in each of the 2008 and 2009 campaigns.
Movsisyan, who broke into Armenia's national time while playing overseas, has been productive in front of goal for the several European clubs he has suited up for. He has netted a combined 60 times in league play, and also found the back of the net with some regularity on the international level.
"I think he's powerful, he's dynamic, he can run the channels, and score," said Cassar. "If you look at what he's done since he's left our team, it's score and be dangerous in different ways. I'm really excited to bring that to the rest of our arsenal of attacking players."
RSL, which finished in ninth place in the Western Conference in 2015, could use a boost up top. The club ended up scoring a measly 38 goals last year, which was second fewest in all of MLS, and will need more reliable goal-scoring this season if it is to jump back up towards the top of the Western Conference table.
Movsisyan may just be able to provide that.
"He definitely has the attributes to play anywhere of the top three (positions), but primarily I think he'll be the No. 9," said Cassar. "He's got so many more qualities than the prototypical No. 9."