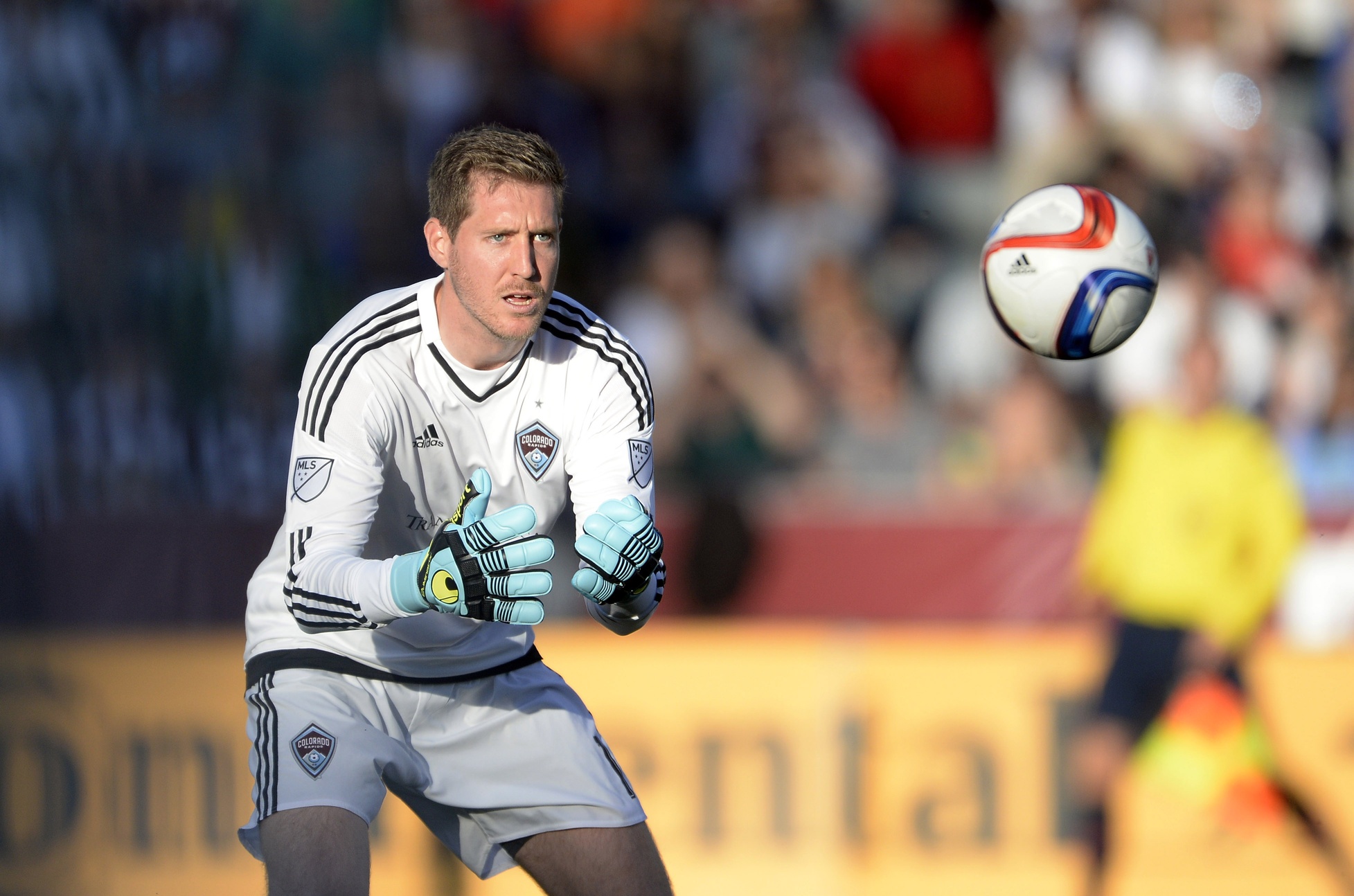 Throughout the past several seasons, Toronto FC has made its intentions known when it comes to the club's desire to build a contender. Whether it was the "Bloody Big Deal" of signing Jermain Defoe and Michael Bradley or the marquee additions of Sebastian Giovinco and Jozy Altidore, TFC has recently been at the forefront when it comes to investing in an effort to build a trophy-winning team.
Despite initial struggles, the club's investment has continued into the 2015-16 offseason, with TFC's most recent addition coming in the form of a big-name goalkeeper.
After parting ways with prior starters in Joe Bendik and Chris Konopka, TFC acquired Clint Irwin from the Colorado Rapids on Monday. In Irwin, TFC gets a goalkeeper with 89 games of MLS experience and a stout defensive record as he enters the prime of his career.
"I want to be fair to Chris and Joe who served this club and served it well. They're good goalkeepers in their own right," said TFC general manager Tim Bezbatchenko. "The way I would frame it is more that I felt we needed, with the chemistry of the back line, something was off last year collectively as a unit between the back line, the defensive midfielder and the goalkeeper, and we felt like we needed to make a change and have a fresh start.
"With what Clint has done, it's tough to say he's not one of the top goalkeepers in the league and we feel like, with the players in front of him, we can even help him, to some degree, be an all-star every year. We believe that we can be a contender and we want all of our players to be successful and be in the top 10 to 15 percent of their positions. We do think it's an upgrade because we feel like the chemistry wasn't quite there last year and, doing our homework, Clint is the right person to man the job for us."
Led by Giovinco in 2015, TFC claimed the first postseason berth in club history before falling at the hands of Didier Drogba's Montreal Impact. Yet, the push towards the playoffs came in spite of a league-worst defense that equaled the highest goals allowed total with 58 conceded finishes.
With Irwin now in tow, TFC has completely retooled the defensive half of the field. The addition of Will Johnson is seen as one that will plug a major hole defensively in the middle, while Steven Beitashour should jump right into a starting fullback role.
Meanwhile, the addition of former Rapid Drew Moor gives Irwin some familiarity on the back line. Moor, who Irwin called one of his favorite teammates, has been in contact with the goalkeeper since the deal, and has helped make the transition a bit easier ahead of the start of preseason.
"Preseason is going to be really key for us," Irwin said. "I think with the new faces on the back line, I'm familiar  with Drew Moor, but with Beitashour coming in and Josh Williams and some of those guys there, it's going to be an important time to mesh, but I had experience with that this past year in Colorado. We had a number of different combinations in the back four and were able to produce some good results defensively. I'm prepared for lots of different faces and I'm looking forward to getting to know the guys and developing that chemistry on and off the field."
"Clint played with Drew, so there's some familiarity there with one of the new players in our team," Bezbatchenko added, "and we think that chemistry will obviously help us. I've spoken to his accolades and he's in the prime of his career, and frankly, we're just excited to bring him in."
In joining TFC, Irwin leaves behind a home with the Rapids. The goalkeeper was quick to acknowledge all of the change that his now former club is undergoing, as it appears the Rapids are moving pieces with several big moves in mind.
Now gone from the club, Irwin says he has no inside information. Just several days ago, Irwin foresaw himself as a member of the Rapids, and had no indication that he would be changing addresses any time soon. Now gone, he understands the move, as Irwin says that the Rapids are in the process of playing catch up as the club looks to cultivate a winner after several tough seasons.
But now, Irwin's focus is solely on TFC, not what is being built with his former club. From this point forward, Irwin says that Colorado is merely an opponent for a TFC team that is looking to push into MLS' elite one acquisition at a time.
"There's been turnover in the roster in Colorado and I understand that they're gearing up for a big move, and unfortunately I'm one of the casualties of that," Irwin said, "but at the same time, I'm thankful to the Rapids organization for finding a great spot for me and placing me in a position to succeed. In MLS, with some of these trades, that isn't always the case. You can end up where you might not want to be, and that's definitely not the case here. I'm very happy to be in Toronto and I want to help this team compete for trophies like Tim said."
"We feel like it's one of the last remaining pieces of the puzzle to take our club from being just an MLS playoff qualifying club to a consistent contender, which is one of our stated visions for our club," Bezbatchenko added. "We explored a number of options at the goalkeeper position, in MLS and in Europe, and at the end of the day, we felt that Clint was a whole other option that seems to fit with our club on the field."