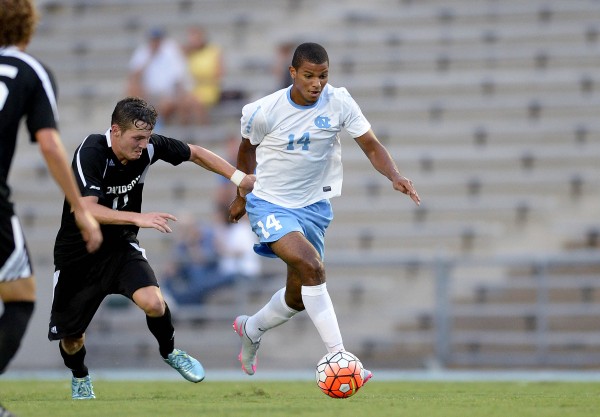 The MLS Draft is less than two weeks away and Major League Soccer has yet to announce the Generation adidas class. That doesn't mean the class isn't taking shape, but signs are pointing to the league potentially missing out on some of its targets.
One player who apparently won't be missed is Omar Holness. Sources tell SBI that the Jamaican international and North Carolina midfielder is signing a Generation adidas deal, which will make him the second player to accept a deal, along with Clemson goalkeeper Andrew Tarbell.
MLS should announce the bulk of the 2016 class by the early part of next week, with the first four to five players being unveiled. As is tradition, the league can and likely will add more players as the week goes on. The total class should wind up in the 5-7 player range.
Here is a look at how the class is shaping up with less than a week to go before the MLS Combine:
1- JOSHUA YARO, Georgetown
The top target in this year's Generation adidas has chosen an agent, but has yet to accept an offer from MLS for a Generaton adidas deal, and rumors are swirling that he will head to Europe rather than the MLS Draft.
2- ABU DANLADI, UCLA
The top attacking option in the draft pool has already been offered a deal by MLS, but is apparently considering foreign options as well. Would be in contention to be the No. 1 overall pick if he signed, but it's sounding more and more like he will pass, though that may just be a negotiating ploy.
3- JACK HARRISON, Wake Forest
Reports that New York City FC filed a Homegrown claim on Harrison have been confirmed by SBI sources, and the seemingly flimsy claim is being taken seriously by MLS.
(UPDATED– Multiple sources have told SBI the Harrison homegrown claim by NYCFC has been rejected. Harrison is in negotiations to sign a Generation adidas deal)
4- RICHIE LARYEA, Akron
Has been offered a Generation adidas deal, but has yet to sign a deal. If Yaro and Danladi bolt to Europe, MLS could push harder to ensure Laryea signs. He's a sure-fire Top 5 pick.
5. FABIAN HERBERS, Creighton
The German-born forward should receive a strong offer to sign given the lack of forwards in this draft, and if Danladi passes, MLS would face pressure to ensure Herbers does sign.
6- OMAR HOLNESS, North Carolina
Sources tell SBI the Jamaican speedster has signed a Generation adidas deal, and he could definitely be a Top 5 pick, particularly if Yaro and Danladi don't sign.
7- JULIAN BUESCHER, Syracuse
The German-Born midfielder has received an offer, but it is unclear whether he has signed yet. There are plenty of teams who could use some defensive midfield help, and Buescher boasts the kind of quality that will ensure him being a Top 10 pick.
8- ANDREW TARBELL, Clemson
The first player to sign a Generation adidas deal, Tarbell is a first-round value and top goalkeeper in the draft.
9- NICK DePUY, UCSB
A 6-foot-4 forward with the good technical ability for his size, DePuy is gaining momentum as a potential GA target. Several teams rate him as one of the best forwards in the draft pool, and he's certainly one of the top Americans available.
10- JAKE ROZHANSKY, Virginia
A Top 5 GA target before the college season, Rozhansky's prospects have taken a hit after a disappointing sophomore campaign. He is still very highly rated by several teams, and is reportedly ready to turn pro. There is no word yet on whether he has received a GA offer, but his chances will certainly increase if the top three players on this list all wind up out of the draft.
11- TIM KUBEL, Louisville
The German-born right back is seen by some teams as the best fullback in the draft pool, but that's apparently not generating into much Generation adidas buzz. He's looking like a bit of a longshot at this point.