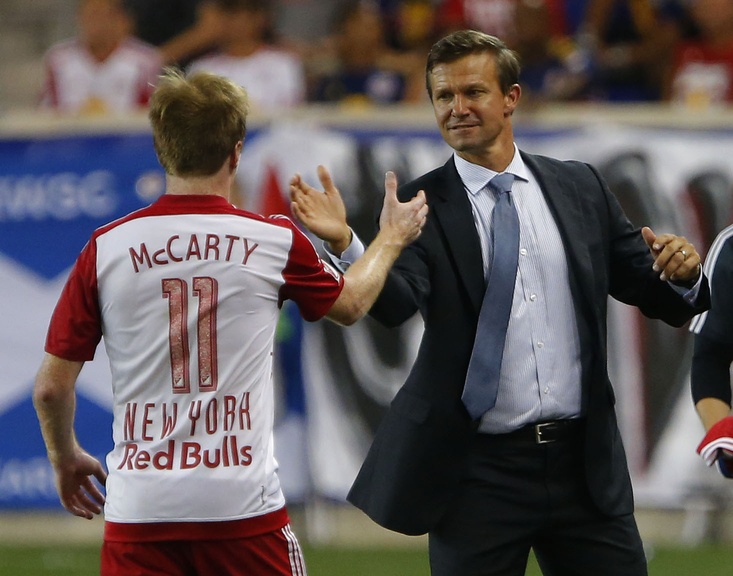 A year after the New York Red Bulls won the MLS Supporters' Shield and came within a goal of reaching the second MLS Cup final in club history, head coach Jesse Marsch believes his team is well-equipped to build on the success of 2015.
The Red Bulls signed four players to new contracts on Monday afternoon, including reigning MLS Goalkeeper of the Year Luis Robles and Mike Grella, joining other key pieces of the New York backbone that have re-upped with the team this offseason.
"That was the emphasis coming out of last year and you have to credit Ali Curtis for all the work that he did," Marsch told SBI. "I don't know the number of restructured or re-signed players but it's in the high-teens.
"We've worked hard to honor the years that these players have had and honor the group and try to keep it assembled as much as possible. I think we've accomplished a lot of that, and in there we've injected a lot of young players. It's important that as much as we emphasize making sure that the core group pushes itself and continues to move the process along, it's really important that we bring these young guys into the process and give them the chance to contribute."
While the squad's veterans will be the ones that likely make or break the team's success in 2016, the Red Bulls also added six Homegrown talents this offseason, in addition to Justin Bilyeu and Zach Carroll, whom the team selected in the recent 2016 MLS Draft. Marsch expects all of the team's young players to make immediate contributions to the team.
"We think highly of a lot of these young players, and we think that we have a talented core young players that will push this thing along, and that's part of the cycle of how we're doing things," Marsch said. "That being said, we're hopeful to make an important change or two if need be. Again, Ali (Curtis) has a strategy of how to put this team together and in a lot of ways I think it'll help us be successful."
The Red Bulls will continue their preseason in Orlando, Florida for two separate cycles, returning to its Hanover training ground in-between. New York is set to play a series of scrimmages in their time down south, including matches against MLS sides Montreal Impact and Orlando SC, as well NASL club Jacksonville Armada FC.
Marsch's hopes for the preseason are simple, though: keep the veterans in tip-top shape and integrate the new players into his system prior to the team's regular season kick-off at Red Bull Arena against Toronto FC.
"Down there we will go through a series of video sessions to get a lot of these guys up to speed with the way tactically that we do things," Marsch said of his preseason training approach. "We will have certain days down in Florida where the second session for the older, established group will be very light, almost technical work, and then the session for the younger group will be more about are training methods and pushing the session and making sure that they get up to speed with the pure speed of play."