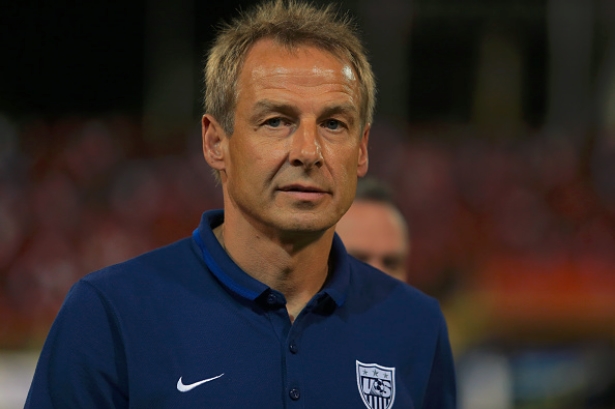 Throughout his tenure as head coach, Jurgen Klinsmann has been painted as an adversary of MLS, but the U.S. Men's National Team head coach insists that the label couldn't be further from the truth.
Most recently, the USMNT boss was publicly chastised by Portland Timbers owner Merritt Paulson, who accused Klinsmann of ignoring the league's top players. The same point was hammered home by Benny Feilhaber, who pointed to several domestic players among those Klinsmann has shied away from in recent years.
Speaking to Goal USA, Klinsmann, who says he has since had a positive conversation with the Timbers owner, says that it is "sad" that many believe that he is against MLS in any way. Rather, Klinsmann says that he is merely pushing players to reach their potential, whether it is in MLS or otherwise.
"There's a misconception, and that's just not right," Klinsmann said. "Our consistent message is that we try to get the players to their personal highest level. That phrase is a broken record. If you ask me, 'Should Michael [Bradley] play for Manchester United,' I'll say yes, and I don't think anybody here would argue.
"I want them to know to chase your highest possible level. This is always a consistent message. If your highest consistent level is MLS, I'm thrilled. I'm going to be there for you 24/7 to help you. Jordan (Morris) is maybe a good example. I said, 'No matter what you decide, we are here to help you with every step. Obviously, you have to be the driver, you are your own boss, but every decision is fine.
"Why did I take 13 players from MLS to Brazil?" he added. "Why did I come in almost four years ago saying everyone is on the same page, no matter if you're playing in Europe or Mexico or MLS? All of the players suddenly got the same messages, no matter where you're from. I brought players back in that haven't been in for a long time, and we continue to give that message."
The case of Morris has proven to be the most recent one held against Klinsmann. Morris, who was signed by the Seattle Sounders on Thursday, recently participated in a trial with Werder Bremen under the recommendation of Klinsmann.
With Morris' decision now made to join his hometown club over the Bundesliga side, Klinsmann said he couldn't be happier with Morris' choice. As a player, Klinsmann says he himself was tasked with the chance to move abroad early, but is glad he took the chance to mature before making the leap.
The U.S. Men's National Team head coach is proud of Morris for realizing the same and taking a step that seems to be the right one for his professional career.
"It hurts when people say I want every kid to go to Europe, because every kid is so different," Klinsmann said. "If Jordan makes the decision to go to Bremen and he doesn't feel ready for it, he will fall under the table three months from now. Whose benefit is that? Nobody's. The kid is burned and maybe doesn't even find his way back up anymore."
"It's wrong that people think I push a player either way," he continued. "That's when people don't really see our work and how we work. We haven't yet done a good enough job to explain all the time what the national team is about and what our work is and how we deal with players on all sorts of ends, meaning players from Mexico, the U.S., Europe or whatever."
As national team head coach, Klinsmann is the first to admit that his relationship with MLS is one that is hard to navigate at certain points. At the end of the day, his priority remains the USMNT, which, at times, may conflict with the goals and aspirations of the domestic league.
But for the long haul, Klinsmann admits that the development of MLS is crucial for the growth of soccer in the U.S., growth that he hopes to be a part of in whatever way he can.
"We are the biggest fans of MLS because of the growth of the game here," Klinsmann said. "I'm probably the biggest sales rep of MLS in Europe because I'm talking nonstop to coaches, to people, to fans, to journalists. With endless interviews that I do now, the comments that I make are for the development of MLS in Europe.
"I want this league where I live to grow on a tremendous speed with beautiful facilities now all over the place and tremendous owners."