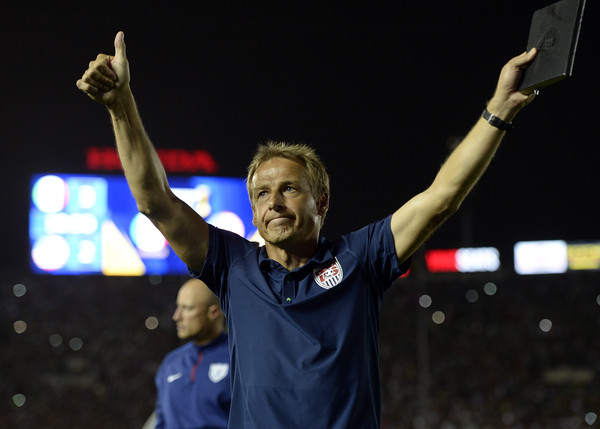 Benny Feilhaber has had his chance to criticize the decision-making of the U.S. Men's National Team head coach, and Jurgen Klinsmann hasn't shied away from a response.
Speaking to Goal USA, Klinsmann said the simple reason Feilhaber has not been called into the USMNT more often is because he has not performed up to par.
Feilhaber had previously expressed the problem he has with the U.S. head coach, saying: "I don't think that Jurgen calls in the best players that are available to him. That, for me, is a problem. There's players that are better than other players that don't get an opportunity with the national team."
"We had Benny several times with us and he never had an impact in the moments he had the opportunity with the national team under my guidance," Klinsmann said in response on Wednesday. "I cannot speak for (former U.S. head coach Bob Bradley). Bob had his own experiences with him. Whenever he came in with us he never made an impression that made us say, 'This is international level.' It's as simple as that."
Time and time again, Feilhaber was able to split open defenses en route to leading Sporting Kansas City to a MLS playoff position in the Western Conference during 2015. Contributing to more than half of the club's goals in 2015, the 31-year-old playmaker scored 10 times and provided 15 assists.
"Everything plays a role in a decision," Klinsmann said. "We explain to the players that there are so many pieces to it. Obviously the soccer piece is the biggest one, no doubt about it. You talk about the specific talent that he has. The strengths and weaknesses, the technical, tactical and physical aspects of the game.
"But then there's a big other picture," Klinsmann added. "The other picture is the personality. The interaction with other players. The chemistry. The giver-taker discussion we've had in the past. All these things will get analyzed by us and you as a coach, no matter if it's with a national team or club team, you want to develop the highest quality soccer team, as well as the highest energy-driven environment possible in order to go through a long year with your team to keep them going.
"All that plays a role when we evaluate the player, it absolutely plays a role. What role does this player play with his teammates? With his body language, with his expressions, with his reactions in training games, to give a little bit of background."
What do you think of Klinsmann's response? Think he's right to not call-up Feilhaber?
Share your thoughts below.