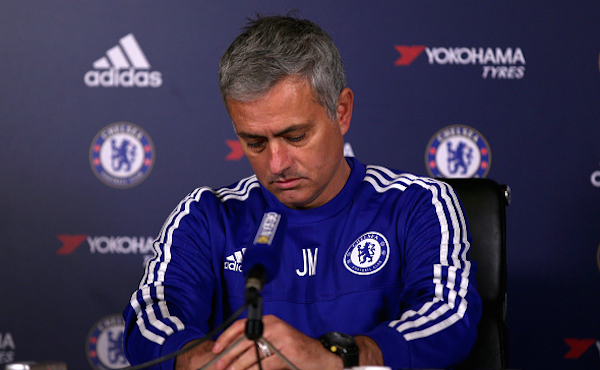 Liverpool captured a thrilling 5-4 win at Carrow Road, while Barcelona out-dueled Malaga thanks to Lionel Messi's acrobatic finish:
Jose Mourinho has reportedly expressed his strong desire to manage Manchester United in a six-page letter submitted to the club. The 52-year old remains jobless following his sacking at Chelsea this season. (REPORT)
Jerome Boateng could miss significant time with Bayern Munich after suffering an abductor injury versus Hamburg on Friday. (REPORT)
Manchester United defender Matteo Darmian was taken to the hospital following the team's 1-0 defeat against Southampton. The Italy international was forced out of the match with chest and rib problems. (REPORT)
Southampton head coach Ronald Koeman dismissed the possibility of taking a job in the future with Chelsea, stating that he is dedicated to the Saints. (REPORT)
Paris Saint-Germain opened up a 24-point advantage over the Ligue 1 field on Saturday, after blowing past Angers 5-1. (REPORT)
Here are the results from today's top leagues and competitions:
ENGLISH PREMIER LEAGUE
Norwich City 4-5 Liverpool
Crystal Palace 1-3 Tottenham Hotspur
Leicester City 3-0 Norwich City
Manchester United 0-1 Southampton
Sunderland 1-1 AFC Bournemouth
Watford 2-1 Newcastle United
West Bromwich Albion 0-0 Aston Villa
West Ham United 2-2 Manchester City
SPANISH LA LIGA
Malaga 1-2 Barcelona
Espanyol 2-2 Villareal
Granada 3-2 Getafe
Rayo Vallecano 3-0 Celta Vigo
GERMAN BUNDESLIGA
FC Cologne 1-3 Stuttgart
Ingolstadt 1-0 Mainz
Hanover 96 1-2 Darmstadt 98
Hertha Berlin 0-0 Augsburg
Hoffenheim 1-1 Bayer Leverkusen
Borussia Monchengladbach 1-3 Borussia Dortmund
ITALIAN SERIE A
Frosinone 0-0 Atalanta
Empoli 2-2 AC Milan
FRENCH LIGUE 1
Paris Saint-Germain 5-1 Angers
Guingamp 1-0 Bastia
Lille 1-3 Troyes
Montpellier 1-2 Caen
Nantes 2-2 Bordeaux
Nice 2-1 Lorient
—
Should Manchester United pursue Mourinho? Is Koeman the right man to head Chelsea? What did you think of today's action?
Share your thoughts below.