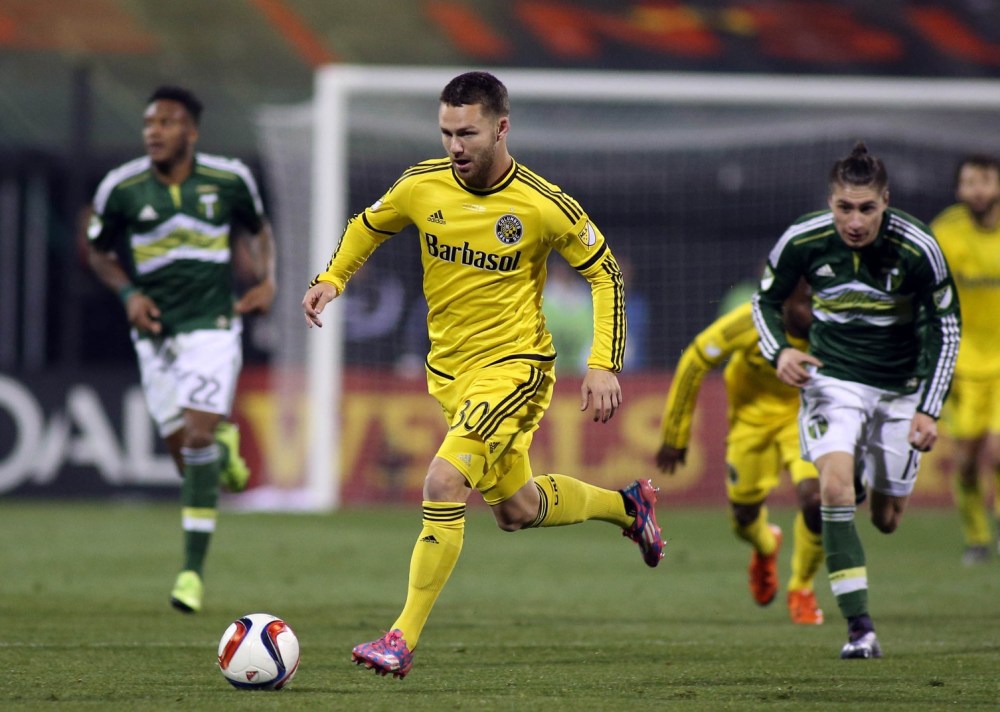 Jack McInerney's first day of work with the Portland Timbers was a difficult one, to say the least. Reporting for duty for his first preseason session with his new club, the forward had to watch his new teammates try on championship rings that represented one of the more crushing moments of McInerney's career.
Then a member of the Columbus Crew, McInerney was forced to settle for despair as the Timbers celebrated the club's first MLS crown on the field of MAPFRE Stadium. To this day, McInerney says he believes that the Crew were the better team on that chilly Sunday in Columbus, but were undone by their own mistakes en route to a gut-wrenching loss.
But now, less than two months later, it's all water under the bridge. Now a Timber, McInerney is determined to learn from the lessons of last season en route to another shot at an MLS Cup.
"Going into the season, you have to find the hunger for yourself," McInerney told SBI. "The guys who have been here, they've tasted a championship. They've won it before. I think that urges them on to want to do it again and have that success. For me, a player that was on the opposite end of it, it just hurts that much more. You know that you're now a part of a team that can and has won it and can do it again. You just want to go out there and battle and have that same success together.
"(My teammates) haven't said anything, but it definitely left a sour taste… At the end of the day, its in the past. We're all on the same team now and, hopefully, we can go forward and do it again this year."
The MLS Cup loss only served as a bitter end for what was a whirlwind year for the 23-year-old forward.
Originally with the Montreal Impact, McInerney played a part in the club's historic run to the CONCACAF Champions League finals while contributing four goals in 13 starts. Then, with Didier Drogba looming, McInerney was dealt to the Crew before scoring twice in five regular-season appearances for the club.
With his contract up at the conclusion of the season, McInerney acknowledged that he "would have loved" to stay with the Crew, who made the forward an offer. However, his heart remained in Portland, a place he felt he could shine while once again contending for an MLS Cup crown.
With the Timbers, McInerney re-unites with head coach Caleb Porter, who worked with the forward while in charge of the U.S. Under-23 Men's National Team. Following that experience, McInerney says the Timbers style is reminiscent of that played by those youth teams, making the transition all the easier.
"When I looked at the opportunity to get Jack," Porter told SBI, "I said that this is a great opportunity to get a young player that has also proven he could score goals and proven that he can be professional. I also think he comes in hungry because he's been traded a couple of times now and I think that side of the business sometimes makes or breaks guys. I think, with him, he'll respond the right way to it.
"We need strikers that are going to be lethal in the box, and that's what he is," Porter added. "He's good in the box, he finds goals and he'll be a nightmare to deal with, with (Diego) Valeri, (Darlington) Nagbe and guys like that supplying him service because he's a guy that needs to be put in good spots, and when he gets in a good spot, he's shown a maturity beyond his years around goal."
The next step is finding McInerney's place in the team, whether it be alongside current stater Fanendo Adi or off the bench in more of a sparkplug kind of role.
Following the departure of Maxi Urruti, Porter says the Timbers are in need of a striker to compliment Adi's more physical style of play. With the options at hand, Porter says he can start McInerney from the beginning against certain opponents, while throwing Adi in against others to give teams different looks at different times. In addition, the Timbers could implement both, giving a potent two-striker set that combines McInerney's speed with Adi's power.
With MLS, U.S. Open Cup and CONCACAF Champions League play all coming up for the club, Porter insists that both guys will have plenty of opportunities to flourish in Portland's system.
"They played Adi a lot and he was that post-up guy," McInerney said. "Going into the season, if I get my opportunities, I'm going to do my best. I think me and Adi are exact opposite players, so if we go into a game where we need someone to stretch the field and make runs in behind, I'm going to be that guy, where Adi is going to be the big man that lays off balls.
"Last year, you saw situations where the team got desperate and changed to a 4-4-2 where both of the forwards played, so its just whatever we need at the moment. Whatever type of player we need, you'll see that on the field."
With that said, McInerney is fully aware that he has some parts of his game that need sharpening and refining if he is to reach the level he expects to be at. For one, 5-foot-10 forward is hoping to develop more a hold up game, one that will allow teammates like Nagbe and Valeri to dart in past him. On the other end, McInerney is looking to continue to develop as a professional, as a six-year MLS career has taught the forward how to take care of his body in preparation for an upcoming season.
Still, despite having those six years under his belt, McInerney remains just 23-years-old, a youngster among the MLS striker talent pool. Already one of the league's more productive forwards at his age, McInerney is looking to take that next step with a team he feels can get him there.
"It's always sort of how it goes," McInerney said. "You take it game by game. It's about whether you're going to start, whether you're going to come off the bench, it just depends all on the situation. I'd like to reach double digit goals this year, but it's hard to do not knowing if you're only going to start two or three games throughout the year. I think the goal right now is to make an impact for the team and, when you get your opportunity, to make the most of it.
"I wanted to find a place where I could be appreciated by the team, the city and the fans," the forward added. "I think I found that here in Portland."