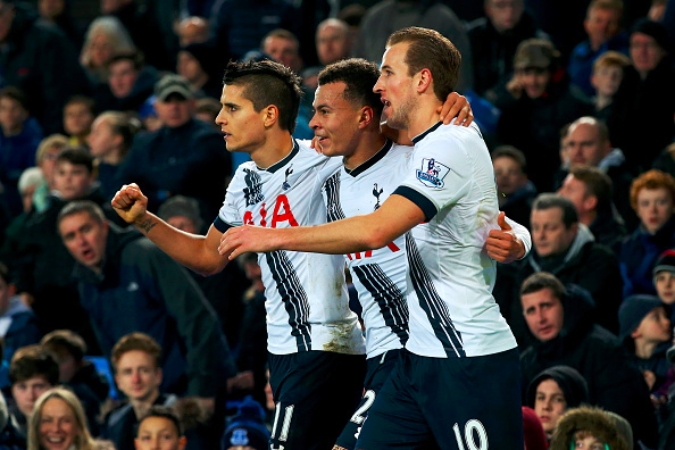 Leicester City has surprised everyone with its English Premier League form, and will hope it carries over into the FA Cup on Sunday.
Tottenham-Leicester City headlines action in England, with Jamie Vardy and Riyad Mahrez doing battle against a Harry Kane-led Spurs side.
In Spain, Atlético Madrid will attempt to reclaim first place on the La Liga table with a road win against Celta de Vigo.
Across the Atlantic, the Florida Cup kicks off. Bayer Leverkusen-Santa Fe and Fort Lauderdale Strikers-Schalke 04 headline the evening action, while Guadalajara-Veracruz caps off Liga MX's opening weekend.
If you will be watching today's action, please feel free to share your thoughts and opinions in the comments section below.
Enjoy the action (Check below for today's soccer TV schedule):
SPANISH LA LIGA
6 a.m. — beIN Sports en Español/beIN Sports Connect — Villarreal vs. Sporting Gijón
10 a.m. — beIN Sports en Español/beIN Sports Connect — Real Sociedad vs. Valencia
12:15 p.m. — beIN Sports Connect — Eibar vs. Espanyol
12:15 p.m. — beIN Sports en Español/beIN Sports Connect — Las Palmas vs. Málaga
2:30 p.m. — beIN Sports en Español/beIN Sports Connect — Celta de Vigo vs. Atlético Madrid
ENGLISH FA CUP
7 a.m. — Fox Sports 1/Fox Sports Go/Fox Soccer 2Go — Oxford United vs. Swansea City
9 a.m. — Fox Sports 1/Fox Sports Go/Fox Deportes/Fox Soccer 2Go — Chelsea vs. Scunthorpe United
11 a.m. — Fox Sports 1/Fox Sports Go/Fox Deportes/Fox Soccer 2Go — Tottenham vs. Leicester City
ITALIAN SERIE A
6:30 a.m. — RAI Internazionale/beIN Sports USA/beIN Sports Connect — Inter vs. Sassuolo
9 a.m. — beIN Sports USA/beIN Sports Connect — Frosinone vs. Napoli
9 a.m. — beIN Sports Connect — Bologna vs. Chievo Veronas
9 a.m. — beIN Sports Connect — Torino vs. Empoli
2:45 p.m. — beIN Sports USA/beIN Sports Connect — Sampdoria vs. Juventus
FRENCH LIGUE 1
8 a.m. — beIN Sports Connect — Nantes vs. Saint-Étienne
11 a.m. — beIN Sports USA/beIN Sports Connect — Lille vs. Nice
3 p.m. — beIN Sports Connect — Marseille vs. Guingamp
FLORIDA CUP
5 p.m. — ESPN3/ESPN Deportes/WatchESPN — Bayer Leverkusen vs. Santa Fe
7:25 p.m. — ESPN Deportes/WatchESPN — Fort Lauderdale Strikers vs. Schalke 04
MEXICAN LIGA MX
1 p.m — Univision USA/Univision Deportes — Toluca vs. Tigres UANL
6 p.m. — Univision Deportes/UniMás — Guadalajara vs. Veracruz