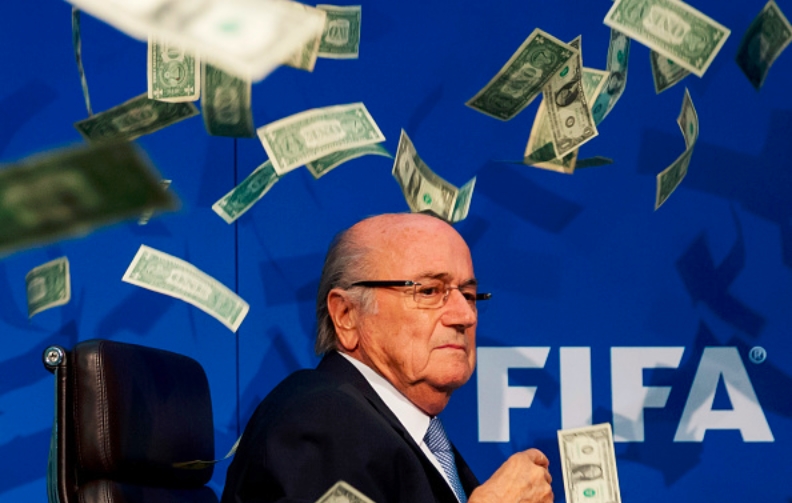 Sepp Blatter may be banned from FIFA, but he and his salary are in the news this morning.
In spite of being banned from the sport for eight years, outgoing FIFA president Blatter is still receiving payment from world soccer's governing body, and will continue to receive his salary until a new president is elected on Feb. 26. (REPORT)
Former Real Madrid and New York Cosmos striker Raul says his first choice in management would be working with Los Blancos, but also is considering all options, even president of a club. (REPORT)
Spanish defender Nacho Monreal, 29, has agreed to a new long-term contract with Arsenal. (REPORT)
Paris Saint-Germain defender David Luiz says the French club only signs the best players, and Chelsea striker Diego Costa would be welcomed if "Diego decides he has had enough of England and wants a new challenge." (REPORT)
According to Swansea City coach Alan Curtis, forward Andre Ayew will not be sold during the January transfer window. (REPORT)
FIFA presidential nominee Gianni Infantino discussed his manifesto, which includes expanding the World Cup to include 40 teams instead of 32. (REPORT)
Juventus completed the transfer of 18-year-old midfielder Rolando Mandragora from Genoa on a five-year deal. (REPORT)
FIFA's investigatory chamber of the independent Ethics Committee announced that it and the FIFA Audit and Compliance Committee will manage their communications functions separately. (REPORT)
To prepare for Euro 2016, Portugal will host Bulgaria in Lisbon on March 25. (REPORT)
MONDAY REWIND
American midfielder Caleb Stanko, 22, scored the game-tying goal for SC Freiburg during its 1-1 tie against FC Luzern in a friendly on Monday. (REPORT)
Brad Evans joined the U.S. Men's National Team's January camp roster on Monday. (REPORT)
Werder Bremen sporting director Thomas Eichin said it's not a matter of "if" forward Jordan Morris will sign with the club but "when." (REPORT)
Fulham manager Slavisa Jokanovic says 19-year-old Emerson Hyndman will not leave the club in January despite the fact that his contract expires in the summer. (REPORT)
U.S. Under-18 Men's National Team head coach Omid Namazi named a 36-player roster for the Jan. 17-23 camp at the Premier Sports Campus in Lakewood Ranch, Florida. (REPORT)
—
Think Blatter should still receive his salary even though he is banned? What do you think Raul will do next?
Share your thoughts below.