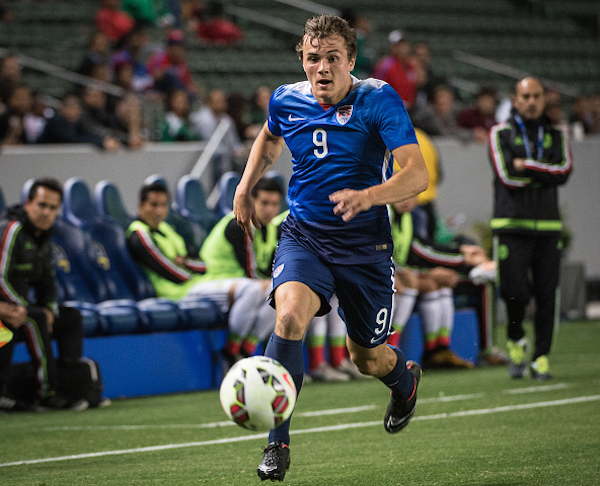 Preparing for March's World Cup qualifiers and Olympic qualifying play-off is one of the main objectives of this year's winter camp. Starting off 2016 with a win is another.
The U.S. Men's National Team will kick off its slate of games in the new year on Sunday when it welcomes Iceland for a friendly at the StubHub Center in Carson, California (3:45 pm, ESPN2/UniMas). The match marks the first chance the U.S. has to put behind a subpar 2015, and will also give U.S. head coach Jurgen Klinsmann the opportunity to take stock of where some of his growing player pool stands.
Unlike previous years, Klinsmann has sprinkled in some U.S. Under-23 Men's National Team standouts into his senior bunch of regular starters and fringe players in an effort to prepare them all for the MLS season and important March fixtures. How he goes about fielding them against Iceland remains to be seen, but it seems likely that there will be a balance of all three types of players.
What exact lineup will we see Klinsmann go with on Sunday? Here is one that he could trot out:
———————-Altidore———–Morris————————–
—-Nagbe————-Jones———Bradley—————Zardes—-
————-Miller—–Besler——Birnbaum——-Parker————
———————————–Robles———————————-
Some thoughts:
The absence of Matt Miazga (to reportedly sign with Chelsea) will force Jurgen Klinsmann into going with a centerback tandem of Matt Besler and Steve Birnbaum. Besler will serve as the leader of the back line, but Birnbaum also has a bit of experience that can be counted on after making an appearance in a friendly during last year's winter camp.
Out wide, Klinsmann is going to have to field some newcomers. The most likely options are Tim Parker and Eric Miller at right back and left back, respectively. Parker and Miller are both eligible to play for the U.S. Under-23 Men's National Team, and Klinsmann will probably want to throw them into the deep end to see how they perform and if they are ready to compete in March's Olympic qualifying playoff vs. Colombia. Chicago Fire rookie Brandon Vincent is also an option for the left side, but he might be better suited to come off the bench here.
Luis Robles should get the nod in goal behind them given his stellar form in MLS over the past few seasons. Sean Johnson could potentially get the start here, but the fact that he was only brought into camp after Bill Hamid had to withdraw because of injury seems to point to Robles making his second international appearance.
Things get a little more interesting in the midfield, as there are plenty of options and formations to consider. The pairing of Michael Bradley and Jermaine Jones in the center should be a given here, due to how highly Klinsmann still rates them. The two veterans struggled at times to find a balance between attacking and defending in the November World Cup qualifiers, and Klinsmann will surely want them to work on that ahead of March's matches.
While Klinsmann could throw Bradley in the No. 10 spot and have Jones sit further back with a defensive midfielder in a 4-2-3-1 setup, a flat 4-4-2 formation might be more likely so as to partner Jozy Altidore with another forward. Altidore showed in November that he works well playing off of someone else, and the mobile and speedy Jordan Morris seems like a perfect candidate to complement the Toronto FC striker while gaining more experience ahead of the upcoming clash with Colombia.
If Klinsmann opts to go with a 4-4-2, Darlington Nagbe and Gyasi Zardes are safe bets to occupy the wide spots. Nagbe played wide left in November's games, and this match against Iceland would be a perfect opportunity to hand him his first start to see how he fares. Zardes saw lots of time out on the left flank in 2015, but is versatile enough to switch to the right side. Some might prefer Columbus Crew's Ethan Finlay here, but Klinsmann relied heavily on Zardes last year and likely will again.
Klinsmann is sure to make the most of his substitutions after halftime, so plenty of other players like Mix Diskerud, Tony Tchani and Jerome Kiesewetter should get chances in the second half to show what they have to offer.
What do you think of this projected lineup? Anyone included/omitted that you are hoping is not? Would you stick with this formation or try something else?
Share your thoughts below.