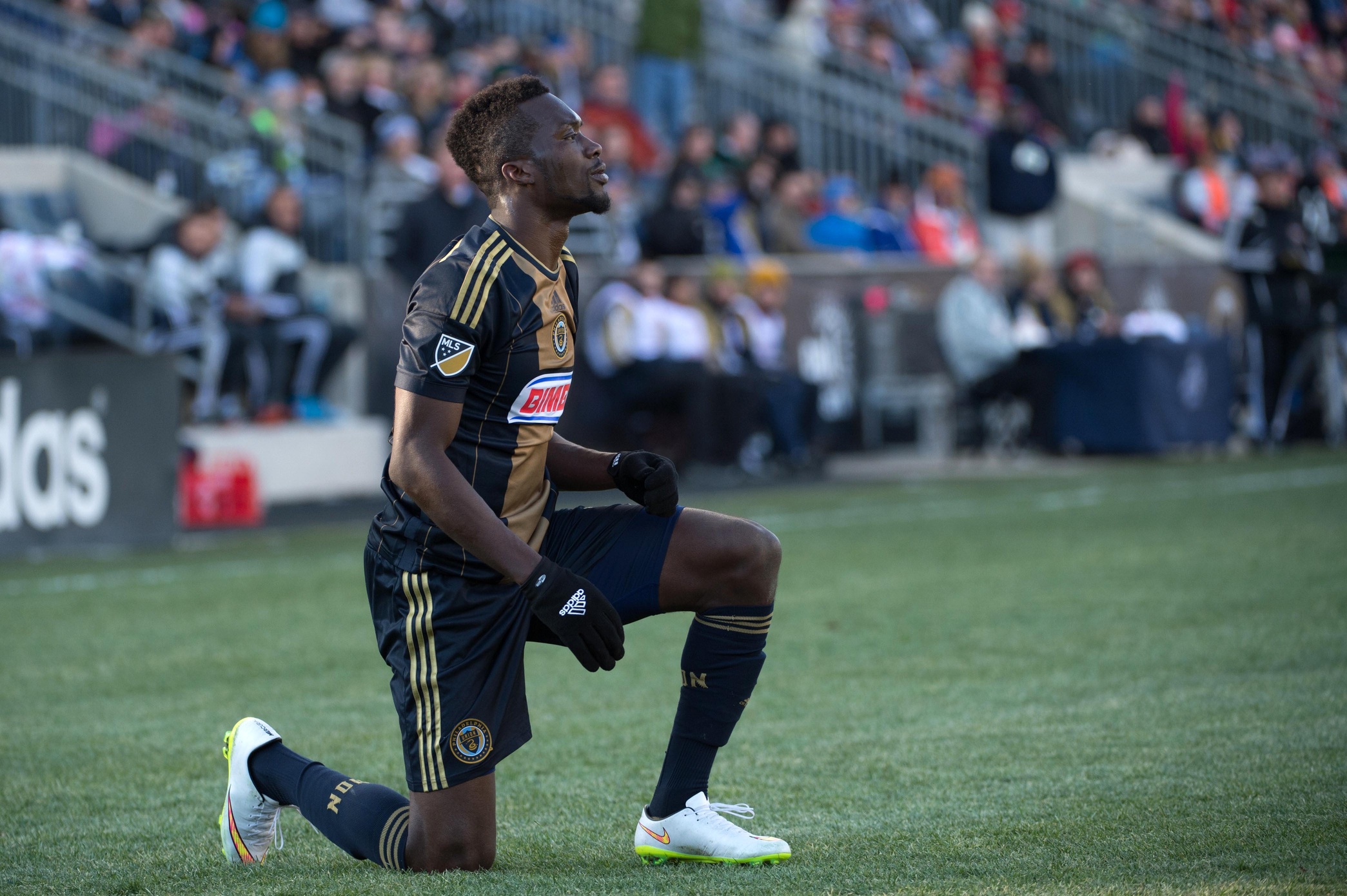 The last 12 months provided a whirlwind of challenges for Philadelphia Union forward C.J. Sapong.
Sapong was traded to the Union by Sporting Kansas City, suffered an early-season injury, went into the league's mandated rehab program after a DUI arrest and then found himself in fine form at the start of the summer.
Sapong's eventful 2015 helped the American gain perspective both on and off the pitch.
"I'm completely grateful for that," Sapong said during the club's media day last week. "I think before all those things took place, I had an understanding of where I was as a player and a person. Not to say that I was far off, but it's always good to gain a little more perspective."
"I think that's what led me to have success after the situations," the forward continued. "I completely surrendered to a lot of my internal issues that maybe I wasn't looking at before. Coming back I was able to emanate more of a cohesive energy to my teammates, which in turn made me feel my own validation, which led me to play at the best of my ability."
As the 2016 season rapidly approaches, Sapong is the top forward on the Union's depth chart after Conor Casey's exit and the expiration of Fernando Aristeguieta's loan.
"I'm feeling amazing about this season," Sapong said. "I'm feeling very fit. My spirits are high and I feel like a lot of the guys on the team are feeling that way as well. I think that's going to set us up for maximizing our potential getting into March."
Although there is the potential for the Union to bring in another forward during the preseason, Sapong is focusing on what he can do on the pitch to bring success to Philadelphia this season.
"In preseason, we as players can't focus on those things too much," Sapong said. "All we can focus on is how we can get better."
Sapong's most direct competition in preseason so far has come from rookie Fabian Herbers, who was drafted with the sixth-overall pick in the 2016 MLS SuperDraft.
So far, the 27-year-old forward with five years of experience has been impressed by Herbers.
"He's a very technically gifted for one," Sapong said. "He's a creative player, which I like. He's confident too. That's the biggest thing. He's coming into a professional team with no experience and he's playing as if he's back in college."
In addition to revamping the roster, the Union have a new energy about them under the direction of sporting director Earnie Stewart and head coach Jim Curtin .
The new attitude around the club has been welcomed by Sapong and many other veterans on the Union roster.
"Coming here with a new direction in our organization, everyone is on to that quickly," Sapong said. "Even the young guys are assimilating into the angle we're heading into as an organization very nicely. I think that this is the start of something very good for the organization."
One of the things the Union attack must work on in 2016 is replacing the production of Cristian Maidana, who was traded to the Houston Dynamo along with Andrew Wenger in December. Maidana tied Toronto FC striker Sebastian Giovinco for the league lead in assists with 15 last season.
In addition to Sapong, Tranquillo Barnetta, Sebastien Le Toux, Walter Restrepo and Chris Pontius will be tasked with creating and combining for goals.
"I can say that with the players that we have on the roster right now, once we're on the field, there's a lot of opportunity to interchange amongst positions," Sapong said. "I think we'll be able to be more creative up front and we'll see what happens."