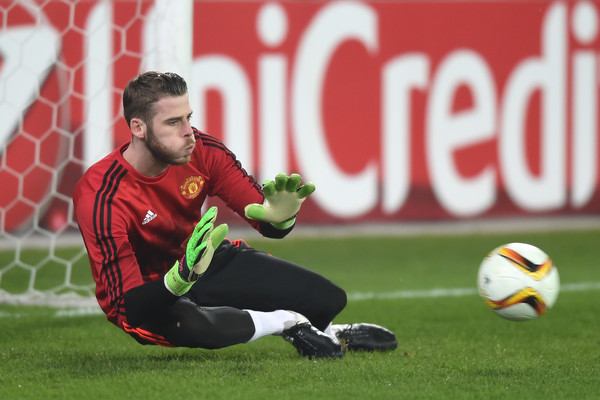 Before Manchester United even took the field for Thursday's UEFA Europa League tie against Midtjylland, the Red Devils lost a key fixture in their starting-eleven before losing the match, 2-1.
After originally being pegged as United's starting goalkeeper, David De Gea missed the match with an ankle injury suffered during warm-ups. There is no timetable for the Spaniard's return. (REPORT)
Three Members of European Parliament have expressed their concerns to the European Commission over Gareth Bale's transfer to Real Madrid from Tottenham. According to Football Leaks, Real Madrid reportedly paid over €100 million ($112 million) to complete the move to acquire Bale in 2013. (REPORT)
Saturday's French Ligue 1 match between Nantes and Bastia has been postponed after violent encounters have broken out between police and fans. The match will be moved back to March 9. (REPORT)
Karim Benzema's France national team ban has been lifted, allowing him to play with Mathieu Valbuena once more. The Real Madrid forward was alleged to have blackmailed Valbuena over a sex tape. (REPORT)
Wolfsburg defender Sebastian Jung reportedly suffered a torn ACL during Wednesday's UEFA Champions League victory over Gent. Head coach Dieter Hecking said, "The injury is very bitter for us and Sebi. He had been enjoying a clear upward trend of late and he has proven how important he is for the team. We wish him a speedy recovery." (REPORT)
Here are Thursday's results from Europa League action:
EUROPA LEAGUE
Fiorentina 1-1 Tottenham Hotspur
Borussia Dortmund 2-0 Porto
Anderlecht 1-0 Olympiakos Piraeus
Midtjylland 2-1 Manchester United
Sevilla 3-0 Molde
Villareal 1-0 Napoli
St Etienne 3-2 Basel
Sion 2-1 Sporting Braga
Valencia 6-0 Rapid Wien
Augsburg 0-0 Liverpool
Sparta Praha 1-0 Krasnodar
Galatasaray 1-1 Lazio
Shakhtar Donetsk 0-0 Schalke 04
Olympique Marseille 0-1 Athletic Bilbao
Sporting CP 0-1 Bayer Leverkusen
—
Can Manchester United recover this season? Will Benzema feature for France this summer? What do you think of Thursday's Europa League results?
Share your thoughts below.