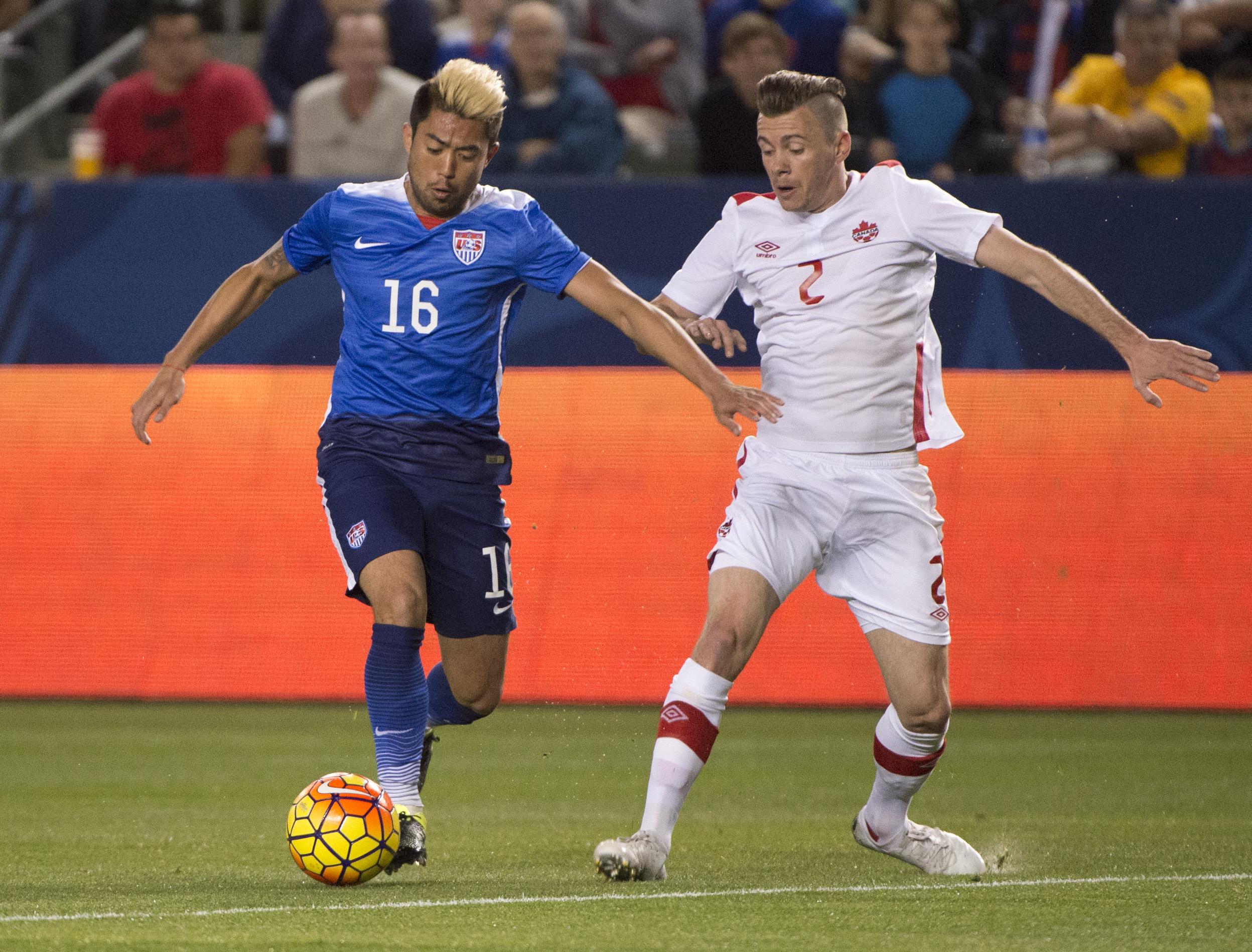 Four weeks of training, two friendly wins, and no serious injuries.
For the U.S. Men's National Team, this winter camp was nothing if not successful.
The U.S. wrapped up its first get-together of 2016 last Friday by picking up a narrow 1-0 victory over Canada courtesy of a late Jozy Altidore goal. The win combined with the come-from-behind, 3-2 triumph over Iceland just days prior gave the Americans a perfect start to the year, and plenty of confidence ahead of a looming pair of World Cup qualifiers in March.
"I'm definitely most satisfied with the spirit of the group, the willingness to work hard, helping each other on the field in many, many training sessions, and off the field where they are looking after each other," U.S. head coach Jurgen Klinsmann told ussoccer.com. "Obviously in January camp, traditionally we look for new faces so we find maybe the next special talent around the block, and I think we got great feedback from the players. None of the players really was at a disadvantage or put himself in a disadvantage. They all did well."
Of all the newcomers, Klinsmann singled out Kellyn Acosta and Brandon Vincent as ones to really make an impression. Klinsmann was also pleased with what he saw from New England Revolution midfielder Lee Nguyen, who had been in several camps before but not started for the U.S. until the Jan 31. match against Iceland.
The relatively inexperienced player who may have helped his stock the most, however, is Steve Birnbaum. Not only did he appear in both games during this winter camp to move to earn his second and third caps, but he sparked the rally as a substitute vs. Iceland before starting as a makeshift right back in the shutout win against Canada.
"He was a difference maker against Iceland with his assist to Michael Orozco's goal, and then obviously scoring the winning goal, and I think he had an outstanding game against Canada," said Klinsmann. "He had to play at right back suddenly because there was no real option at that moment, and the way he kind of intercepted so many balls, cleaned them up and connected them cleanly with midfielders or even strikers was important. We talked the last couple of days about wanting to keep the ball on the ground, get it into the feet of people so it's not bouncing all over the place, and he was outstanding from that side.
"He also kept the backline really safe. No matter who hits a ball over the backline, Steve was there to clean it up, and that's what he really did outstanding. He raised a level of aggressiveness in one-against-one battles. That was one thing we wanted to see more against Canada because we missed that a little bit in some one-on-one situations against Iceland. I said, 'Guys, you know we've got to be physical. It's part of the game.' He took that on 100 percent, and I think he won every one-against-one situation throughout the game."
The veteran group also did enough to satisfy Klinsmann this past month, especially Altidore. The 26-year-old striker scored a well-taken goal against Iceland and headed home the late winner vs. Canada, but it was more than just his finishes that stood out.
Altidore, who revealed during camp that he dropped weight in the offseason, also made a number of well-timed runs behind the opposing defenses. He was as mobile as he has been in recent memory, and looked very aggressive and confident when dribbling with the ball as well.
"Having a Jozy Altidore – first of all healthy, then really motivated, driven and willing to go the extra mile in order to put himself in a really good fitness shape – is, no doubt about it, very, very big for us," said Klinsmann. "With his qualities, with his personality, with his approach of the game, he's a difference maker. Every national team coach when he looks at players, you always ask yourself, 'Who's going to make a difference? In a specific moment in a game, who's there that makes something out of the blue, surprising? Who can make that play that kills the opponent?' Jozy is one of those players.
"Jozy has the capabilities to make the difference on the field, but in order to make the difference on the field, he knows he has to be fit, he has to be sharp, he has to be really in a good condition to have that confidence to finish things off. That's why we are really happy to see a Jozy Altidore starting 2016 in a very, very positive way."
The U.S. as a whole is also off to a good start, but it will only get tougher from here. The Americans are six weeks away from playing Guatemala in their next two World Cup qualifiers – one home and one away – and those crucial encounters will be followed by the much-anticipated Copa America Centenario in June.
There is no denying that the players that impressed in camp during the past month helped their causes to play in those upcoming matches, but they will have to continue to grab Klinsmann's attention over the next few weeks if they are to build on this early 2016 success and earn a spot in the squad when the games get more intense and tougher.
"We are basically looking all over the place," said Klinsmann. "We monitor all the players in Europe. We monitor all the players in Mexico, and obviously we can't wait until MLS starts as well. It's really kind of crucial that we see everybody getting in the best shape possible, everybody getting into a rhythm and making statements.
"Then you say, 'Is the roster you see at the end of March the same one as Copa America? Probably not.' The end of March comes early for MLS players. The European players are in the full swing, and also Mexican players because they started already a month ago with Liga MX. We'll be monitoring everyone."