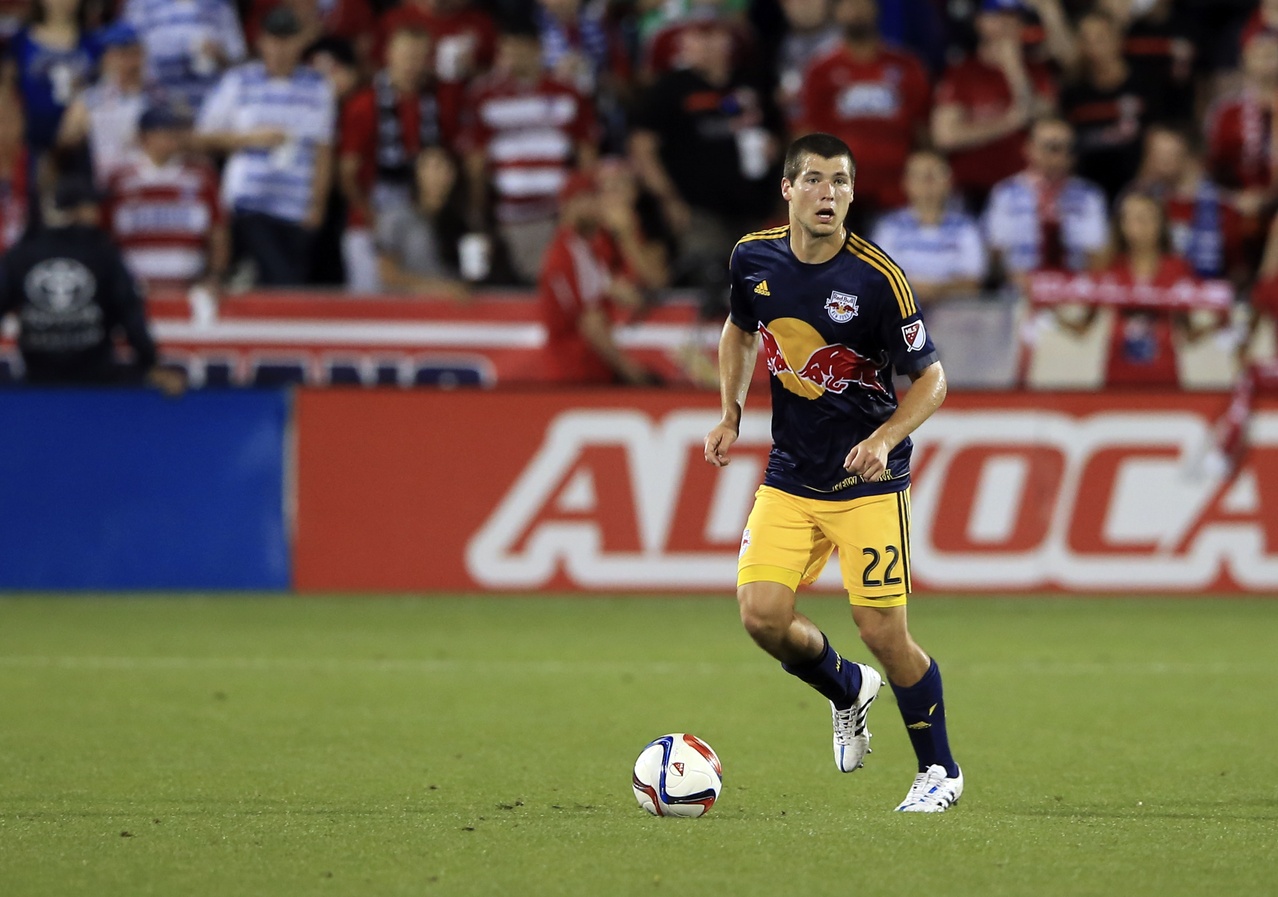 While Matt Miazga's rise with the New York Red Bulls has been well-documented, another young Red Bull is preparing himself to fill the void left by the newly-signed Chelsea player.
After joining the Red Bulls last season, centerback Karl Ouimette probably didn't see as much time as he would have liked. The 23-year old served as a spot starter on occasion, making 11 appearances with the team, and bounced back and forth between the senior team and the club's USL side Red Bulls II.
Now that Miazga is gone, and 2015 starting central defender Damien Perrinelle is set to miss considerable time recovering from a torn ACL, Ouimette not only sees the absences as an opening in the lineup, but also as a learning experience for molding his own future.
"Matt [Miazga] was able to establish himself last year and I want to do the same," Ouimette told SBI. "I'm just trying learn from all the good role models here. All the centerbacks are good fighters, very good players and good people, so I want to be part of the starting lineup."
A product of the Montreal Impact academy and former senior team player, Ouimette realizes that nothing is set in stone and that while he does know that he is capable of being a starter that he still has a lot to prove to himself and the coaching staff.
In addition to his growth with the Red Bulls, Ouimette is also making his rounds with the Canada national team. After first appearing for his native country in 2013, the youngster has since been capped in 13 more matches and played in various CONCACAF World Cup qualifying matches.
"For me it's a priority just to try to get a spot on the field this year, be confident and be a leader out there," Ouimette said.
"I just like to think short-term. I know that I still need to prove myself. I'm still young, and sure I think that I did some good things last year, but it's all about competing and being able to have the confidence in my teammates and coaches to do the job on the field."
With Perrinelle and Ronald Zubar currently out injured, Ouimette and newly-signed defender Gideon Baah are the team's only healthy options at centerback.
Regardless of the team's injuries though, head coach Jesse Marsch believes that Ouimette will provide the Red Bulls with stability at the centerback position this season.
"I think it's a big year for Karl," Marsch said after Tuesday's training session. "After being around here last year and working to establish himself within the group, I think now's a year for him to prove that he understands what it takes and that he can be a big contributor.
"We're expecting that from him. It's good to have him back from Canada camp and I think that he's looked sharp in the first couple of days that we've had him back. I think that expectations for Karl have grown and now he'll be ready to meet that."