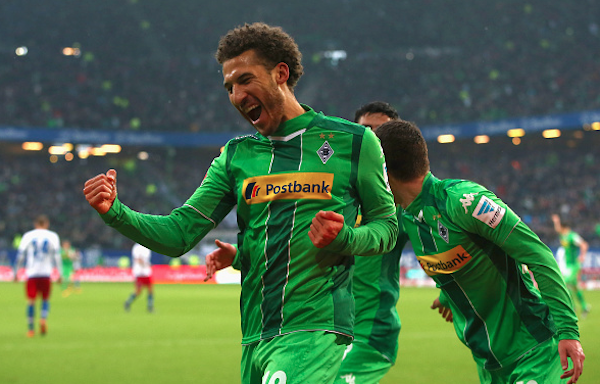 Fabian Johnson is playing some of the best soccer of his career right now as a left midfielder, but not even that will guarantee that he plays that position when the U.S. Men's National Team resumes World Cup qualifying in March.
Of all the Americans who are plying their trades in Europe right now, Johnson is arguably the one enjoying the strongest season. He has not only served as a regular starter for Borussia Moenchengladbach in both German Bundesliga and UEFA Champions League play, but has also been a big attacking threat by constantly scoring or setting up goals.
The 28-year-old strong run of form playing on the left side of Moenchengladbach's defense has been so impressive that it led to a positional change for him with the U.S. back in November. Used predominantly as a fullback at the international level in recent years, Johnson was given a pair of starts on the left side of midfield in the Americans' initial 2018 World Cup qualifiers vs. St Vincent & the Grenadines and Trinidad & Tobago.
He scored the winner in the first match via a free kick, and his two-way play, especially his attacking edge, in both qualifiers was seen largely as a positive. Still, Johnson's versatility and the U.S.'s lack of proven fullback options could see him return to the defense when the Americans face Guatemala in their next pair of qualifiers next month.
"Obviously having Fabian Johnson being able to play different positions on a very, very high level is a big plus for us. It's a wonderful thing to have," U.S. head coach Jurgen Klinsmann said earlier this week. "Obviously you like to kind of continue having a player play in the same role in the national team that he's playing in his club team to just keep him consistent and keep him confident, but sometimes it's not doable because of maybe problems in other positions you know he can fill out. He can play right back and left back as well, and on the wing of the midfield and both sides as well.
"That gives us a good feeling that he can switch over to that role, but obviously for him right now being on a roll on the left midfield side is a very comfortable situation. Ideally you want to continue that, but it depends really on who we have then as a left back and a right back available in the World Cup qualifiers. We will make the adjustments, and if he needs to play a fullback role, he is good with that and always has been very, very open to any role when it gets down to the national team."
Klinsmann does have options at both fullback spots, but none bring the combination of offensive skills and defensive bite that Johnson provides. Tim Ream is solid in one-on-one battles, but lacks pace to really be a threat in the attack. DeAndre Yedlin is speedy enough to get up and down the flank, but can still be a liability in defense.
There are other candidates, too, like veterans Michael Orozco and Brad Evans, but they do not get forward as much and have proven to be hit-or-miss. Younger options like Kellyn Acosta and Desevio Payne look promising, but they lack experience and are more likely to be with the U.S. Under-23 Men's National Team for its Olympic qualifying playoff series against Colombia in March.
Another factor that could ultimately lead to Johnson manning a fullback spot once again is the number of options Klinsmann has for the wide midfield positions. There is Alejandro Bedoya, who has been playing lights out for FC Nantes in recent weeks, and Gyasi Zardes. Darlington Nagbe has shown flashes in his recent cameos off the U.S. bench, Lee Nguyen also impressed in the Americans' recent winter camp.
That all leaves Klinsmann in the precarious position of having to figure out where Johnson best fits in next month's plans, which could see the Americans secure early advancement to the final phase of CONCACAF World Cup qualifying.
Yes, Johnson might be the best wide midfielder the U.S. has right now, but he is also currently its best right back and left back.
[polldaddy poll=9316829]