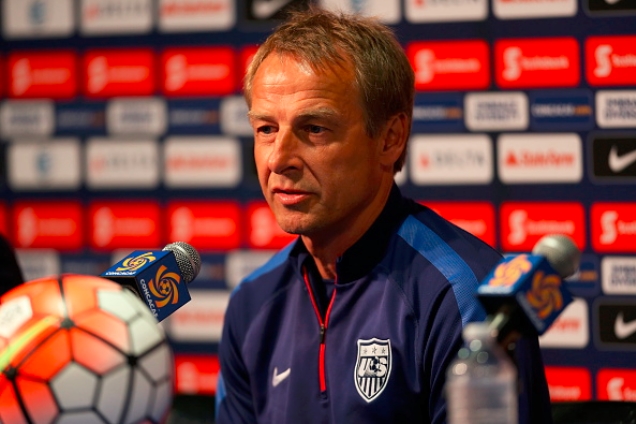 The Copa America Centenario draw wasn't overly kind to the U.S. Men's National Team on Sunday night. However, head coach Jurgen Klinsmann remained upbeat following the big reveal in New York City.
The USMNT, which will host this summer's commemorative edition of the competition, will be joined in Group A by Colombia, Costa Rica and Paraguay.
While the other three nations joining the U.S. certainly pose a threat to the Americans in this year's Group of Death, Klinsmann somewhat jokingly played off the challenge and reminded everyone of what his team accomplished in Brazil two years ago.
"Obviously it's a difficult group, no doubt about it, but it's doable," Klinsmann said. "We had a similar kind of scenario in Brazil and we went through, so now we start with Colombia right away instead of Ghana."
The Americans will open up play against Colombia in Group A on June 3 in Santa Clara, California, where the team will face the likes of Real Madrid's James Rodriguez and Arsenal goalkeeper David Ospina.
Despite the USMNT's familiarity with fellow CONCACAF foe Costa Rica and a potentially difficult matchup that looms four days later in Chicago, Klinsmann believes that taking slow steps and focusing on Colombia is how he and the U.S. will best prepare for the tournament.
"I think we have to take it one at a time," Klinsmann stated. "We will do everything to prepare very thoroughly for Colombia. Now, it's good to have the teams because we can reach out and put scouting plans together by their strengths and weaknesses.
"With all of the individual players, we can get our homework done and then prepare the guys 100 percent for the job. Playing Colombia is just exciting. We played them one-and-a-half years ago in London, and we had them right on the edge. Then we gave an easy goal away at the end of the game, but it was an even game for 90 minutes."
While on paper the U.S. is faced with the dreaded Group of Death, Klinsmann offered no excuses, stating that a trip to the knockout phase is something the team will pursue wholeheartedly.
"It's difficult to say, but definitely coming through the group is the objective, even if it's not easy," Klinsmann said. "After our experience in Brazil, we said that we have to win knockout games. There's no better way to start that than in Copa America."