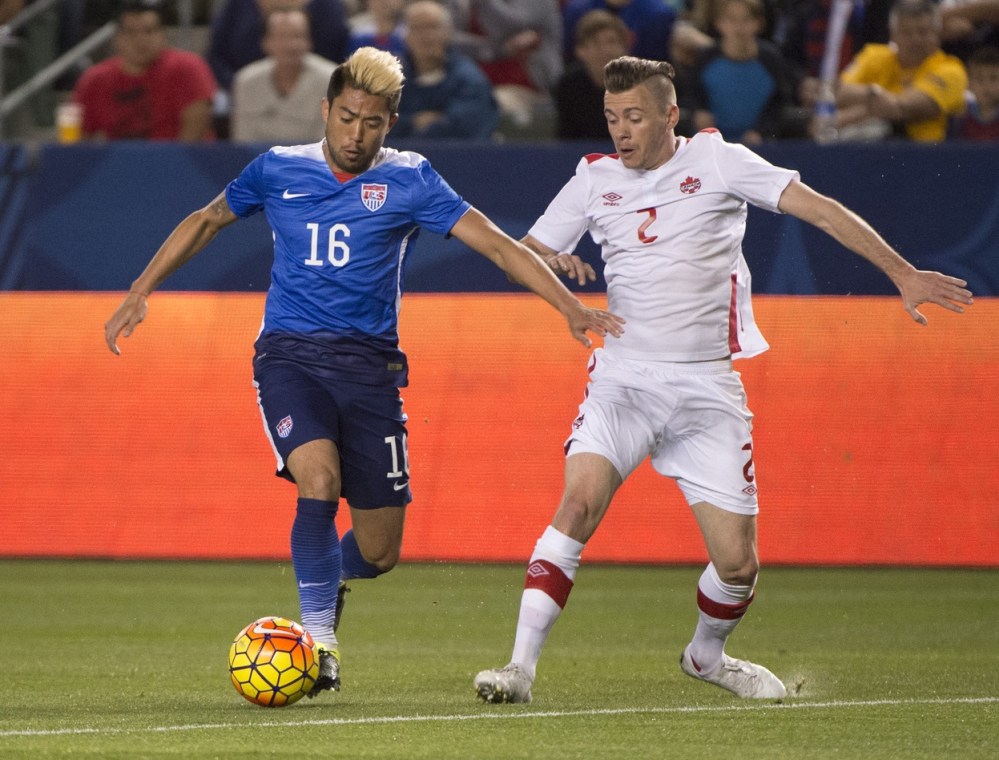 Less than a week after U.S. Men's National Team head coach Jurgen Klinsmann called him "one of the winners" of the January camp, Lee Nguyen put in another strong showing during Friday's friendly against Canada.
"Like anyone, you hope for positive steps going forward," Nguyen told SBI after the game. "And when you get your opportunities, (you hope) to make the most of it."
When it comes to the national team, Nguyen's long been an outsider looking in. After making his first appearance for the senior squad in 2007, Nguyen didn't get another call up for seven years, and then it was only for a pair of friendlies.
Yet, slowly but surely, Nguyen has worked his way back into the national team conversation. He's made his case with strong showings for the New England Revolution, while also displaying a high level of ball control that's otherwise lacking on the U.S. roster.
"His talent to combine, his talent to do quick moves and open things up, if it's with a final pass, if it's with a shot himself," said Klinsmann in Friday's post-game press conference, "that's what he does in New England. He's dangerous."
For his part, Nguyen is still getting comfortable on the national team. Much of the midfielder's play style relies on knowing exactly when and where his teammates are making their runs, but building that connection takes time.
"They aren't fine-tuned yet," said Klinsmann after the game. "Sometimes the last pass is missing, the last touch is missing. That's normal. They're in preseason."
"That's what this January camp, and all these camps, are for: to build that chemistry," said Nguyen. "I think me and Michael started gelling, he was able to find me in the gaps, and I think I'm comfortable with the guys that I've seen in the league (like) Jozy (Altidore), Gyasi (Zardes)."
Despite dominating possession for the better part of 90 minutes, the U.S. struggled to find that go-ahead goal against a defensive Canadian side. Altidore eventually headed home the game-winning goal late into the match.
While Nguyen was a key part of a solid midfield performance for the home team, he didn't put in a perfect performance. After the game, Klinsmann pointed to his decision-making in front of the goal, suggesting Nguyen needs to be a bit more selfish when it comes to taking chances.
"We told him, following the Iceland game, take that opportunity and whenever you get a situation where you can shoot, shoot," said Klinsmann. "This is a bit of a process. It's not coming over night that you suddenly don't lay it off to Michael Bradley or Jermaine Jones, (and instead say) 'no no, I'll take it and shoot.'"
That's not to say Nguyen didn't contribute to the attack. Several of the U.S.'s strongest combos in the final third started at Nguyen's feet. In the 53rd minute he arced a sharp cross to Jordan Morris, who was barely beaten to the ball by Canadian goalkeeper Maxime Crépeau.
However, Nguyen knows there's plenty of work to be done.
"It's still the first month coming back, so there's still a lot of improvements to be made," he said. "For me it's just getting those experiences and trying to keep improving on those things."
When it comes to the January camp as a whole, though, Nguyen's definitely improved his standing with the one person whose opinion matters.
"We are very pleased with these four weeks from Lee," said Klinsmann. "He really tried to make a mark and he did that. And it was nice."