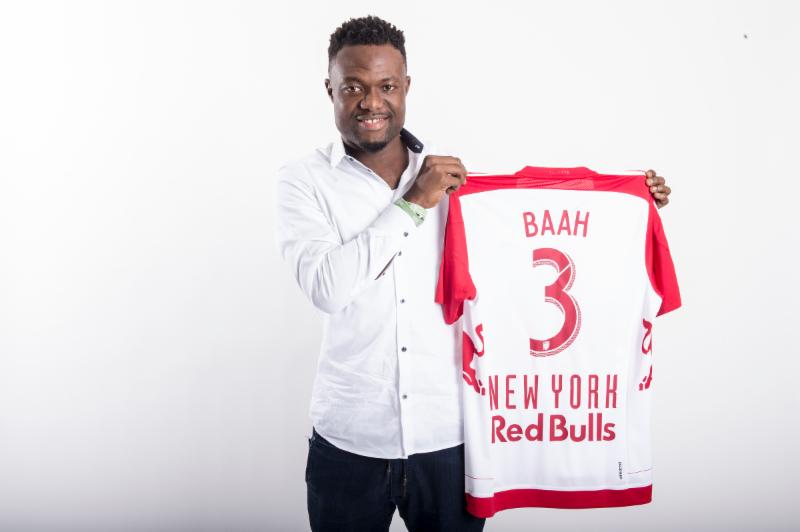 With Damien Perrinelle still recovering from a season-ending knee injury from last November, and the recent sale of Matt Miazga, the New York Red Bulls are in need of starting-caliber centerbacks.
The Red Bulls added a candidate to help fill that need  on Tuesday, signing of Ghanaian defender Gideon Baah. The 24-year old Baah joins New York after spending the past two seasons with Finnish club HJK Helsinki, where he made 42 appearances and scored two goals.
"He has a lot of qualities that fit the position the way we like it to be played," head coach Jesse Marsch said of the Red Bulls' new signing. "He's got very good feet. He's a very smart soccer player. In the past, he has played both left back and centerback, but we primarily think that he's a centerback and that's how we plan on using him."
As it so happens, Marsch wasn't the only one pushing for Baah's Red Bulls arrival. Midfielder Lloyd Sam, who has grown into one of New York's veteran leaders, also had extensive talks with his fellow Ghanaian teammate. Both men earned their first caps with the Ghana national team in October's international friendly against Canada, when the players entered the match as second half substitutes.
"He was telling me Red Bull is a great club," Baah said. "They play good football actually, and it's good for me, it suits me. He didn't need to talk to me much because I had the opportunity to watch them last year on Eurosport in Finland. I think it was an easy decision for me, and I think Lloyd [Sam] played a very big role, but at the end of the day I as a player and as a person love to come here and that's why I'm here."
Marsch believes Baah can be a good fit for the Red Bulls, and believes having Baah in with the team early in training camp should help his transition to MLS.
"It's nice because he's a natural left-footer so he fits in nicely on that left side of the centerback," Marsch said. "It's going to take some time for him to adjust to how we play. We've already tried to show him what we're all about and how we play and do things. The good thing about having him here now is that we have a month to integrate him into the team and tactics but I'm very certain that he'll be a good fit and a good player here."
While the transition from Finland will be a task that Baah will quickly be looking to overcome, the young defender is eager to adapt to Marsch's up-tempo style of play and realize his potential in MLS.
"It's really demanding I should say," Baah said. "They press high and I think that that's the only challenge but the coaches and the technical team are really there also to help me adapt to the system. I know that with my potential and abilities that I can fit in really well."