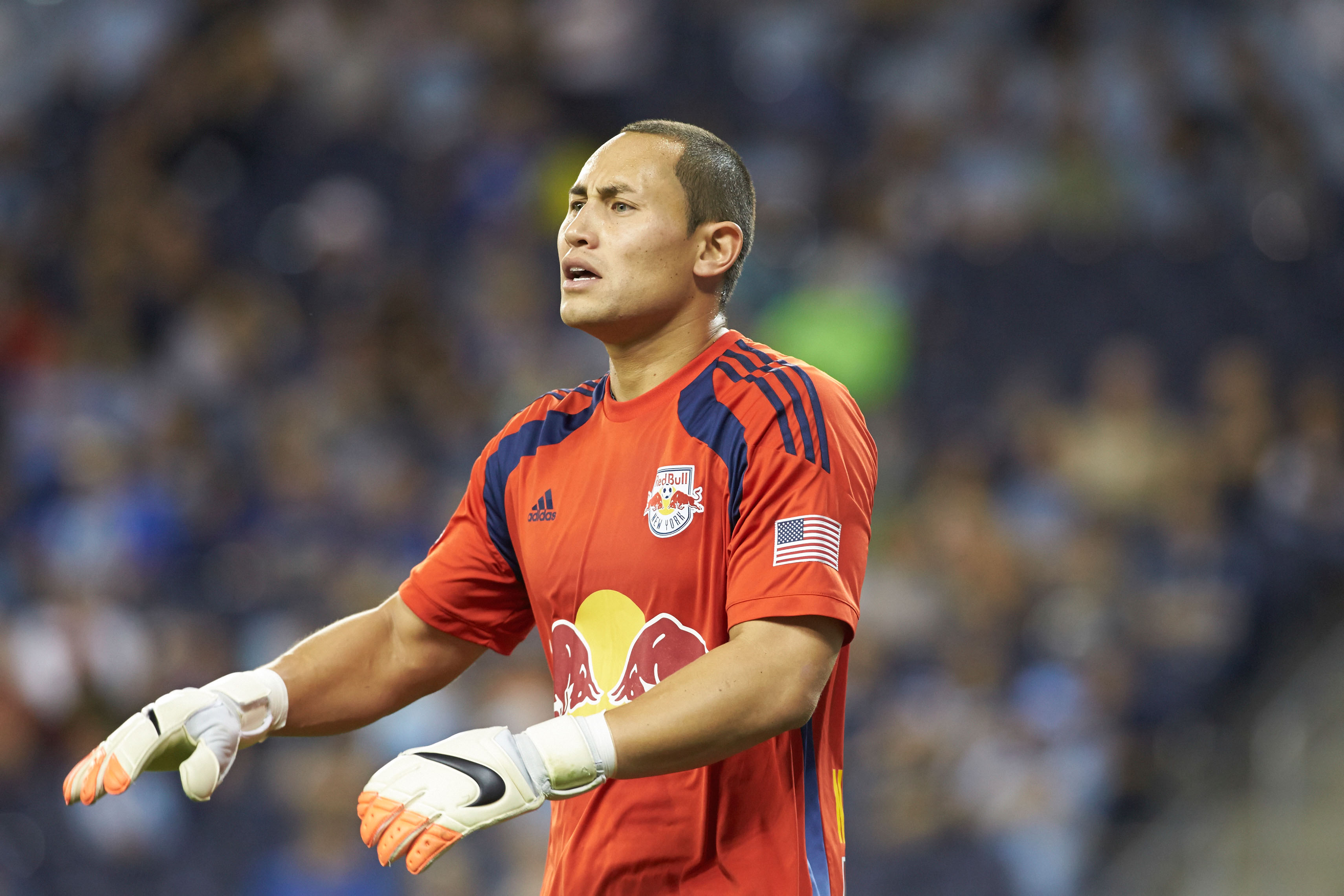 Hanover, NJ — After spending a week in Orlando, Florida for the team's first-half of preseason training, the head coach Jesse Marsch and the New York Red Bulls returned to New Jersey on Monday.
U.S. Men's National Team goalkeeper Luis Robles and Canada defender Karl Ouimette joined the team at Monday's training session, after having served significant stints with their respective national teams throughout the month of January. Robles started in net during the USMNT's 3-2 win against Iceland on Jan. 31, while Ouimette was an unused substitute for Canada in the team's 1-0 loss to the U.S. on Friday.
"I got feedback that he was looking really sharp," Marsch said of Robles' return. "Obviously getting a cap was a really good experience for him. I gave him the option to have the day off and he didn't want to take it. He was anxious to get back within our team and I think that he really considers this his family. Having him back is great, and you really start to feel like the group is coming together now that him and Karl Ouimette are back."
Here are more of Monday's Red Bulls Notes:
MARSCH PLEASED WITH EARLY PROGRESS
It's still early for teams as they continue preparation for the upcoming MLS season, but the Red Bulls are excited about where they sit with about a month until opening 2016 against Toronto FC.
"Certainly you can talk about breaks at the end of the year and how things played themselves out but we try to talk about what we can control," Marsch said. "For us, it's our process and I look at last year as a good first step and a good foundation for how we have progressed.
"Now, we have to make sure that going into this year that we don't go backwards at all, that we don't even pick up where we left off, but that we're ready to take even more steps forward. We've added sophistication, some tactical things, some reactionary and habit things within our team. We're continuing to create clarity for our entire player pool for how we play and how we do things."
TRIO CONTINUE TO REHAB INJURIES
Following Monday's training session, Marsch clarified the state of his side's recent injuries. Attackers Shaun Wright-Phillips and Anatole Abang, as well as defender Ronald Zubar are all suffering hamstring setbacks, according to the Red Bulls head coach.
"We're hoping that all three of those guys will be back in training when we get back to Orlando and potentially all three will be able to get back into training before then or some type of modified version," Marsch said. "They're all a week to 10 days away from being back in fully."
All three of the players' injuries came during RBNY's stay in Orlando.
COOPER REMAINS WITH SQUAD
After re-joining the Red Bulls this offseason as a trialist, forward Kenny Cooper continues to impress with the team and has earned himself another week to train with the group.
"He's going to be extended through this week and then we'll see how it goes from there," Marsch said. "It's not the easiest week to evaluate guys, but it's an important week for Kenny to get up to speed with fitness and sharpness. It's good to have him here, he's been fantastic and a great guy to have around."
Cooper, 31, previously for the Red Bulls in 2012, when he recorded 18 goals in 31 appearances for the club. Due to an ongoing injury battle last season, the veteran attacker only made one appearance for the Montreal Impact, who signed Cooper in April 2015.
LOCAL TRIALIST JOINS TRAINING
In addition to the current roster, Marsch revealed the name of a trialist that has joined the Red Bulls for the upcoming week.
"There's a young kid from Rider named Florian Valot that we have in this week for training," Marsch said, "but other than him it's the same group."
Valot, 22, played both as a midfielder and forward in his two seasons at Rider. In 2015, the Frenchman started in 16 matches for the Broncs, recording six goals and two assists, before the team fell to Virginia in the NCAA Men's College Cup first round.