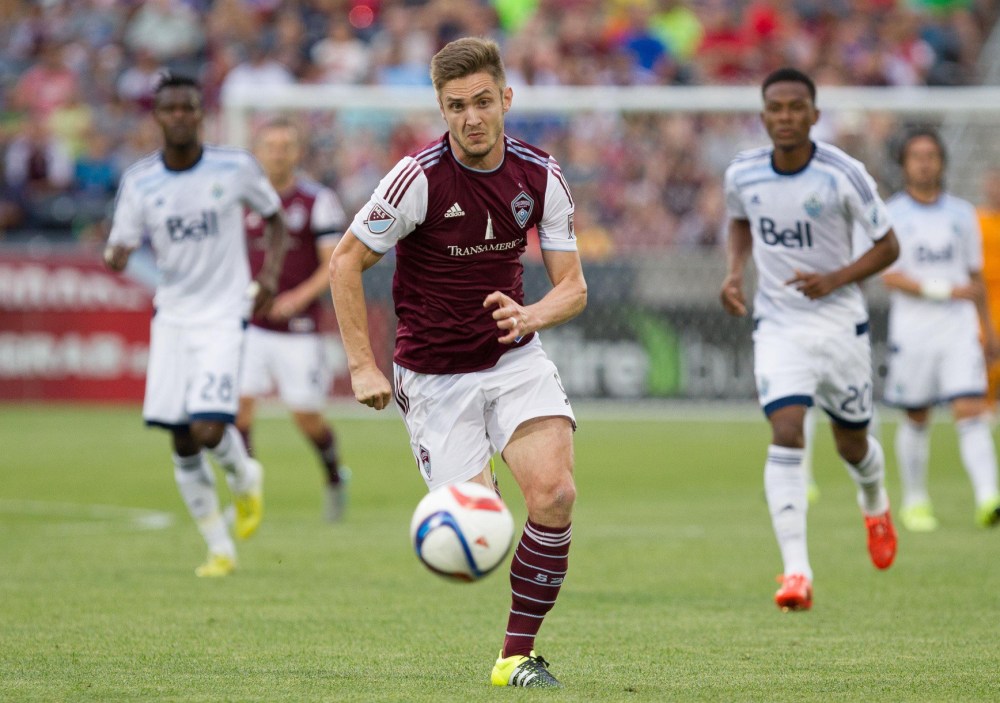 There's no doubt the Colorado Rapids are coming off a hugely disappointing year, but the club completed an overhaul in the offseason with the hope of turning things around in 2016.
To put it bluntly, the Rapids may not have had the worst record in 2015, but they easily could be considered the worst team from the year. The club finished dead last in the Western Conference, and finished the season with only 33 goals scored (.97 goals per game) — fewest in the league.
"(The Rapids) haven't produced the results we would have wanted the last few years, and that's undeniable, but I think despite not getting the results, we still have some core guys that are here that have developed a culture and understanding of what we as a team want to go out and do," Dillon Powers told SBI ahead of the 2016 MLS season.
"It might not be winning games, and the team is still getting better. People think those two don't go together, don't really align, but I think we've definitely added to the quality this year. So if you can add those guys into some of the good stuff that we've been doing here that hasn't really been recognized by people outside of this camp, I think there's every reason to believe that we will be successful this year."
Many of head coach Pablo Mastroeni's starters from last season have been replaced. Most importantly, the club brought in a dynamic international attacker to help the Rapids do one thing: score more goals. Overall, the Rapids' lineup come March 6 vs. the San Jose Earthquakes will have some familiar faces sprinkled around, but mostly consist of new additions.
Here's a closer look at the 2016 Colorado Rapids:
COLORADO RAPIDS SEASON PREVIEW
2015 FINISH: 9-15-10, 37 points (10th in Eastern Conference)
KEY ACQUISITIONS: Jermaine Jones, Shkelzen Gashi, Marco Pappa, Eric Miller, Zach Pfeffer, Zac MacMath, Conor Doyle, Mekeil Williams
KEY LOSSES: Clint Irwin, Marcelo Sarvas, Drew Moor, Vincente Sanchez, Gabriel Torres, Michael Harrington, Maynor Figueroa, Juan Ramirez
NEWCOMER TO WATCH: Shkelzen Gashi. The 27-year-old Albanian international moves to MLS from Swiss club FC Basel, and may turn out to be one of the best moves of the offseason by any MLS team. The Designated Player has led the Swiss Super League in scoring the past two seasons, and can be used as an attacking midfield option as well as a forward. If he receives service, expect Gashi to light up the league in 2016.
PRESSURE IS ON: Dillon Powers. The 2013 MLS Rookie of the Year was been an integral part of the Rapids organization since joining the team out of university. Now entering his fourth year with the club, the 25-year-old midfielder has set lofty goals for himself this offseason. He wants to be an MLS Best XI, which requires extraordinary play. He will have to lead the Rapids to the playoffs in order to have a shot at achieving that goal.
OUTLOOK
The Rapids may have overhauled their team and added some quality in much-needed areas of the field, but so too have most of, if not all of, the teams in the Western Conference.
Mastroeni has a handful of new players to deal with this year, and he admitted that it may take time for the club to gel. One of those new pieces to the puzzle is goalkeeper MacMath, who was a member of the team last season but was second choice to Irwin. That is not the case this year, at least for the time being, as a recent report tabs Tim Howard to join the Rapids in the summer. If that's the case, MacMath will likely become second choice once again. No matter who starts in goal for the team this season, Mastroeni wants to head in a new direction with the way they play.
"When we sat last year, we talked about the style of play that we really wanted to continue to develop, and having had two very good keepers available to us in Clint Irwin and Zac MacMath, we felt like it would be a great opportunity to really push the envelope in that position," coach Mastroeni said. "And so with that in mind, we really wanted to be a team that plays more out of the back, controls more tempo of the game, using our goalkeeper as a field player in possession.
"I think last year, by him not playing, it actually provided him a great opportunity to continue to fine-tune all the little things that he needs to continue working on as a young goalkeeper. To this point in the preseason, it's paid dividends. He's been sharp. He's set himself up for a fantastic year if he can keep in this form."
Gashi and Pappa are two other new players that are set to start on opening day. Mastroeni said he is considering using the 4-2-3-1 formation, which means Gashi will likely play just underneath forward Kevin Doyle, and Pappa will play on the left wing. Doyle is almost a sure bet to lead the front line after scoring a team-leading five goals after joining a little less than midway through the 2015 season.
One of those familiar faces that will make their way into the starting lineup come March 6 is Powers. He will factor into the midfield mix, and should be paired alongside Sam Cronin. Although, new addition Azira could see a decent amount of playing time as the holding midfielder this year after moving over from the Seattle Sounders.
"Growing up, I've played more of a box-to-box midfield role, so I'm very comfortable playing that role, and I think you will see me playing that a lot more this year," Powers said.
"I like to think that might be my best position, but at a professional level, I haven't spent too much time there," Powers said. "One of my best assets is my ability to pass the ball and move the ball, and I think from that position, you get to do a lot of that. In the other roles, it's more about finding the ball and making passes in behind. I think you generally get a lot more touches in that box-to-box role, and I think I can gain a lot more from it."
Mastroeni has a choice to make when it comes to his central defenders. Sean St. Ledger started most of the team's games towards the end of the season in 2015, but Bobby Burling and Axel Sjoberg are equally useful. On the right, Miller should slide in nicely after moving over from the Montreal Impact, while another new addition in Williams will likely fill the left back spot.
Overall, the Rapids have made a lot of changes to key areas of the team ahead of the 2016 season, but they face a tough road to success in a difficult Western Conference. One only has to take a look at the offseason additions of some of the conference's top teams to realize that most every team has strengthened important areas in order to compete for the MLS Cup this season. Despite the challenges that lie ahead, Mastroeni's men do have the talent to post more goals and more wins this year.
PROJECTED STARTING LINEUP