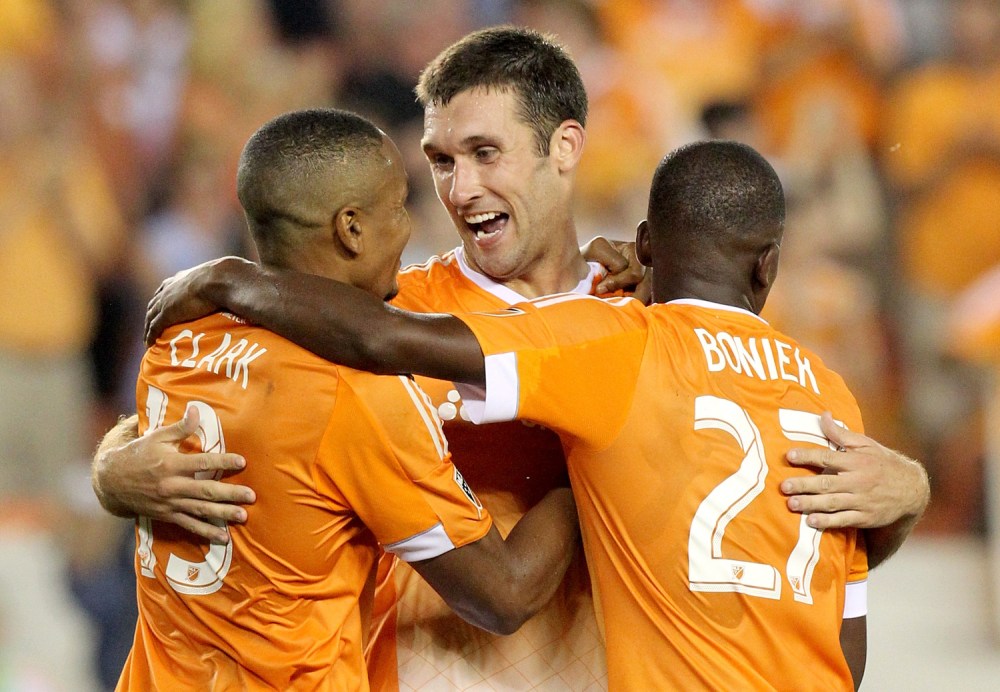 Houston Dynamo head coach Owen Coyle learned a thing or two during his first MLS season, and he's eager to prove it en route to helping a historically successful franchise reach the playoffs once again.
The past two years have seen the Dynamo finish in eighth place — once in the Eastern Conference in 2014 and then in the Western Conference in 2015. That is not to say the Dynamo haven't improved in that time, because results did under Coyle. However, the Forever Orange faithful have experienced seven years of playoff action in the 10 years they have played. Those supporters want the current two-year dry spell to end. They are craving postseason soccer.
"We're working very hard under our budget and everything else to create a good team on the field, which we showed last year," Coyle told SBI ahead of the 2016 MLS season. "Those teams in the playoffs, we beat them all, so all we have to do is add that consistency, and I think we were two results from being in the playoffs. So that's not a huge margin to close.
"This wasn't a team that tailed off, this was a team that went almost until the last game of the season to have a chance to be in the playoffs, so that's how tight the margins are," Coyle said. "So what we need to do is make sure we come out on the right side of the margins."
In order to come out on the right side of those margins, Coyle and the Dynamo made some key changes this winter. Long-time Dynamo midfielder Brad Davis was traded to Sporting Kansas City while the club brought in many talented attackers that will look to freshen things up this year.
Here is a closer look at the 2016 Houston Dynamo:
HOUSTON DYNAMO SEASON PREVIEW
2015 FINISH: 11-14-9, 42 points (8th in Western Conference)
KEY ACQUISITIONS: Cristian Maidana, Andrew Wenger, Sebastien Ibeagha, Calle Brown, Bradley Bourgeois, Jalil Anibaba, Christian Lucatero, David Rocha, Agus

KEY LOSSES: Brad Davis, Luis Garrido, Jermaine Taylor, Kofi Sarkodie, Michael Lisch, AJ Cochran, Alex Lopez, Nathan Sturgis, Chandler Hoffman
NEWCOMER TO WATCH: Cristian Maidana. The Dynamo are expecting great things from the 29-year-old Argentine. Moving out west from the Philadelphia Union, Maidana has impressed not only Coyle, but also some of the players on the team with his creativity and movement on the ball this offseason. The 5-foot-11 midfielder has been playing an attacking role just underneath the No. 9 thus far, and many Dynamo goals could be going through him this season.

PRESSURE IS ON: Will Bruin. The 6-foot-2 striker is entering the prime of his career at the age of 26, and he will likely be counted on to lead his side in scoring this campaign. He faces competition from Erick Torres, who failed to score for the Dynamo in 11 appearances last year. Bruin has proven his consistency when it comes to scoring, and he could be set for a stellar year with Maidana playing underneath him. It's in Bruin's hands, though. He can either take the reins and become a top striker in the league or take a back seat to Torres, unless Coyle finds a way to successfully have all attacking options on the field at once.

OUTLOOK
Coyle's first year in charge is in the books, and there are a few things the coach says he's learned that will hopefully make year two more of a success.
Winning on the road in MLS is tough. No team boasted a winning record on the road in 2015, and the Dynamo finished the season with the second-worst road record. Coyle says the miles traveled were a challenge, but the Dynamo will fly more than most MLS teams once again this season. He says he has learned and is hoping results this year show he has adapted.
"I think the big learning curve last year was certainly the travel involved," Coyle told SBI. "We're scheduled to travel 63,000 miles again this year, and that's certainly a lot of travel involved for anybody. So within that, I think it's been tough adjusting, training, because it does take its toll on the players.
"That's an area of the club where we wanted to do more. People say, 'well, historically, the Dynamo don't have a great away record.' That's something we want to change because if we even performed slightly better than we did last year, we would've been in the playoffs. If we look at our home record from May onwards, the last 10 games, we had the third best record in the whole of MLS. Seven wins, two draws and one defeat. So if you can replicate that and pick up points on the road, then that automatically thrusts you into playoffs with the chance of winning the ultimate prize. So I think the travel is a huge thing we've certainly learned from, and it's important that we do better on the road this year."
Coyle has focused on restructuring his midfield this offseason, bringing in the likes of Wenger, Maidana and Rocha to replace the exits of Davis, Garrido and Lopez. Maidana could be in store for a breakout season playing underneath Coyle's bevy of forward options. Mexican international Torres may seem like the clear choice to start on opening day, but Coyle may instead opt to play Bruin as the No. 9 due to his goal-scoring record the past two seasons.
Giles Barnes could also play up top, but he has featured on the left wing for Coyle at times this offseason. Coyle considers him to be one the best attackers in the league when he's fresh, so he will more than likely play there to start the season in order for the coach to have as many of his best attacking talents on the field as possible.
Sitting behind these attacking talents will be Ricardo Clark, who had arguably the best season of his career last campaign despite his age. If the Dynamo are to succeed this year, the 33-year-old is sure to play a major role.
Last season, the Dynamo conceded a Western Conference-worst 49 goals. Coyle looked to Spain to find a suitable addition to his back line, and signed Agus in January. The 30-year-old spent the past few years in the Spanish second division, and is expected to play alongside Spanish centerback Raúl Rodríguez for the upcoming year. Pairing the Spaniards in central defense could prove to be a wise move for Coyle, who is eager to begin his second year at the helm and has players excited about the direction the club is moving.
"I think we're going in the right direction," Bruin told SBI. "After turnover with Dom (Kinnear) leaving and the staff, there's obviously going to be changes, but I've really bought into what Matt (Jordan), Owen and the whole staff has kind of instilled into the organization. It makes me excited to be a part of something that can turn around and get back to where we were a few years ago, which was getting into the playoffs, making runs to the MLS Cup."
PROJECTED STARTING LINEUP