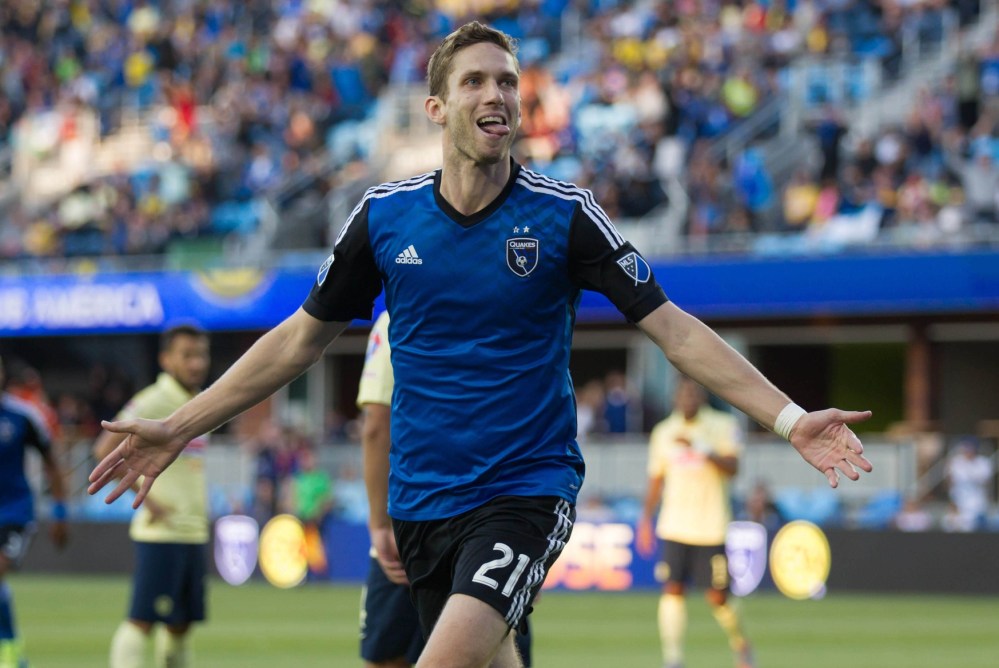 Clarence Goodson has enjoyed a long and successful career, but is not ready to end it just yet.
He's played abroad and competed in a handful of international friendlies and competitions for the U.S. Men's National Team. Overall, he's been capped 46 times and made the 2010 U.S. World Cup roster. Goodson also spent seven seasons in MLS — the 2016 campaign will be his eighth.
The veteran centerback has learned a lot over the years, like watching what he eats during the offseason. Focusing on the little things like that, Goodson says, are essential to becoming a top player at the club and international level.
"I'm 33, going to turn 34 this year, so I've been working on trying to keep the body healthy (this offseason), working on having a good diet," Goodson told SBI ahead of the MLS season. "I think sometimes when you are a younger player, the offseason kind of becomes a time to let loose a little bit, mess up your diet and have some things you may normally wouldn't have, but for me, that wasn't the case."
"I'm pretty much the way that I am now. Try to stay healthy and stay fit, and when I come back to preseason, it's much easier to get back into the swing of things when you make good decisions in the offseason and get in the gym. Working on flexibility and plyometric stuff that will keep the muscles and joints strong."
It's no secret on the team that Goodson takes good care of his body. It's one of the reasons why head coach Dominic Kinnear thinks Goodson is still one of the top centerbacks in the league.
"Hopefully he'll be as good as he was last year," Kinnear told SBI. "I think Clarence is a very smart, very good central defender, rarely makes mistakes. He does a lot of things correctly and is very consistent. He practices well, and takes care of his body and himself off of the field. Health is important for him.
"He's one of those quiet leaders, who just plays very well," Kinnear added. "He's got international experience, and we all know the reasons why. I thought he had a good year last year, and we're hoping for the same. Hoping for better, if that's possible."
Goodson enjoys sharing his advice and experience to the younger members of the Earthquakes, like Fatai Alashe, Marc Pelosi and Tommy Thompson, because they are motivated to learn and ask questions.
"They all want to take that next step to be full-time starters in MLS and, eventually down the line, play for the U.S. Men's National Team. That's a big goal of theirs. So it's natural they would look to Chris (Wondolowski) and myself for some help there.
"I think one of the big things that I've spoke to them about is taking control of their career. If they want to achieve those things, they have to understand that it's down to them to do that. I can give them as much knowledge as possible, but if they are not willing to come in early for little extra work on something, then it's not going to happen. If you are willing to work hard and keep your head down, you can be successful."
Goodson and the Earthquakes back line were able to do just that last season. The team's defense didn't receive much recognition last year, but finished the campaign as one of the best in MLS. The team only conceded 39 goals, tied for third best in the league behind only the Vancouver Whitecaps and the MLS Cup champions Portland Timbers.
Despite their great play, the Earthquakes felt the need to add another central defender this offseason. The club brought in veteran Argentine centerback Andres Imperiale in January, which immediately added competition and depth ahead of the 2016 season.
Goodson, though, will be lining up next to Honduran international Victor Bernardez when the Earthquakes host the Colorado Rapids on March 6. Kinnear told SBI that Imperiale will play some "important minutes" this season, but was mainly brought in for some much-needed depth.
"I think we're a team that has relied on Victor and I over the past few years. A couple of years ago, when I wasn't able to play for a little while, I think it kind of disjointed us a little bit, and when Victor's been hurt," Goodson said. "Last year, we had center midfielders playing in the back. We moved Marvell (Wynne) there a few times, and they're certainly all very capable, but we absolutely needed another centerback on this team.
"I think the team did a good job. They went out and got a good player. I think he's fit in quite nicely and speaks perfect English, which helps with communication and everything else. You always need competition within the club. It makes everyone better."
Goodson will be an eligible free agent following the conclusion of the upcoming season. By then, he will be 34 years old, but Goodson says he feels as good as ever and would welcome the challenge to compete for years to come.
"I'm going to keep playing soccer for as long as I still enjoy it and am still good, and as long as a team still wants me," Goodson said. "Age is certainly just a number. As long as I'm still able to perform at a high level, which I think last year was probably my best professional year maybe ever. I felt very good, and felt I was one of the best defenders in the entire league last year.
"There's no guarantees this year that I will be able to stay fit or anything like that, but I feel strong right now. I'm going to keep going as long as I can continue to provide the team with a good player."