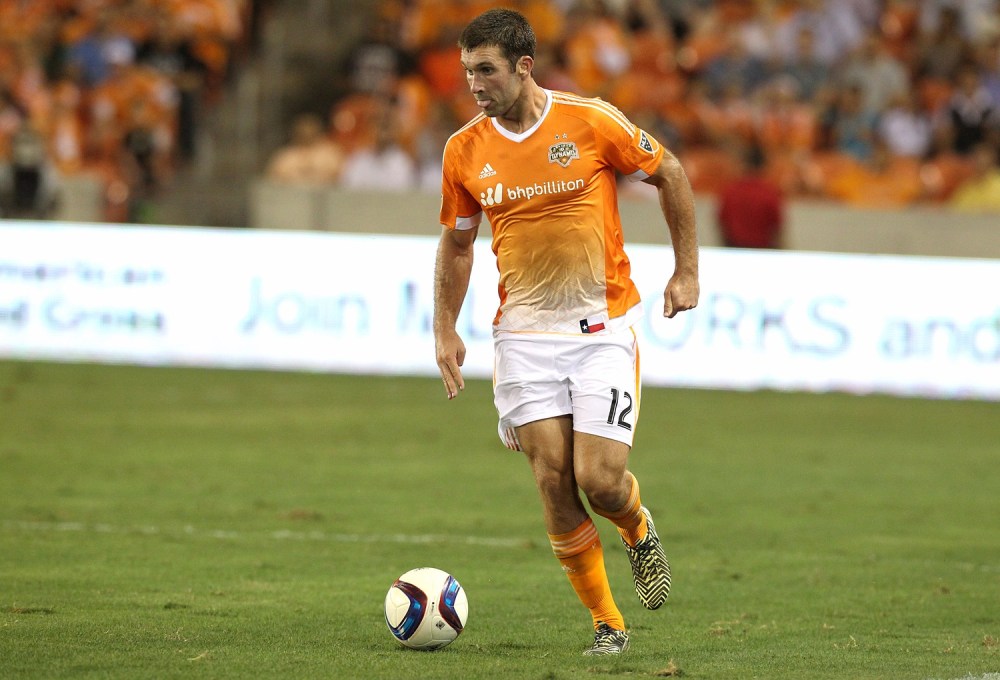 Entering the prime of his career, Will Bruin had the opportunity to move away from the club he has called home for five years. However, the 26-year-old forward felt there was more to be done with the Houston Dynamo.
Bruin made the decision to re-sign with the Western Conference club in December alongside friend Giles Barnes. He and Barnes have been teammates since 2012, and have grown a healthy relationship off the field as well as on it.
"We have a great relationship off the field. We're actually roommates when we travel, so Giles and I get along real well," Bruin told SBI ahead of the 2016 MLS season. "He came in the summer after I got there, so we've been in it together for the long haul. And obviously we both talked about what we thought was best going forward for individuals and the team, and we were both on the same page with thinking that there's something brewing right here in this team, no pun intended. There's something special that's happening right now, and we both wanted to be a part of that."
He and Giles had reasons to leave, too.
The pair of forwards experienced two runs to the MLS Cup final together, but fell to the LA Galaxy both times. In 2014, the Dynamo experienced the worst season in its history, and last year's squad was unable to qualify for playoffs once again. If there was any time for a fresh start, a new challenge, it would have been following the conclusion of the 2015 season.
Yet, Bruin consulted Barnes and the coaching staff from the Dynamo, and felt driven to help the Dynamo. Owen Coyle, who took charge of the club ahead of the 2015 season, says they had extensive discussions with both of the forwards, and everyone came away realizing that the club is on the rise.
"We think we create a very good environment to work in, and Giles and Will both felt committed to what we're doing moving forward," Coyle told SBI. "They see the progress as a club we're willing to make and what we want to do moving forward, so as a coaching staff, that was very pleasing. Both players, as they did, having offers to go elsewhere, that they wanted to be with the Houston Dynamo. That's a huge thing for any club — that you have players who want to be at your club."
The American striker's numbers improved from 2014 to 2015, as he netted one more goal (11) and assisted three more (4). However, the 6-foot-2 forward is eager to contribute more.
As the Dynamo's center forward, Bruin says he's training to become a better hold-up player. Fitness coach Paul Caffrey, who was a former assistant with the U.S. Under-17 Men's National Team, the Colorado Rapids and Chivas USA, is working with Bruin to help him get stronger and better-equipped to be a prototypical target forward.
"I want to be more dynamic going forward," Bruin said. "I know I'm known as more of a box striker, getting on the end of crosses and stuff like that, but I want to be able to get the ball at my feet and dribble at guys, and be more dynamic in that aspect.
"It's something I've worked on a lot, and I think I'm going to be more agile this year. For me, with my big frame, the more agile I am, the better off I'm going to be as a forward, so I think that if I can just keep working on that, more explosiveness, more power, then that's only going to benefit me."
Recent additions by the Dynamo have created plenty of competition for Bruin up top this offseason, as forwards Andrew Wenger, Mauro Manotas, Mexican international Erick Torres and Barnes are all competing for minutes. Coyle insists that no spots are guaranteed, but Bruin is likely to get the starting nod on opening day after impressing the coach during the final half of the 2015 season. Bruin understands there are many lineups and formations Coyle can choose come March 6 vs. the New England Revolution at BBVA Compass Stadium, but he thinks that depth and talent will make the Dynamo a team to be reckoned with this upcoming campaign.
"Coyle's still looking at a lot of different ways to line up. For example, he's lined up Giles on the left in a 4-3-3 with me through the middle (this preseason)," Bruin said. "So there's a bunch of options he can take, but I think he's looking to put the guys who earn it out on the field, and I don't think anybody's guaranteed because he wasn't too happy with last year as well, so he doesn't want everybody assuming guys have roles and you have to earn it," Bruin said. "I think it's been healthy competition so far, with all three of us on the field on the same time, it just depends on what formation Owen wants to line up in.
"I think I had a pretty good end of the year last year or second half of the season, and I think that's carried over. Right now it looks like we are going a single striker, and I think I've been doing pretty well with that. Last year was kind of a bumpy road, but I'm comfortable playing as a single striker now with (Cristian) Maidana, Giles or somebody underneath. I'm excited because it's going to be dynamic going forward."