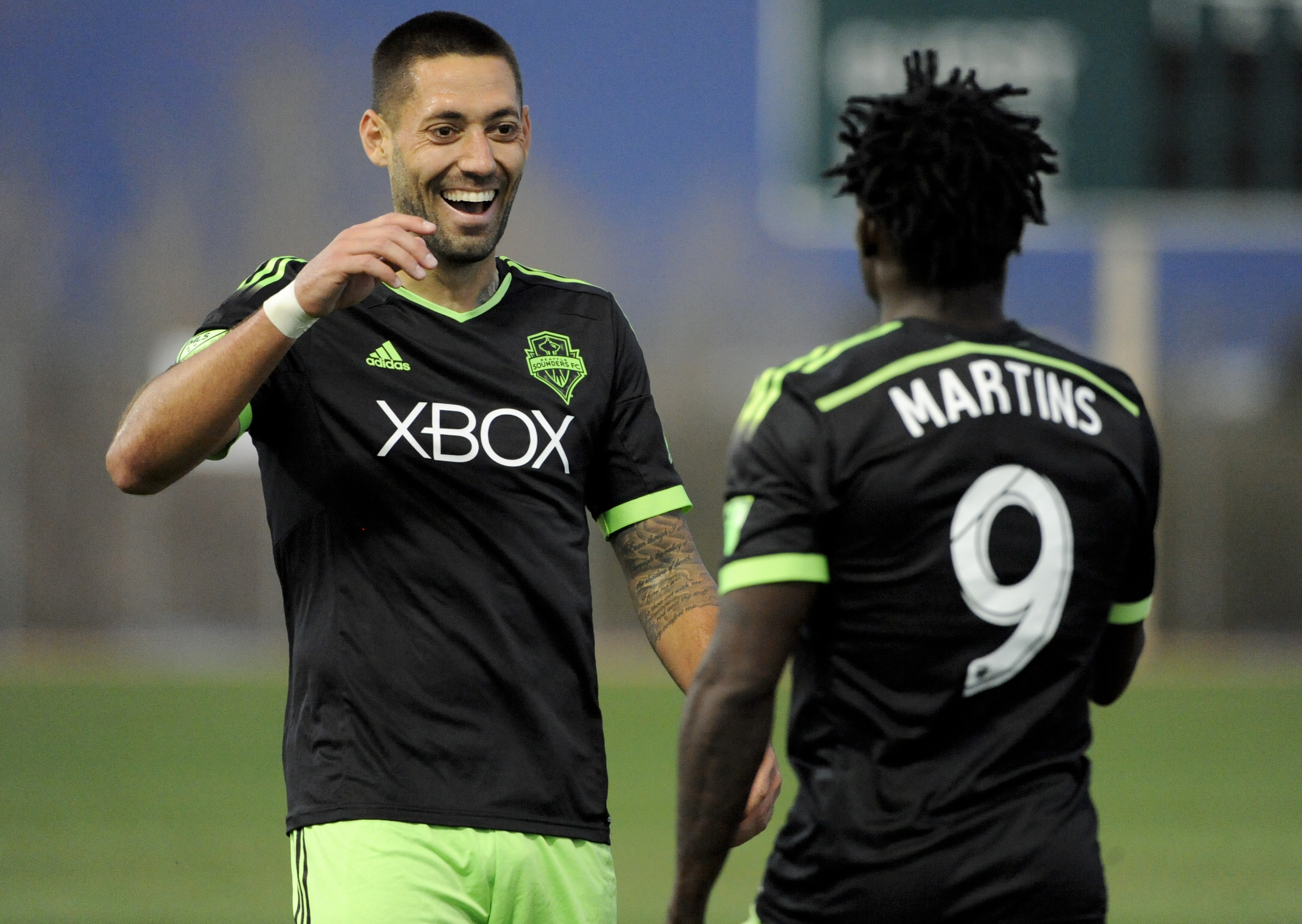 The Seattle Sounders' formational shift is a work in progress, but so far so good.
The Sounders have switched things up this preseason, practicing in a 4-3-3 formation rather than the 4-4-2 that they have used in recent years. Part of the idea behind the tactical switch is to get more of the club's talented forwards on the field at once, which makes sense given that it boasts Clint Dempsey, Obafemi Martins, Nelson Haedo Valdez and Jordan Morris.
On Wednesday, the Sounders trotted that new system out against an opponent for the first time. The final result was a 2-1 loss to the Vancouver Whitecaps, but the performance was plenty encouraging to Sounders head coach Sigi Schmid.
"I thought it was good. I thought for the first time out we played really well," said Schmid. "I thought as the first half went on that (starting) group got better and better, and in the last 15-20 minutes of the first half we were the stronger team. We probably had the cleanest chances. We had two pretty clean chances, one that we probably should score that got put over the top, but I was pleased.
"There are still things we have to adjust, we have to tweak. That's why you play games. It certainly answered some questions for us."
Schmid expects it to take time for his players to truly feel comfortable in the new setup, but there is a level of familiarity that they are working with. The coaching staff has shown the players clips of the team playing in a 4-3-3 at times last year when it was defending following turnovers, with the hopes that it will help them adjust quicker to the new scheme.
"We wanted them to understand that this isn't really something that we haven't done before," said Schmid. "It's just something that's a bit more formalized."
In terms of the tactics, the Sounders' three forwards can all interchange positions from the run of play. They are not strictly limited to one spot, and there were instances on Wednesday in which Dempsey, Martins and Valdez swapped spots.
As for the midfielders, there is more work to do given that there is one less player than last year to help carry the load. That means wide midfielders like Erik Friberg and Andreas Ivanschitz will have to cover more ground, and that defensive midfielders like Osvaldo Alonso will have to be more disciplined.
Balancing the attacking fluidity with the defensive responsibilities is something that the Sounders still need to get better at, but they have a few more weeks to do so before the matches start to count.
"Defensively, that's something that we're still working out and we'll get more clarity on that with each game," said Schmid. "There were defending sequences I was very happy with and then there were a couple of other defending sequences that I felt we could've done better on, and that's what we'll continue to work on."