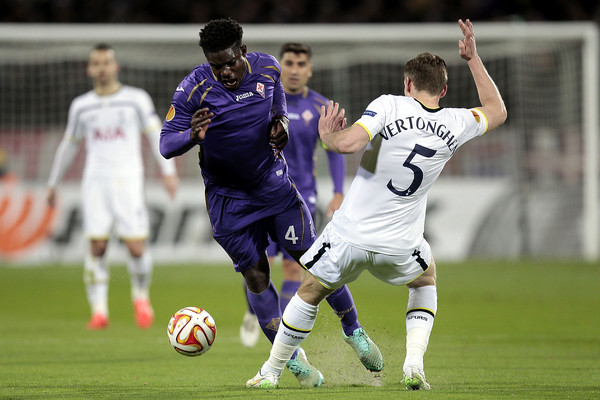 While the UEFA Europa League takes center stage in Europe during the afternoon, the Copa Libertadores rolls on in South America in the night cap on Thursday.
Fiorentina-Tottenham Hotspur headlines the action in Europe's secondary continental competition, after both sides have found very good form as of late. Two more English Premier League sides, Manchester United and Liverpool, will play against Midtjylland and Augsburg, respectively.
In South America, three matches are featured on Thursday's Copa Libertadores docket, including Independiente del Valle-Colo Colo and Pumas UNAM-Emelec. The evening begins in Peru though, where host Sporting Cristal faces Uruguayan side Peñarol in Group 4.
If you will be watching today's soccer, please feel free to share your thoughts, opinions and some play-by-play in the comments section below.
Enjoy the action (Today's TV schedule is below):
EUROPA LEAGUE
1 p.m. — FOX Soccer 2Go USA/ESPN3 USA/Watch ESPN — Fiorentina vs. Tottenham Hotspur
1 p.m. — FOX Soccer 2Go USA/ESPN3 USA/Watch ESPN — Borussia Dortmund vs. Porto
1 p.m. — FOX Soccer 2Go USA — Anderlecht vs Olympiakos Piraeus
1 p.m. — FOX Soccer 2Go USA/FOX Sports 2/ESPN3 USA — Midtjylland vs Manchester United
1 p.m. — FOX Soccer 2Go USA/ ESPN3 USA/Watch ESPN — Sevilla vs. Molde
1 p.m. — FOX Soccer 2Go USA/ESPN Deportes/Watch ESPN — Villareal vs. Napoli
1 p.m. — FOX Soccer 2Go USA/ESPN Deportes+ — St Etienne vs. Basel
3:05 p.m. — FOX Soccer 2Go USA/ESPN Deportes+ — Sion vs. Sporting Braga
3:05 p.m. — FOX Soccer 2Go USA/ESPN3/Watch ESPN — Valencia vs. Rapid Wien
3:05 p.m. — FOX Soccer 2Go USA/FOX Sports 2 — Augsburg vs. Liverpool
3:05 p.m. — FOX Soccer 2Go USA — Sparta Praha vs Krasnodar
3:05 p.m. — FOX Soccer 2Go USA/ESPN3 — Galatasaray vs Lazio
3:05 p.m. — FOX Soccer 2Go USA — Shakhtar Donetsk vs Schalke 04
3:05 p.m. — FOX Soccer 2Go USA/ESPN3/Watch ESPN — Olympique Marseille vs Athletic Club
3:05 p.m. — FOX Soccer 2Go USA/ESPN Deportes/Watch ESPN — Sporting CP vs Bayer Leverkusen
COPA LIBERTADORES
7:45 p.m. — FOX Soccer 2Go USA/Fox Deportes — Sporting Cristal vs. Peñarol
7:45 p.m. — FOX Soccer 2Go USA — Independiente del Valle vs. Colo Colo
10 p.m. — FOX Soccer 2Go USA/Fox Deportes — Pumas UNAM vs. Emelec