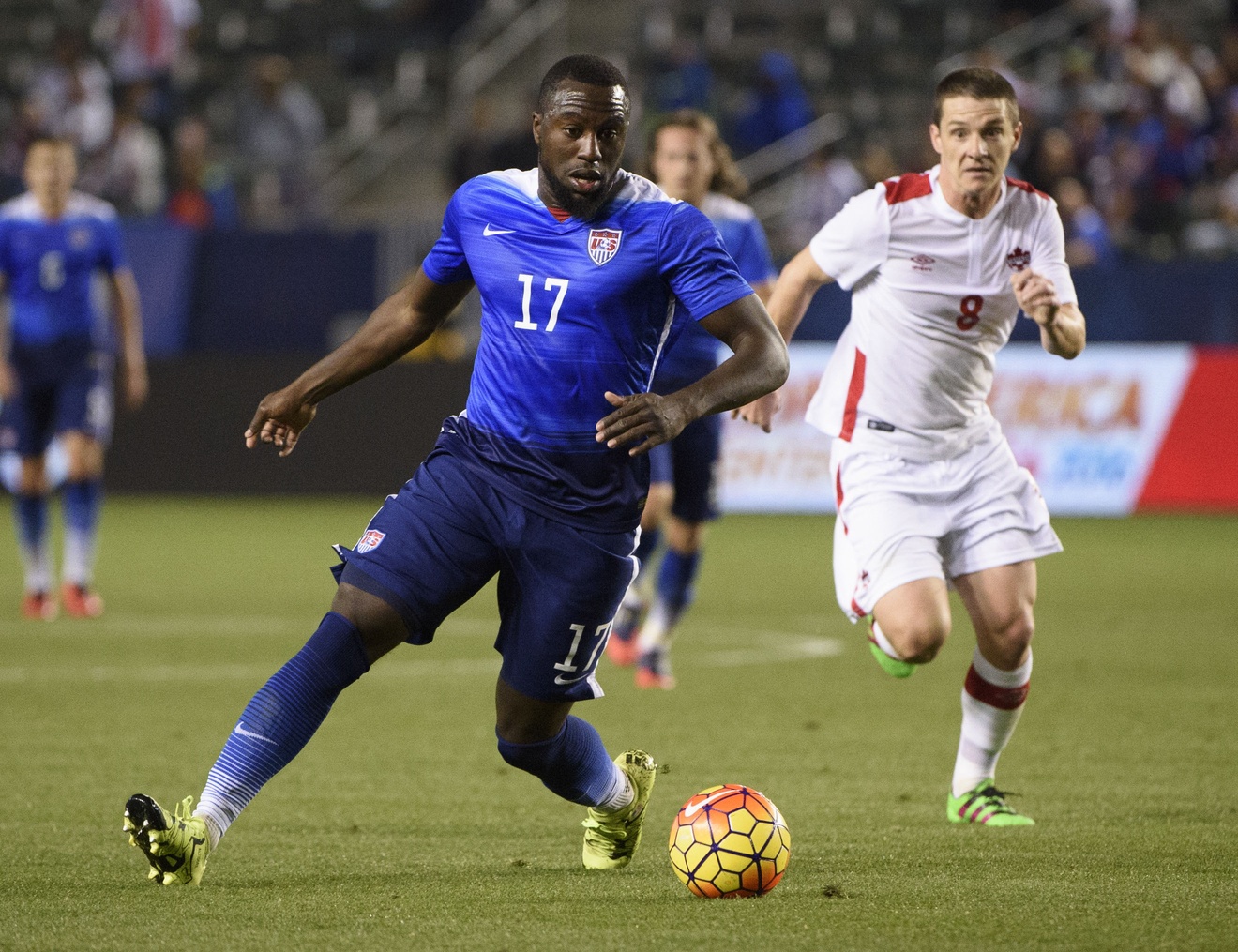 It may not have been the prettiest U.S. Men's National Team victory in recent memory, but this past Friday's narrow 1-0 win against Canada was telling as the U.S. concluded the annual January camp.
Riding a late Jozy Altidore game-winner, the USMNT slipped past the rival Canadians for their second victory in as many games to start 2016. Largely dominant throughout the full 90 minutes, the win was surely a deserved one for a U.S. team that proved to be on the front foot for the second straight game.
It was not a performance without fault. It was a game that saw the U.S. struggle to put away chance after chance before Altidore's late winner, while sloppy play proved a theme throughout for two sides looking to find their footing in the new year.
It was a January camp that provided several answers, and several intriguing questions, for the USMNT ahead of a crucial spring that sees both World Cup qualifiers and an Olympic playoff that will play a major part in defining the 2016 campaign.
Here are some of the biggest takeaways from the Americans' 3-2 win over Iceland:
ALTIDORE LOOKS POISED FOR IMPROVED 2016
Jozy Altidore had a rough 2015 campaign, but it appears the USMNT forward is in for a much improved year this time around.
Entering camp several pounds lighter, Altidore looked much more mobile in the two-game January camp stint. The TFC forward was able to get on the scoresheet in both games, while his intelligent runs and threatening play proved a theme throughout the Iceland and Canada matches. Overall, it was the Altidore that Jurgen Klinsmann loves to see: one that is confident, fit and, most importantly, creating goals.
Boasting the combination of good health and good spirits, the U.S. looks like it has an Altidore that has been missing since his days with AZ Alkmaar. While injuries always remain a concern with the 26-year-old forward, Altidore seems to be peaking at the right time ahead of a statement year for the U.S.
Admittedly frustrated by his misfortune when it comes to major tournaments, Altidore looks like the favorite to reestablish himself as the USMNT's unquestioned starter with performances like those of the January Camp.
ZARDES' ROLE STILL TO BE DEFINED AFTER STRUGGLING AGAINST CANADA
In 2015, Gyasi Zardes emerged as a go-to option for Klinsmann in a variety of positions, but Friday's efforts against Canada provided plenty of concern.
The LA Galaxy forward proved wasteful on the ball time and time again throughout Friday's match. Let down by his first touch several times, Zardes struggled throughout as several attacks sputtered as a result of the forward's play. Overall, it was a sloppy performance from a player that did himself no favors in seizing a role with the current USMNT group.
Is a January camp performance enough to justify condemning a player's spot in the team? Not quite. Following a longer offseason than normal, the LA Galaxy forward may be understandably a bit rusty or lacking sharpness  ahead of the MLS season. Still, it does raise some questions of how Zardes should be utilized in the immediate future. Is Zardes a forward or a winger, and does he have the technical quality to be anything more than an impact sub when it really counts?
With players like Lee Nguyen shining out wide and young forwards like Bobby Wood scoring at will in league play, Zardes doesn't have an immediate starting spot like he did throughout 2015. Crucial qualifiers are on the horizon, and Zardes will have to show better than he did in the past two games if he hopes to repeat, let alone eclipse, his breakout debut year with the USMNT.
MORRIS, OLYMPIC HOPEFULS LOOK CAPABLE OF HANDLING SENIOR LEVEL
The 2016 January camp was looked at as a chance to give several Olympic hopefuls a taste of senior team action. Several of those hopefuls now look plenty capable of taking a much bigger bite.
While Jerome Kiesewetter and Kellyn Acosta emerged as the stars of the Iceland clash, Jordan Morris showed well in Friday's defeat of Canada. While he failed to get on the scoreboard, Morris buzzed around throughout his stay on the field while proving a valuable outlet due to his speed. Still without a pro game under his belt, Morris didn't look like a world-beater against Canada, but he certainly looked like a viable option for a USMNT that is still looking for a partner for Altidore.
For now, the focus remains squarely on qualifying for this summer's Olympic tournament. A two-legged playoff against Colombia looms, and missing out on the Olympics yet again would be a disaster for a U.S. soccer program still looking to make waves on the youth level.
If the U.S. miss out on this summer's tournament, several members of that U-23 team could certainly be in the mix for the upcoming Copa America. If players like Morris, Kiesewetter and Acosta continue to perform, it could soon be time to embrace them as full-time members of the senior team.
QUESTIONS REMAIN ABOUT DEFENSE DESPITE SHUTOUT
Following a calamitous performance against Iceland, the U.S. defense restored some faith by keeping a clean sheet against Canada, but there are still plenty of questions to be asked of what happens with the defensive unit going forward.
Starting Jermaine Jones at centerback and Steve Birnbaum out wide, the U.S. defense did about as well as Klinsmann could have envisioned. No matter the opponent or situation, a shutout is always the goal, and the U.S. achieved that without conceding many chances on Friday night.
That said, Friday's effort did little to ease the questions that already persisted surrounding the group. Jermaine Jones is far from a true centerback, as evidenced by the amount of times he was seen venturing up the field to join the attack. Understandably weakened at the position for a variety of reasons, the U.S. has still not established a go-to defensive pairing, and the annual camp did nothing to address that question.
To be fair to this camp, many of the top defensive options in the player pool weren't available for the January camp, including the likes of John Brooks, Geoff Cameron, Fabian Johnson and more, but the group that was in camp didn't go very far toward helping provide answers abut the state of the U.S. defense in 2016.
———
What were your biggest takeaways from Friday's U.S. victory?
Share your thoughts below.