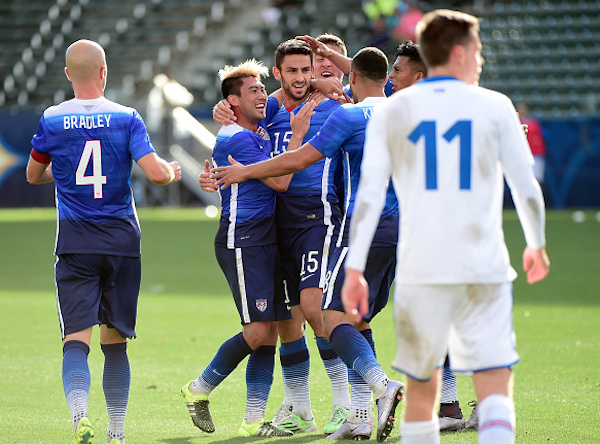 CARSON, Calif. — Despite playing catch-up for most of the match, the U.S. Mens National Team managed to squeak out a late win against Iceland in their first friendly of 2016.
The U.S. came from behind to pick up a 3-2 win over Iceland at the StubHub Center in Carson, California, on Sunday afternoon. Substitute centerback Steven Birnbaum scored the winner near the death and had the equalizing assist earlier in the second half, and captain Michael Bradley had a pair of helpers.
"Obviously it's nice that the players got rewarded for a lot of work," said U.S. head coach Jurgen Klinsmann in the postgame press conference. "Three weeks into preseason, three weeks of training, and they got rewarded with that late goal through Steve Birnbaum."
Klinsmann's side started the game strongly, looking like the more organized team through the first 10 minutes. A commanding performance from Michael Bradley helped the Americans keep possession and attempt a few attacks.
That all unraveled in the 13th minute. During what would be the first of several defensive fumbles, Matt Besler wasn't quick enough to clear the ball from the box. Iceland midfielder Kristinn Steindorsson capitalized on the gaffe, pouncing on the ball and taking a shot that deflected off Michael Orozco before beating wrong-footed goalkeeper Luis Robles.
"We told them, 'Listen, you're going to make mistakes today,'" said Klinsmann. "It's not going to go smooth, it's not going to be perfect. There will be mistakes that lead, unfortunately, to goals. (It's fine) so long as you keep going, and get a rhythm, and try to score your own goals as well."
It did not take long for that happen, as the U.S. pulled level seven minutes later when a nice passing sequence was punctuated by Jozy Altidore. Bradley threaded the final ball forward to Altidore, who lost his defender and slotted a shot home.
"You try it 10 times and it comes once, and you're expected to score. That's life," said Altidore after the game. "It was a good ball from Michael. If he'd played a second later I was offside, so it was a great ball and I just tried to dink it off the keeper."
The first half ended at 1-1, but the deadlock was broken just three minutes into the second half. Iceland took a quick free kick that caught the U.S. back line flat-footed and confused, and Aron Sigurdarson took advantage of that by scoring with an impressive shot.
"We thought it was a foul on them, and everyone stopped," said Birnbaum. "He just made a great play and tucked it away. It was a weird play. I don't think I've been a part of something like that."
Birnbaum helped the Americans pull level once again in the 59th minute when Altidore lofted a cross to the far post. Birnbaum tracked the ball down and headed it across the goal to Orozco, who pushed the ball home with a point-blank header
"I saw Steve and a couple guys back there," said Altidore after the game. "I figured the percentages were better for us to score if I'd cross it rather than shoot it from there."
The final 30 minutes saw plenty of narrow escapes for the U.S., as Iceland repeatedly cut through the Americans' defense. Robles came up with a big save in the 79th minute, setting the stage for the late winner.
In the 90th minute, Bradley lined up a free kick on the right side of Iceland's final third and found Birnbaum, who hit a thunderous header into the back of the net.
"They were playing a zone defense, so it's easier for attackers to run in and get a head start on the ball," said Birnbaum. "I knew that if Michael was going to float it up there, I could win it over a guy standing still."
The Americans will return to action on Friday, as they host northern rival Canada at the StubHub Center.
—–
What did you think of the USMNT's 3-2 win vs. Iceland? Who impressed/disappointed you? Where can the Americans improve before the next friendly vs. Canada?
Share your thoughts below.