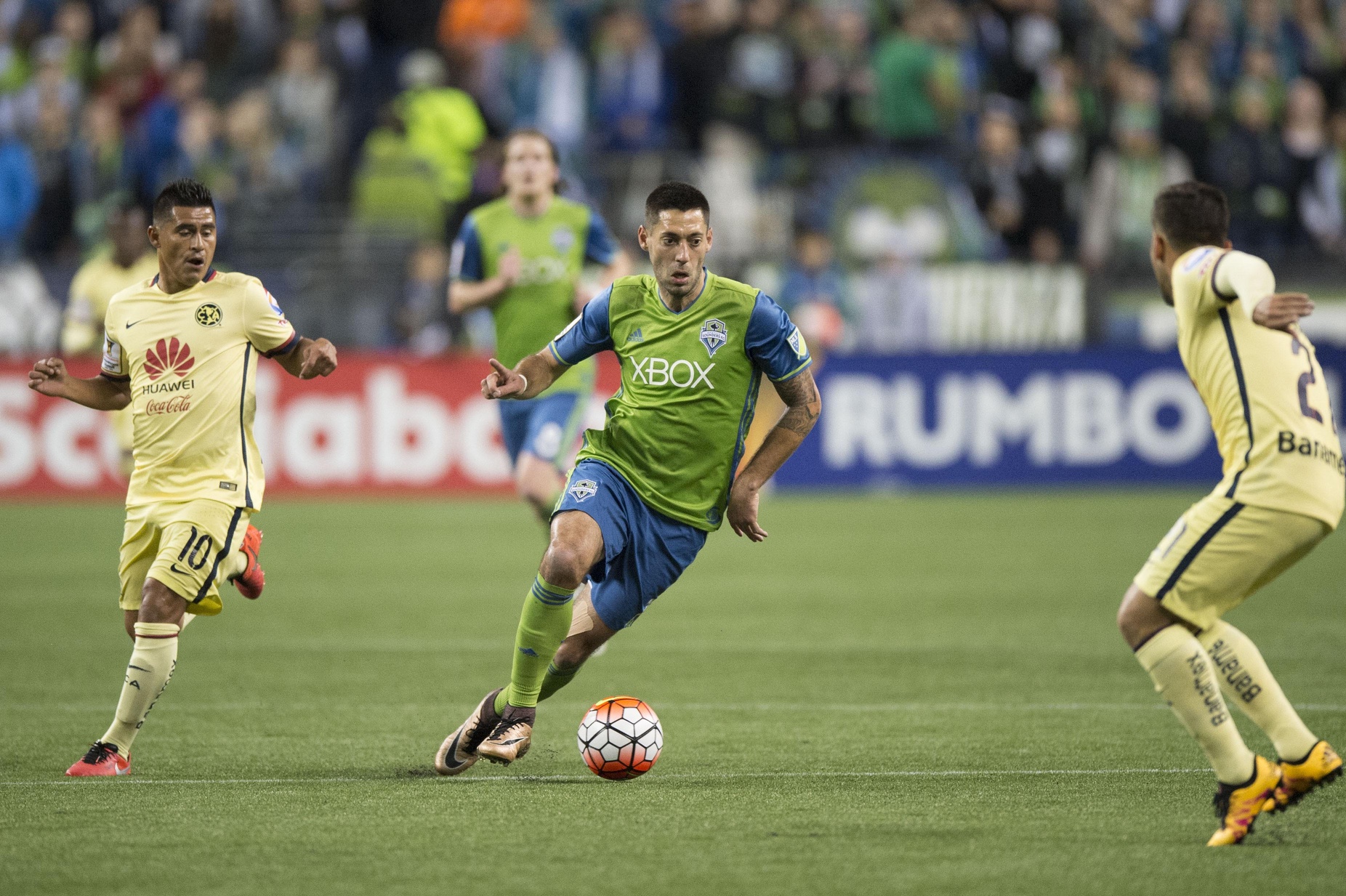 While MLS will kick off this weekend, two sides have unfinished business to take care of in the CONCACAF Champions League on Wednesday.
The Seattle Sounders will travel to Mexico to face Club America, while Real Salt Lake hosts Tigres UANL at Rio Tinto Stadium later in the evening.
The Sounders enter their second-leg matchup level with America, 2-2, although the Mexican side would advantage if the Sounders fail to score a goal due to the competition's away goals rule. Despite Clint Dempsey's first-leg brilliance, the U.S. Men's National Team attacker still has some work to do if the Sounders are to knock off the tournament's top seed.
Despite trailing 2-0 after its first match, Real Salt Lake will have everything to play for against Tigres. RSL has the benefit of playing in front of its home crowd, so it'll have to lay it all on the line in order to get past its opponent.
Here's a closer look at Wednesday's CCL action:
CLUB AMERICA vs. SEATTLE SOUNDERS (8 P.M., FOX SPORTS 2, UNIVISION DEPORTES)
While newcomer Jordan Morris showed signs of what he can be in the future, Clint Dempsey stole the show for Seattle in the first leg.
Dempsey's stunning free kick, which came in the 44th minute, was immediately erased by America's Darwin Quintero on the stroke of halftime. The American answered again though, putting the home side Sounders back in front just seven minutes after the interval.
Mexico international Oribe Peralta ruined the party for Seattle with 20 minutes to play, recording Club America's second away goal of the evening. With those two away goals, the Sounders will have to be wary of allowing cheap chances on the road.
If Seattle are to advance, they'll need to limit America's chances in front of goal. In the first leg, the Mexican club recorded 13 shots overall, with six of them going on target. In a big blow for America, Rubens Sambueza will miss Wednesday's match due to an injury he suffered over the weekend.
Both defenses showed signs of vulnerability in a match that was very back-and-forth, so expect there to be plenty more opportunities for each side in the second leg.
REAL SALT LAKE VS. TIGRES UANL (10 P.M., FOX SPORTS 2)  
After holding more than double the possession in the first leg and capitalizing on two chances, Tigres UANL is in the driver's seat heading back to Rio Tinto.
Despite a flurry of half-chances allowed by RSL in its first meeting with Tigres, it seemed as though Jeff Cassar's side would actually be in a good position coming home for the second leg.
José Rivas opened the scoring for the home side in the 67th minute, but it was Jurgen Damm who put a damper on things for RSL after doubling the lead with under five minutes remaining in regulation.
While RSL still has a lot to play for, Cassar and his side have to pick and choose its opportunities properly. Even one away goal allowed on Wednesday night could prove to be devastating for the MLS side.
—
Who do you think will win Wednesday's games? Will the Sounders score a goal on the road? Can RSL come back at home?
Share your thoughts below.