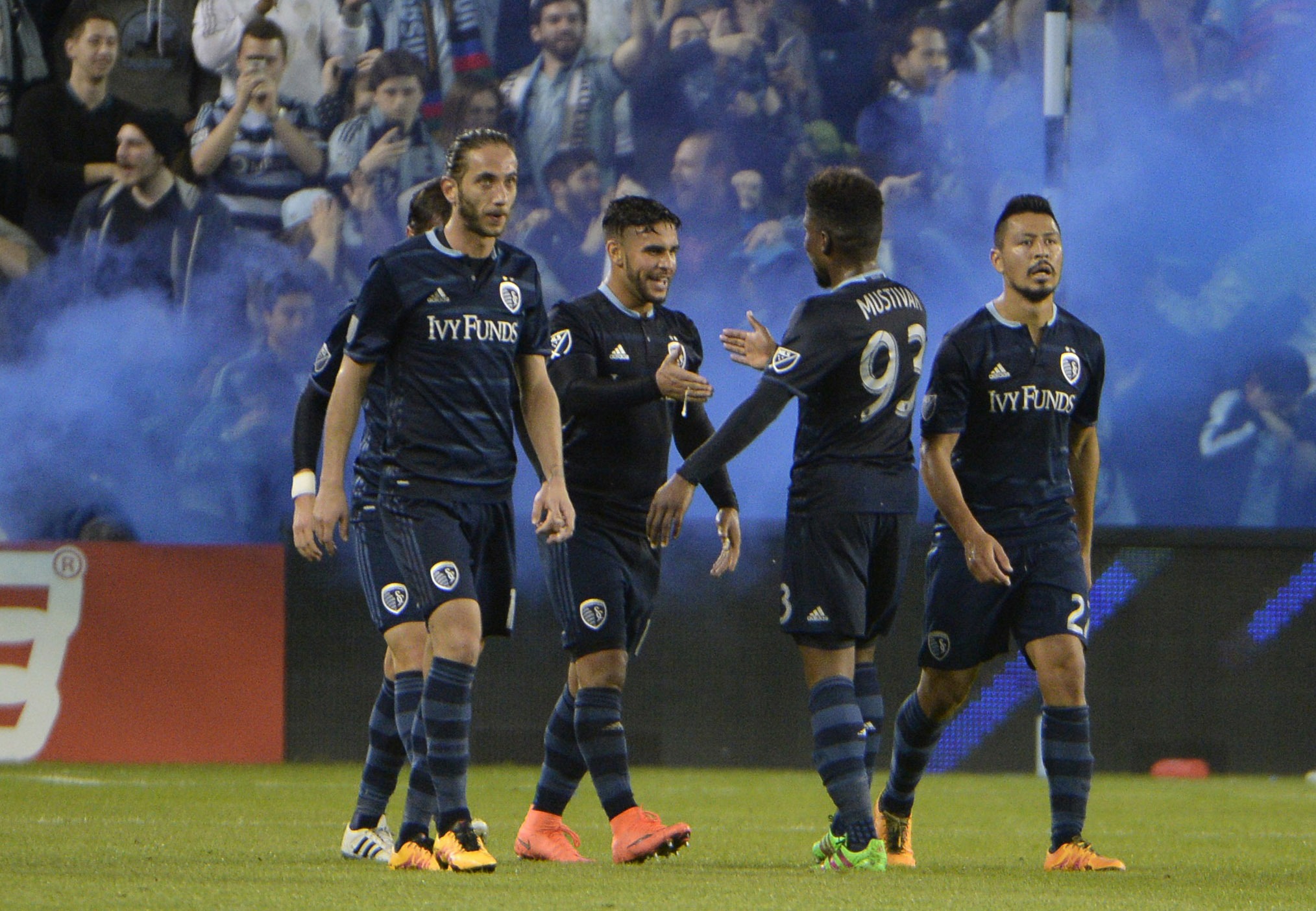 In most preseason discussions about the top teams in the MLS Western Conference, one team that received little recognition is Sporting Kansas City. After two impressive victories to start the 2016 season, that conversation looks like it is ready to change.
Dom Dwyer scored two goals to help lead Sporting KC past the Vancouver Whitecaps, 2-1, on Saturday at Children's Mercy Park. Dwyer's first-half strikes were all the cushion Sporting KC needed, especially after Whitecaps defender Jordan Smith drew a red card just before halftime for a terrible challenge on Graham Zusi.
Dwyer opened the scoring just five minutes into the match with a long-range strike that gave Whitecaps goalkeeper David Ousted no chance. Dwyer's second goal was a much easier finish, as he tapped home a precise pass from Chance Myers.
The Whitecaps pulled one back when Pedro Morales converted a penalty kick earned when Octavio Rivero was fouled by Tim Melia in the penalty area. That was as close as the Whitecaps came, with the loss dropping them to 0-2 to start the season.
The victory makes Sporting KC the first Western Conference team to start the new season with two victories. Sporting KC will look to push to 3-0 with a win at home against Toronto FC on March 20. The Whitecaps will travel to Seattle to take on the Sounders on Saturday in a battle of 0-2 teams.
Here are highlights to Sporting KC's win:
MAN OF THE MATCH
Dom Dwyer was a terror all match long, scoring both goals and testing David Ousted on multiple occasions.
MOMENT OF THE MATCH
Dwyer's fifth-minute blast set the tone for the entire match. Not only was his finish excellent, but it spotlighted the Whitecaps' defensive frailties, with midfielder Deybi Flores' terrible turnover starting the sequence.
MATCH TO FORGET
Costa Rican right back Jordan Smith made it a tough night for his Whitecaps after his indefensible tackle from behind on Zusi, which drew a deserved red card. Kendall Waston didn't have a gem either, as he failed to close down Dwyer on his first goal, then lost track of Dwyer on his second goal.
———
What did you think of the match? See Sporting KC being a legitimate title contender? Think the Whitecaps are doomed to struggle given how many young players they're playing?
Share your thoughts below.