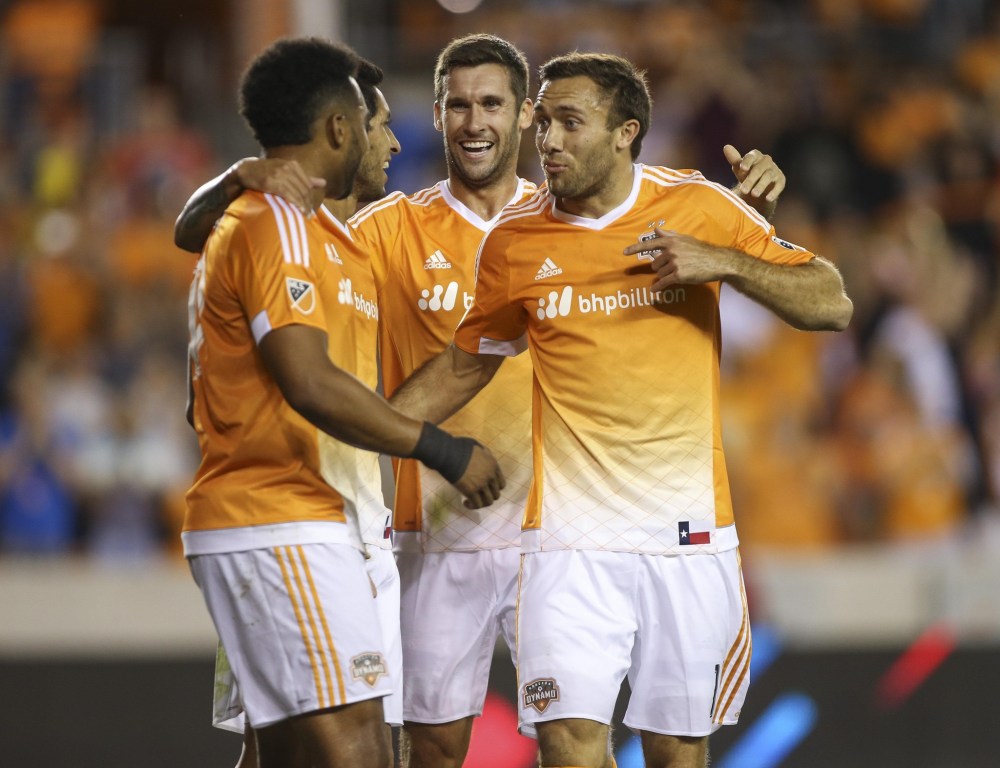 The Texas Derby has been a one-sided affair in recent years, but the Houston Dynamo turned the tables and dominated FC Dallas from the start on Saturday.
Before Week 2's match at BBVA Compass Stadium, FC Dallas had won the previous five meetings, but Andrew Wenger and the Dynamo put a stop to that streak in a dominant 5-0 win.
Wenger assisted the first and third goals of the game before netting the club's fourth within 27 minutes of play. David Horst headed in Wenger's cross following a free kick in the sixth minute, then miscommunication between goalkeeper Jesse Gonzalez and Matt Hedges led to an FC Dallas own goal. Wenger then sent a low cross from the right wing to the top of the box, where Ricardo Clark fired in a low strike past Gonzalez in the 23rd minute.
FC Dallas seemingly woke up in the second half, but the damage had already been done. Joe Willis made a key double-save approximately 10 minutes out of the break, but he was not tested too often thereafter.
Minutes before the final whistle, Will Bruin earned a goal of his own, beating Gonzalez with a touch before slotting in the fifth goal from an acute angle on the right.
In bad news for the Dynamo, Giles Barnes pulled up clutching his hamstring early into the contest and was forced out of the game. Cristian Maidana was also forced to leave the match with an injury.
FC Dallas will head home to play in a must-see matchup against the Montreal Impact on Saturday, while the Dynamo will head east to play the New York Red Bulls that same day.
Man of the Match
Not only did Andrew Wenger show off his skill on the attacking end of the field, scoring once and assisting twice, but he also tracked back well to help the Dynamo defense control and shut down Fabian Castillo on the left wing.
Moment of the Match
The Dynamo attack made FC Dallas' defense look well below average on Saturday, and that was highlighted by the miscommunication between Matt Hedges and Jesse Gonzalez which led to the own goal.
Match to Forget
While FCD centerback Matt Hedges deserves a good amount of criticism, goalkeeper Jesse Gonzalez looked every bit his age, 20 years old, in goal at BBVA Compass Stadium. The young netminder has previously shown his talent and skill, but Saturday's contest was highlighted by miscommunication and nervy moments.
—
What do you think of the Dynamo's dominant win? Who impressed you in Saturday's Texas Derby?
Share your thoughts below.