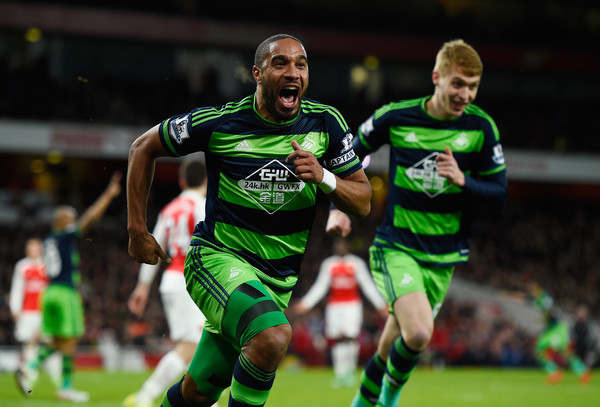 While Wednesday afforded Arsenal and Tottenham the opportunity to close the gap on English Premier League leader Leicester City, both sides squandered their chances with critical losses.
Arsenal dropped three points in a 2-1 loss against Swansea City, while Spurs suffered a 1-0 defeat at the hands of West Ham United. With 10 matches remaining on the schedule, Spurs sit three points behind Leicester, while the Gunners trail by six points. (REPORT)
Guillermo Barros Schelotto, who was unable to attain the necessary UEFA coaching license with Serie A side Palermo last month, was officially appointed head coach of Argentine club Boca Juniors on Wednesday. (REPORT)
Petr Cech and Laurent Koscielny will each be out for Arsenal's clash with Tottenham on Saturday. Cech reportedly suffered a hamstring injury, while Koscielny missed today's match with a calf problem. (REPORT)
Juventus narrowly moved past Inter Milan in its Coppa Italia semifinals meeting. Inter leveled the aggregate score at 3-3, following a first leg defeat of 3-0, but ultimately fell on penalty kicks. Juventus will meet AC Milan in the title match on May 21. (REPORT)
Borrussia Dortmund gained ground in the Bundesliga with a 4-0 victory over Stuttgart, while Bayern Munich fell 2-1 versus Mainz. Munich now holds a slim five-point advantage over Dortmund heading into Saturday's massive clash against the second place side.
Here are Wednesday's results from Europe's top leagues and competitions:
ENGLISH PREMIER LEAGUE
Arsenal 1-2 Swansea City
West Ham United 1-0 Tottenham Hotspur
Stoke City 1-0 Newcastle
Manchester United 1-0 Watford
Liverpool 3-0 Manchester City
SPANISH LA LIGA
Sevilla 1-0 Eibar
Celta de Vigo 0-0 Villarreal
Málaga 1-2 Valencia
Athletic Club 4-1 Deportivo La Coruña
Levante 1-3 Real Madrid
GERMAN BUNDESLIGA
Bayern München 1-2 Mainz 05
Schalke 04 3-2 Hamburger SV
Bayer Leverkusen 1-4 Werder Bremen
Borussia Monchengladbach 4-0 Stuttgart
Hertha Berlin 2-0 Eintracht Frankfurt
Hoffenheim 2-1 Augsburg
Darmstadt 98 0-2 Borussia Dortmund
ITALIAN COPPA ITALIA
Inter Milan 3-0 (3-5 on PKs) Juventus
FRENCH COUPE DE FRANCE
Lorient 3-0 Ajaccio
Sochaux 3-2 Nantes
Saint-Étienne 1-3 Paris Saint-Germain
—
What did you think of Wednesday's matches? Will anyone overtake Leicester for the EPL title?
Share your thoughts below.