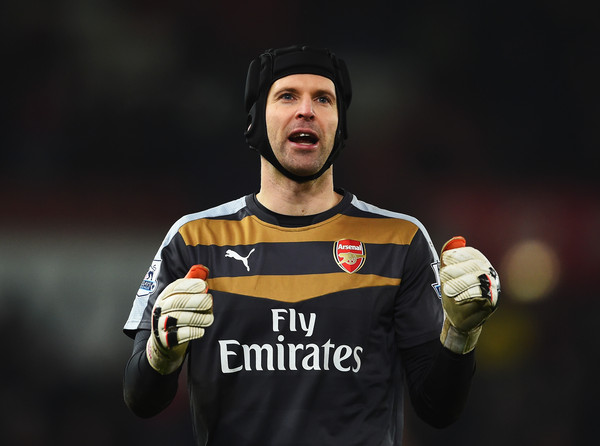 While an important report into 2006 World Cup hosts Germany was published on Friday, Arsenal received more bad news down the final stretch of its English Premier League season.
Arsenal head coach Arsene Wenger said goalkeeper Petr Cech has a calf injury, and he will miss three-to-four weeks. Cech would miss critical matches against Tottenham and Barcelona during that span. (REPORT)
A law firm commissioned by the German soccer federation (DFB) released its findings in the investigation of a €6.7 million payment made to FIFA amid speculation the federation bought the rights to host the 2006 World Cup, and the report concluded there was no evidence of vote-buying with the money, but have not completely ruled out the possibility of vote-rigging. (REPORT)
FIFA responded to the report commissioned by the DFB, saying: "FIFA shared information with the DFB to assist with its investigation and, in turn, received information from the DFB that is helpful to FIFA's own investigation." (REPORT)
The Greek government officially canceled all upcoming 2015-16 Greek Cup matches after PAOK-Olympiakos was suspended due to crowd violence in the semifinals on Wednesday. (REPORT)
Following Gianni Infantino's appointment of FIFA president, UEFA announced Theodore Theodoridis as its interim general secretary. (REPORT)
John Terry admitted he is still hopeful of receiving a new contract with Chelsea. (REPORT)
Chelsea head coach Guus Hiddink said Terry is not fit to play in the club's game vs. Stoke City on Saturday, and the defender will likely not be named to the bench. (REPORT)
In a press conference on Friday, Liverpool manager Jurgen Klopp revealed Lucas Leiva will be sidelined for five-to-six weeks with a thigh injury. (REPORT)
In late-May and early-June, England will compete in friendlies against Turkey, Australia and Portugal to prepare for Euro 2016. (REPORT)
THURSDAY REWIND
Ivorian striker Didier Drogba will miss four of the Montreal Impact's first five games of the MLS season in order to avoid playing and practicing on turf, according to club technical director Adam Braz. (REPORT)
Episode 248 of the SBI Show was released, and SBI discusses the CONCACAF Champions League tournament and previews the Eastern Conference. (REPORT)
Goalkeeper Josh Sanders told SBI he focused on conditioning, specifically losing weight, in the offseason in order to help New York City FC in the 2016 season. (REPORT)
Centerback Kendall Waston was one of the best in his position last season, but he is eager to improve in order to play in important matches for club and country in 2016. (REPORT)
SBI compiled all 20 MLS teams' new jerseys ahead of the 2016 season. (REPORT)
—
What do you think of the report into the DFB? How big of an issue is losing Cech for Arsenal?
Share your thoughts below.