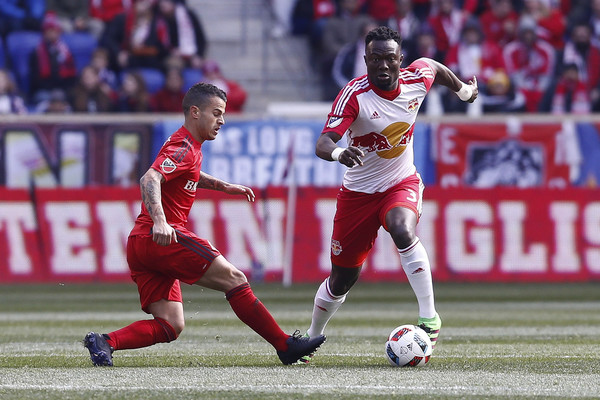 While head coach Jesse Marsch has stressed the importance of keeping his core group of players together in his second season with the New York Red Bulls, one new addition to the side passed his first test with flying colors on Sunday.
Despite falling to Toronto FC, 2-0, centerback Gideon Baah displayed poise and comfort on the ball, while being tasked with marking dangerous striker Sebastian Giovinco for long portions of the match. One game won't make everyone forget about the loss of Matt Miazga this offseason, or the injured Damien Perrinelle for that matter, but Baah's performance was a positive sign of things to come.
"It wasn't easy at all," Baah said in regards to playing against Giovinco. "Of course we [have] the ball all the time and he is just sneaking behind us and making those runs. You have to follow the game and follow him. It wasn't easy at all all. I think he got the better of us in the latter stages when we were trying to get an equalizer. He's a great player and it was very, very tough marking him."
Defense was undoubtedly New York's biggest concern heading into Sunday's season opener, but between Baah and Ronald Zubar's performances, questions about the backline will likely take a back seat for now.
The Red Bulls mustered up just one shot on net against Toronto, but again, Marsch was pleased with how his new centerback tandem handled pressure.
"I thought he was very good," Marsch said during Sunday's post-game press conference. "Clearly on the ball, he was fantastic. Him and Ronald [Zubar], I think, cut out a lot of plays and made it very hard on Giovinco. He didn't touch the ball much, but every time he does he dangerous, so it's not an easy task on the day.
"I think that he has fit into the team seamlessly. That was a big positive. Him and Ronald were both big positives on the day. I actually thought the way Dax [McCarty] and Felipe [Martins] controlled the midfield for the most part, won a lot of balls, tried to set some plays up in front of them."
Baah, 24, started and played the full 90 minutes for the Red Bulls on Sunday. The young defender was forced to intervene in several critical Toronto attacks, particularly aerial balls launched forward in the direction of Giovinco. In total, the Ghanaian made five interceptions and multiple challenges that disrupted the flow of the opposition.
Now knowing a bit more about what MLS will bring moving forward, Baah revealed his delight with the afternoon, despite the unfavorable result.
"I think it's a great start, especially for me," Baah said of his New York debut. "I loved everything about my debut today. It's just unfortunate that we lost. Congratulations to Toronto FC. I think they did a good job and it's just unfortunate that we lost."
The transition to Baah in the long-term will certainly take some time to adjust to, but teammate Sal Zizzo feels the Ghanaian is already making his presence known within the side.
"The second goal was really just a result of us pushing forward at the end," defender Sal Zizzo said. "Gideon and Ronald played a good game. I thought that since they didn't have Jozy [Altidore] in there that the long balls Toronto was playing were easy for the guys to handle, but at the same time, their distribution out of the back was really good.
"One of his top qualities as a centerback is his ability to find the splits and players like Dax and Felipe and other players on the field. It's going to be a key factor for us moving forward, but his technical skills are obviously very good as well, which is something we're excited about."