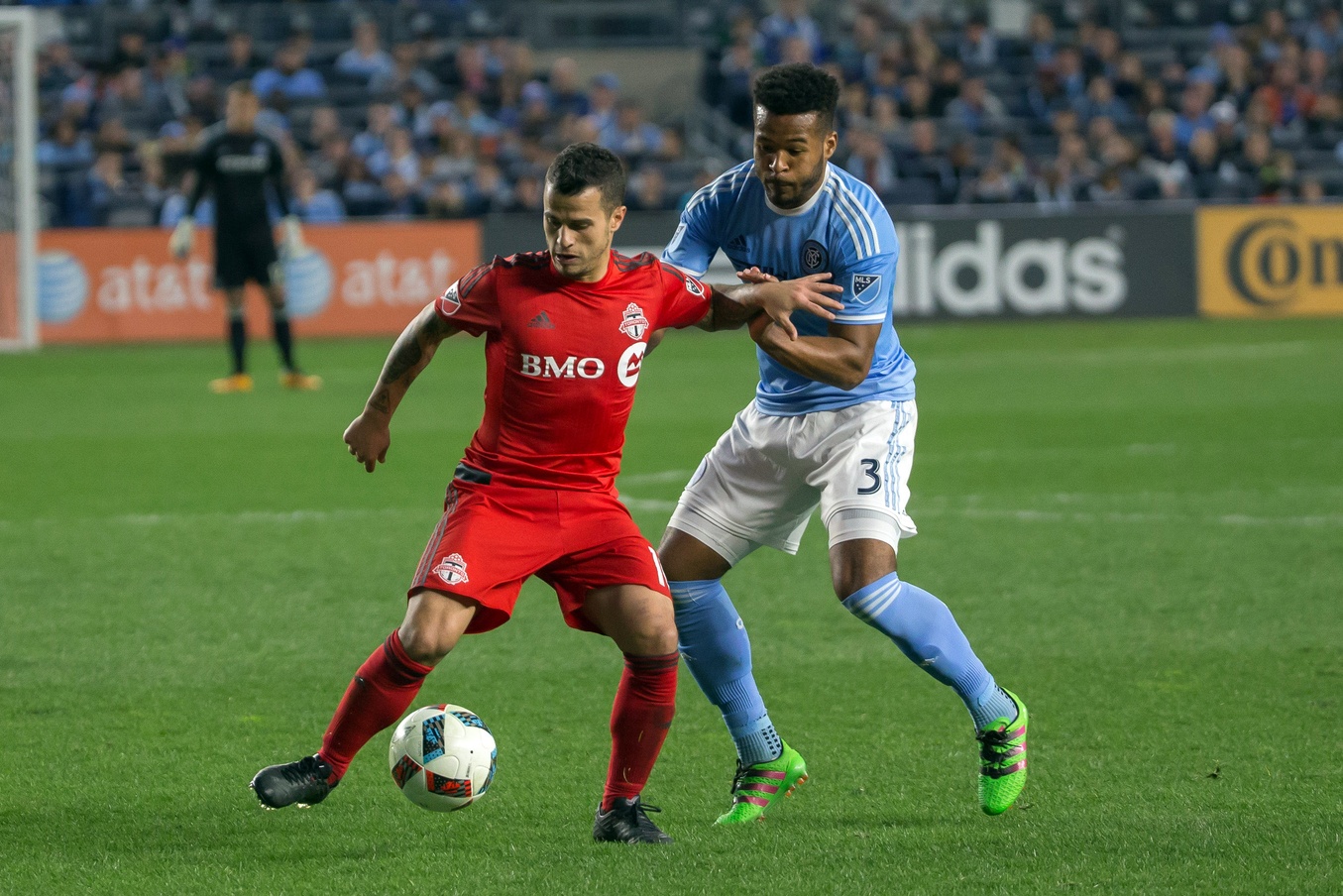 NEW YORK — Sebastian Giovinco was held in check for most of the match, but the reigning MLS MVP eventually came through for Toronto FC.
The Italian forward was responsible for a pair of goals as TFC earned a 2-2 draw against New York City FC on Sunday at Yankee Stadium. Giovinco helped erased a 2-0 early deficit by providing an assist in the first half and a goal in the second, while David Villa tallied both scores for the home side in its 2016 home opener.
Villa fired the opening salvo in the 24th minute on a penalty kick after Tommy McNamara was taken down just inside the box by Marky Delgado. The NYCFC captain calmly converted from the spot by fooling goalkeeper Clint Irwin with a shot to the bottom left.
The lead was doubled four minutes later after an Andrea Pirlo free kick was knocked around inside the TFC box. Following a Mix Diskerud touch, the ball landed in front of Villa, who was holding off defender Steven Beitashour on the edge of the 6-yard box before slamming the shot past Irwin.
TFC got one back just before the half as Giovinco's free kick from the right flank was tapped in by Damien Perquis in front of NYCFC goalkeeper Josh Saunders. After the two sides traded scoring chances for about half an hour into the second half, Giovinco tallied the equalizer in the 76th minute with a left-footed finish from just inside the box on an assist from Will Johnson.
Giovinco had one last chance to put the visitors ahead in stoppage time, but after he worked around two NYCFC defenders on the right edge of the box, his shot was stuffed by Saunders.
With the draw, NYCFC remains unbeaten against TFC in four games. The second-year club returns to action on Friday against Orlando City at home, while TFC visits Sporting KC next Sunday.
MAN OF THE MATCH
Sebastian Giovinco played the role of spoiler again at Yankee Stadium. After recording a hat trick in a span of nine minutes in last year's wild 4-4 game in the Bronx, the Atomic Ant single-handedly rallied TFC back to earn a point.
MOMENT OF THE MATCH
Prior to Villa's goal in the 28th minute, it appeared that the ball had bounced off the NYCFC forward's arm before he converted the shot. Referee Alan Kelly held his whistle on the play, allowing NYCFC to take a temporary 2-0 lead.
MATCH TO FORGET
Frederic Brillant was responsible on both of Toronto's goals as his marking of Michael Bradley on Giovinco's first-half assist inadvertently kept the offside line back for the NYCFC defense. Brillant was also marking Giovinco on his goal in the second half, but was not able to make a challenge in time to prevent the equalizer.