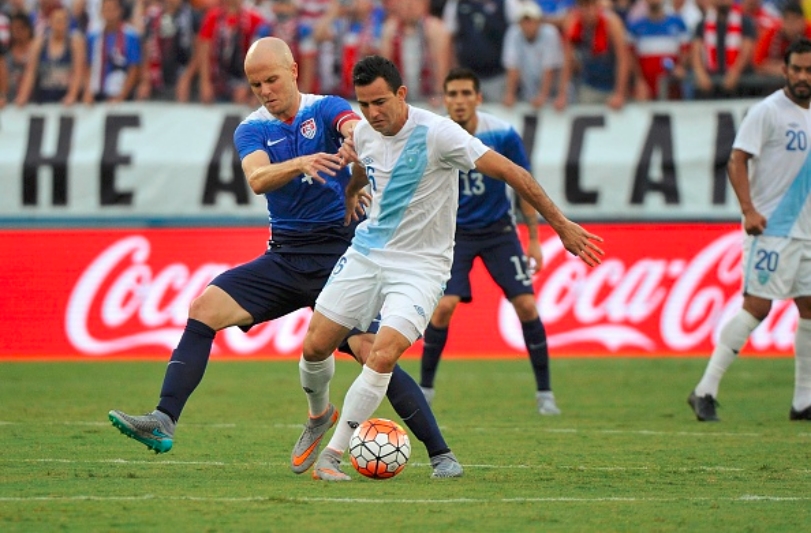 Guatemala's roster to face the U.S. Men's National Team has been revealed, and it mainly consists of domestic talent with a few foreign-based players sprinkled in.
Veterans Carlos Ruiz and Marco Pappa headline head coach Walter Claveri's 24-man roster to face the Americans in World Cup Qualification matches on March 25 and 29. Moises Hernandez of FC Dallas and Rodrigo Saravia of the Columbus Crew were also called up.
Guatemala sits just behind the U.S. and Trinidad & Tobago in third place in their CONCACAF qualifying group after losing to T&T and winning against St. Vincent & the Grenadines. The Americans have beaten St. Vincent & the Grenadines as well, and tied T&T on the road.
Here's Guatemala's full squad:
Goalkeepers: Paulo Motta (Municipal), Ricardo Jerez (Alianza Petrolera, Colombia), Jose García (Coban)
Defenders: Moises Hernandez (FC Dallas, United States), Cristian Jimenez (Municipal), Hamilton Lopez (Xelaju), Luis Cardona (Municipal), Carlos Castrillo (Comunicaciones), Rafael Morales (Comunicaciones), Stefano Cincotta (Chemnitzer FC, Germany), Jonathan Lopez (Marquense).
Midfielders: Rodrigo Saravia (Columbus Crew, United States), Marco Pappa (Colorado Rapids, United States), Marco Rivas (Municipal), Gerardo Arias (Municipal), Jean Marquez (Comunicaciones), Jose Contreras (Comunicaciones).
Forwards: Carlos Ruiz (Municipal), Mafre Icute (Coban), Luis Martínez (Xelaju), Edi Guerra (Guastatoya), Gerson Tinoco (Coban), Kevin Arriola (Xelaju), Gilder Lemus (CD Achi'k).
—
What do you think of Guatemala's roster? Which, if any, of these players scares you? How do you think the USMNT will do in March?
Share your thoughts below.