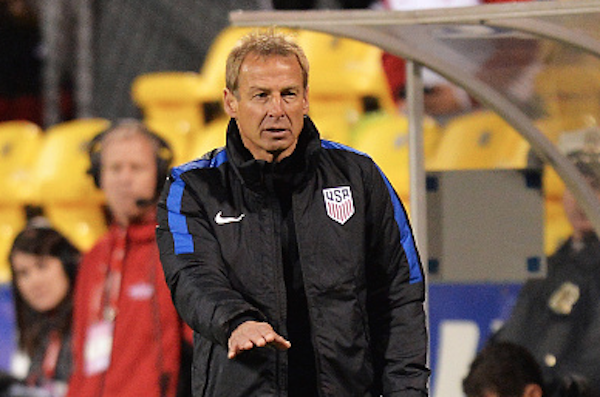 COLUMBUS, Ohio — A couple hours before the U.S. Men's National Team took on Guatemala in a World Cup Qualifier on home soil on Tuesday, a plane with a banner flew over Mapfre Stadium.
The banner read, "#FireKlinsmann He's a tiny little bit behind".
It was quite possibly the biggest sign of protest that any U.S. head coach has ever faced, and a window into how frustrated and angry a good portion of the American fanbase was towards Jurgen Klinsmann.
The U.S. entered Tuesday's clash with Guatemala under an avalanche of pressure given that the match was a virtual must-win, and the person many fans and pundits held responsible for that precarious situation was Klinsmann. The Americans had shockingly dropped a 2-0 decision to the Central American nation just days prior, and the defeat was seen by hordes of supporters and observers as an extension of a poor run of form that dated back to 2014 rather than a disappointing one-off.
The criticism that followed that shutout loss on the road was pointed. The sarcasm was unrelenting. Insults were plentiful. There was an uproar for Klinsmann to be fired.
Klinsmann apparently noticed.
"I'm cool with that. I let people say whatever they would like to say. It's alright with me. Here and there you wish maybe some comments could be a little bit more respectful, but it is what it is," said Klinsmann following the U.S.'s 4-0 beatdown of Guatemala on Tuesday night. "It's an emotional game, and emotions go both ways. When things go well, the emotions, in Brazil, they skyrocket suddenly, and then if you lose a game some comments go the other direction.
"As a coach, you have to live with that and you've got to keep your balance, which I do. It's not a big deal."
Since being appointed U.S. head coach back in 2011, Klinsmann has encouraged discussion amongst fans, media, and everyone else involved in American soccer in an effort to grow the sport. He welcomes debate, and doesn't hide from it. In fact, the 51-year-old German has at times even asked tough questions and started controversial conversations that have infuriated people like MLS commissioner Don Garber.
Still, Klinsmann sounded a bit more sensitive to scrutiny than usual following Tuesday night's triumph.
After Klinsmann answered a question as to whether too much is made about fielding consistent lineups, a U.S. Soccer spokesman noted that the two most previous U.S. coaches, Bob Bradley and Bruce Arena, fielded different starting teams in almost every game they coached.
Per the statistic given, Bradley used 78 different starting combinations in 80 games and Arena had 129 in 130.
"So much for consistency," said Klinsmann before the next question was asked.
Klinsmann's seat might have gotten a little cooler after guiding the U.S. to such a lopsided and convincing win over Guatemala on Tuesday, but the pressure to produce results in games that matter will be plenty intense in the coming months. The Americans have the remaining two games of the third round of CONCACAF World Cup Qualifying on the schedule later this year, but also the Copa America Centenario this summer in the United States.
"Now we can kind of really plan for, hopefully, a very, very exciting Copa America, where we want to do well," said Klinsmann.
Winning tends to cure everything, so a good showing for U.S. in that tournament would certainly help to ease concerns about the direction that the Americans are headed in.
On the other hand, an early exit and poor overall performance might only lead to more drastic measures than airplanes with anti-Klinsmann banners.