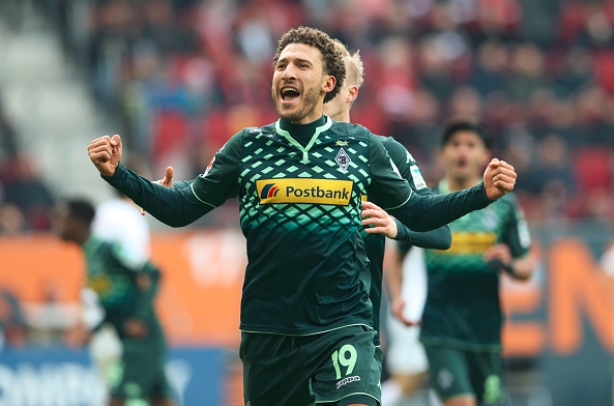 A handful of Americans have proven in recent weeks that they deserve to be representing the U.S. Men's National Team this month, and head coach Jurgen Klinsmann has taken notice.
The USMNT will head to Guatemala City to play its first qualifier of the year on March 25 before hosting the Guatemalans in Columbus, Ohio, four days later.
A good amount of players expected to be named to Klinsmann's roster currently play in MLS. However, the 21st MLS season is only just two weeks old, and many Americans playing abroad have been shining for weeks on end.
"In the Bundesliga we have John Brooks doing really well at Hertha Berlin, Fabian Johnson doing well at Borussia Monchengladbach, and Bobby Wood scored another goal for Union Berlin in the 2. Bundesliga," Klinsmann said.
"Moving over to the Premier League, Geoff Cameron is getting his time on the field and also Brad Guzan being back in goal for Aston Villa is a big message for us, no doubt about it. We monitor all of them, and we're pleased with how things are going for the majority of the players and hope that they all come into camp healthy and really sharp for Guatemala."
Klinsmann will be looking for their club form to carry over to the international level, especially the play of Johnson, who has been excelling for Monchengladbach this season. The U.S. head coach thinks Johnson has done extremely well playing as a midfielder for the German club, but he shied away from saying Johnson exactly where Johnson would play for the U.S. against Guatemala.
"I think it's definitely a good thing that we can talk and discuss specific players in specific roles, and Fabian Johnson is a very good example because in his club he's playing right now the left midfield role, but they also move him to the right side and even at right back like where he played a tremendous World Cup in Brazil," Klinsmann said.
"Fabian is good with any of those roles. We would like to just have him continue the good performances that he has with Borussia Monchengladbach right now with the National Team as well. That gives us a better chance to beat Guatemala."
The U.S. Under-23 Men's National Team will play Colombia on the same dates — March 25 and 29 — the senior team takes on Guatemala, causing a slight cause for concern when it comes to choosing the rosters for both teams. The U.S. U-23s must defeat Colombia in the home-and-away series this month in order to qualify for the 2016 Olympics in Rio de Janeiro, Brazil.
However, Klinsmann does not see the dilemma as a problem because the senior team takes precedence, so players like DeAndre Yedlin and Jordan Morris could very well appear on the senior roster instead of U.S. U-23 head coach Andi Herzog's roster.
"At the end of the day, priority always is the senior team," Klinsmann said. "Priority is World Cup Qualifying, so there are no compromises made like sending the players that are age-eligible for the Olympic team to the Olympic team already. We are convinced our Olympic team will do really well in Colombia and get a decent result there, and then we hope for big support in Dallas for the return game. We are convinced they will get the job done."
Guatemala's roster includes proven veterans in Carlos Ruiz and Marco Pappa, who currently plies his trade for the Colorado Rapids. Head coach Walter Claveri will be leading La Azul y Blanco first in Guatemala, where the USMNT failed win during qualification for the 2014 World Cup, and then in Columbus, Ohio.
"We expect both games to be challenge, starting obviously in Guatemala City which is a very difficult venue," Klinsmann said. "Their team is already in camp, so they go in a week earlier than we do into preparation for that game, so we expect a very difficult game and a very hot-tempered game.
"But the goal is clear: the goal is we would like to beat them in Guatemala City and then beat them as well in Columbus in front of our fans. That will give us six points and will virtually qualify us already for the next round. This is the objective and we will do everything possible to get that done."