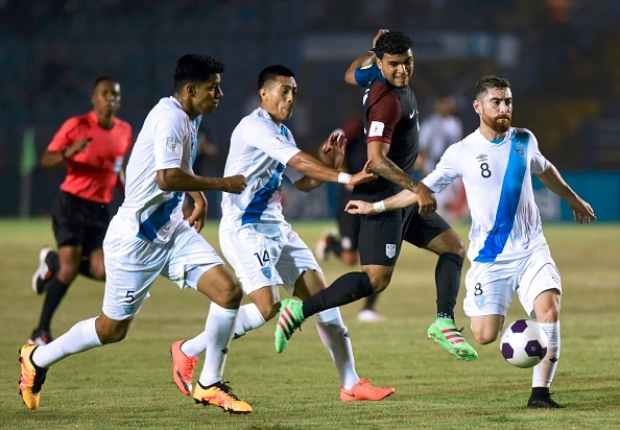 Jurgen Klinsmann isn't mincing any words: the U.S. Men's National team needs to walk out of MAPFRE Stadium with a victory on Tuesday night.
Following Friday night's disappointment in Guatemala City, the U.S. enters a must-win situation in Columbus. Currently sitting third in their World Cup qualifying group, another loss would make the once unfathomable idea of missing out on the Hexagonal round a very real possibility.
Klinsmann is not yet ready to entertain that thought or ponder the circumstances of what might come should the U.S. fail. Rather, Klinsmann has stressed the importance of turning things around Tuesday with a performance worthy of a team fighting for its World Cup lives.
"Every game is highly important, especially World Cup qualifying, either in the first group stage or the Hexagonal," Klinsmann said. "You also need to understand, rightfully, the moment in time. Our goal was to win there and to finish things off tomorrow and this didn't work out. We need to make it clear to everybody around, from the coaching staff, to everybody that is with the team that there is a sense of urgency. There's a sense of urgency tomorrow night because we need three points now. From that perspective, it's a very important game.
"Obviously, we came back not with the result we wanted from Guatemala and the situation here is that we need to win this game tomorrow night."
Heading into Tuesday's game, Klinsmann will certainly have some decisions to make with regards to the lineup he puts on the field.
Ceneterbacks Matt Besler and John Brooks have each returned to their clubs due to injury, while Fabian Johnson has also left the team with a nagging groin issue. Meanwhile, Klinsmann says Alejandro Bedoya is "banged up" and will be evaluated further in the build-up to the game.
With the injuries, Klinsmann says the team's plan of bringing extra players into camp worked as the head coach has several ready-made replacements to join the lineup. Meanwhile, in the places of those who have left, the U.S. has added one veteran presence and a promising up-and-comer. Graham Zusi has joined to provide Klinsmann with someone familiar with the trials of qualifying, while Borussia Dortmund prospect Christian Pulisic could be given his first chance at representing the senior team.
With regards to Guatemala, who announced on Monday that Carlos Ruiz will be available, Klinsmann expects a similar sort of gameplan. The USMNT head coach says the opposition's aggression and passion were clearly on display on Friday night, as the hosts suffocated the U.S. attack with a physical brand of defending.
"They're going to come out and try and get a result," said Clint Dempsey, "and try to manage the game in the right way to help them slow the game down probably. We're going to be smart with how we attack the game as well and with how we create chances and try to be a little bit better in front of goal. We created chances last game. I had two, and probably should have gotten one from the two.
"You can think about what someone is going to do, but on game day, it's always going to be different. It's like a fight. You don't really know what's going to happen until you're out there. You just have to prepare for everything and we know what we have to do and we know what result we're trying to accomplish. We're going to make sure we do everything we can to get that right."
Dempsey, like many members of the USMNT roster, has been through this before. Even before Tuesday night's clash, the U.S. has faced must-win games in qualifying and done just enough to push their way through the CONCACAF region.
Yes, the team faced a major setback, and yes, the USMNT's backs are now firmly against the wall. But now, with a chance to right their wrongs in front of a pro-U.S. Columbus crowd, the USMNT is looking to seal a vital three points and rescue the team's World Cup qualifying campaign.
"The main message is that there's no script," Michael Bradley said. "There's no telling how things go and you have to be ready for that. That can't phase you. Just because we talk about a good response and taking care of things the right way tomorrow night, there's no telling what can happen, so we have to be ready for that and we have to understand that and that's what I mean when I say guys have to be fearless and embrace that.
"You can't be scared of that. You have to understand that somewhere along the way, maybe twice, you're playing a game where your lives depend on it and, certainly, that's the case tomorrow night. The response has to be right. We have to have 11 guys, plus subs, that are ready to step on the field in a big game and go for it in a fearless way and be ready to do everything to make sure, when the whistle blows in the end, we have three points."