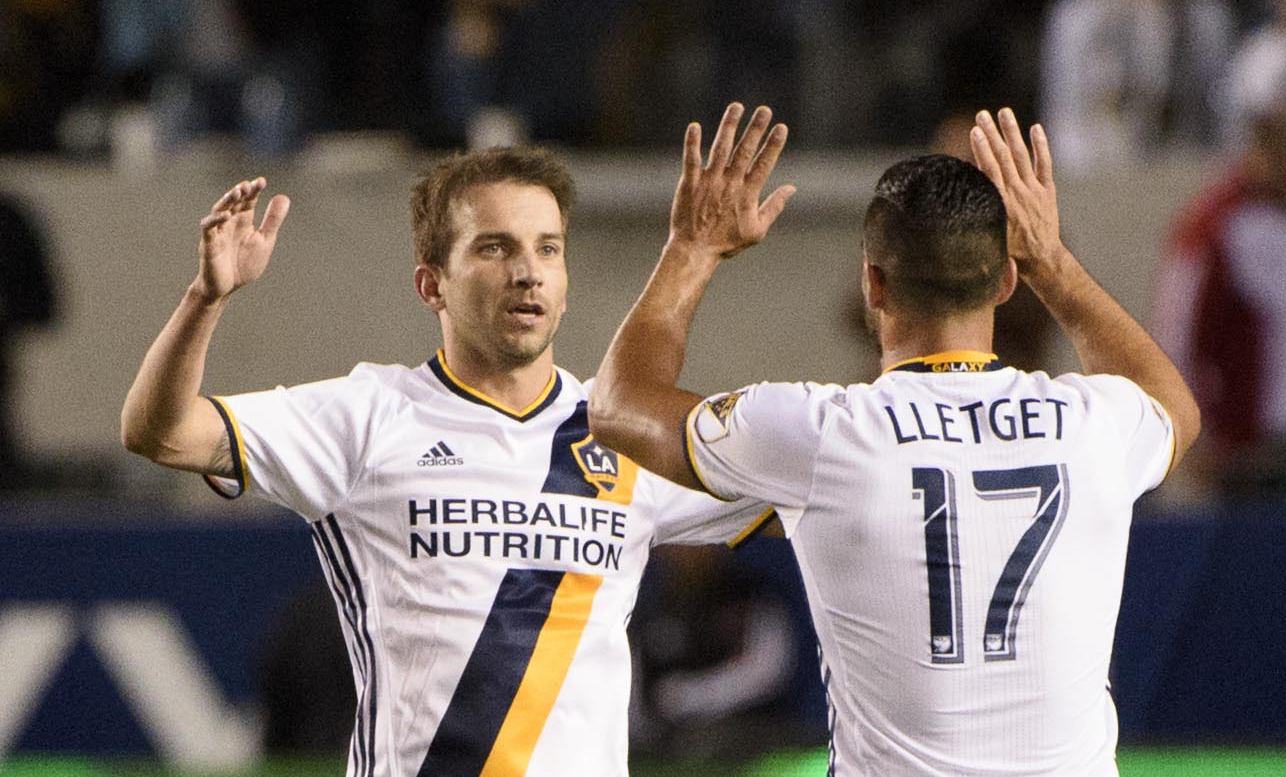 CARSON, California — In the first half, the LA Galaxy just looked old.  In the second half, they called up some old Galaxy magic in the form of newly-re-signed fan favorite Mike Magee, and ran past visiting D.C. United, 4-1, before 25,667 on a cold breezy night in Los Angeles.
Magee was subbed on at the half for ineffective Giovani Dos Santos, who picked up minor injury, and needed only twenty minutes on the pitch to remind the Galaxy crowd why they loved him. Parked alone on the right edge of the United penalty area, he neatly corralled a looping Sebastian Lletget cross, then patiently lobbed a cheeky chip shot over the head of the hard charging United goalkeeper Andrew Dykstra to propel the Galaxy to  64th minute lead.
"I was the beneficiary of some good movement on the first goal, and an incredible ball by Sebastian (Lletget)" said Magee in the post game press conference. "My touch was just bad enough that the ball bounced up, and the rest was easy."
But Magic Mike was not finished. He tallied the Galaxy's final goal of the evening when he poked in a diving header off a Steven Gerrard set piece in the 87th minute. Again, Magee was humble.
"The second time I was just trying to get in the box, and the ball just hit me in the head," quipped Magee. "Stevie G played a perfect ball.  Not easy as far as I go, but my teammates made it look easy for me."
Magee also created the Galaxy's third goal of the night, when Ashley Cole found Magee charging hard in behind the United defense. With Magee in alone on goal, Dykstra had no choice but to come off his line and take Magee out. Referee Kevin Stott didn't hesitate and immediately pointed to the spot.
Galaxy captain Robbie Keane converted the ensuing penalty kick by beating Dykstra low and wide to open his account for the season.  Keane ran directly to Magee after the spot kick goal to share the love.
"We knew what he could do. He's a very calm finisher" said Keane when asked about the returning Magee. "He's going to be a huge addition to the squad, obviously. The first time around he was brilliant, and he's continued on from there tonight."
Keane continued "full credit to everybody though. It was a group performance. It's not easy going from a goal down, to come back with a convincing win."
The Galaxy drew even with United in the 55th minute when Galaxy II product Daniel Steres headed home a Mike Magee corner kick. It was Steres' first MLS start, and his first MLS goal. The goal followed a wild sequence in which the Galaxy generated several excellent opportunities but could not convert — first when Keane headed a shot off the crossbar, followed by Gyasi Zardes' header which forced a fingertip save from Dykstra.
The Galaxy's second-half dominance was not easy to see coming at halftime. The Galaxy looked ragged and out of sync in the first half, and while they out possessed the visitors in the first frame, it was the United that looked more composed.
Lamar Neagle scored the game opener when Steven Gerrard got sloppy with possession, and a deflected ball fell to the feet of Neagle, who found himself alone in on goal and beat Galaxy goalkeeper Dan Kennedy from the edge of the penalty area.
"I thought overall, there's a lot to build from this game with our group," said D.C. United head coach Ben Olsen in the post-game press conference. "It's disappointing, and it hurts to give up four goals, but there were a lot of chances out there for us."
Kennedy was injured on the play and was removed from the game about five minutes later, giving way to longtime backup Brian Rowe. Rowe responded with five excellent saves on the evening.
"It's something that you always have to be prepared for, but it usually never happens" said Rowe about his unexpected first-half sub on. "I think the biggest part, when you're coming into a game like that, when you're tying to get up to speed, is to get that first touch, first save, whatever your first interaction with the ball is, just making sure it's clean."
The Galaxy may have found their form in the second half, but they will still have questions to be answered, in particular, what to do with Giovani Dos Santos? It is clear that the offense clicked far better when Magee came on and Arena switched from an experimental 4-2-3-1 to his customary 4-4-2 formation.
"I think it's a good kind of win for us, that we had to kind of come from behind and dig a little bit," said Galaxy head coach Bruce Arena in the post-game press conference. "We have a lot of experienced players.  We dealt with some issues and overcame them. So overall I think it's a real good win for our team."
The Galaxy will travel next to Colorado to face the Rapids on Saturday.  D.C. United will stay on the road and play next in New England against the Revolution, also on Saturday.
Here are the highlights of the Galaxy's win: