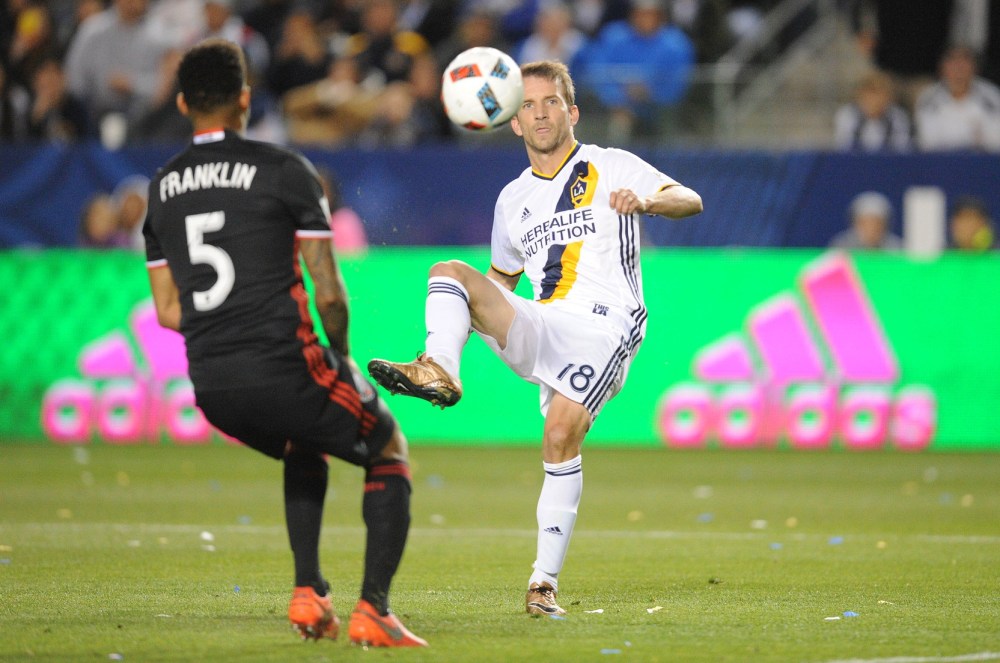 CARSON, California — Mike Magee had to agree, you couldn't write a better script for his return to LA. The Galaxy fan favorite entered the team's home opener at the half after Giovani Dos Santos was held out "for precautionary measures." When he left the field 45 minutes later, the Galaxy crowd, 25,000 strong, was chanting: "Magee, Magee, Magee is on fire!"
All Magee did was score two goals, assist on a third, and create the fourth when he broke in behind the D.C. United defense and was brought down in the area to force a penalty kick. Cue the music, swell the applause, bring down the curtain.
"It was a little bit surreal," Magee said. "I didn't know what to do when I scored. I literally haven't scored in years. It felt weird, and incredible. I'm still scrambling for words right now, so you can imagine what's been going through my mind."
When Magee was dealt to the Chicago Fire midway through the 2013 season for Robbie Rogers, a collective groan went up among Galaxy fans. Magee was in the middle of the best season of his career, having scored nine goals already for the defending MLS Cup champions.  In Chicago, he proved that first half was no fluke, that he was not simply a lucky guy on a great team. He would score 12 more goals in Chicago en route to winning the MLS MVP that season.
It wasn't just his goal scoring prowess that endeared him to the Galaxy faithful. It was that he found success on the pitch without the media attention – not to mention the large salary – other Galaxy stars routinely enjoyed.
Despite all the goals, Magee never was loved more than when, in 2011, on a brutally sunny day in San Jose, the Galaxy lost both their goalkeepers, the first, Donovan Ricketts, to a grisly broken arm, and the second, Josh Saunders, on a play that now lives in California Clasico lore. Galaxy nemesis Steven Lenhart, always the antagonist, poked a ball out of Saunder's hands from behind. Saunders retaliated and was sent off.
Up stepped the undersized hero. Magee, all 5-foot-7 of him, volunteered to play goalkeeper. He donned Saunder's sweaty gloves and an extra goalkeeper shirt that was at least two sizes two big. Looking every bit the AYSO kid, Magee made four saves, including stuffing Lenhart in a late game one-v-one matchup to preserve a shutout for the Galaxy in a 0-0 draw. Legend secured. Fade to black.
Magee, a Chicago native, always insisted he requested the trade to Chicago to be closer to his family, but he admitted his time with the Fire was a disappointment. After his stellar 2013 campaign, Magee suffered a series of injuries that kept him out of the lineup for most of the past two seasons. Chicago finished dead last in the MLS in 2015, and this past winter the team was gutted. Magee, once tabbed as the missing piece to bring a championship to the Windy City, was let go.
Amid multiple very high-profile signings this offseason, the Galaxy also quietly added a few missing pieces of their own. They brought in two players they knew quite well: veteran goalkeeper Dan Kennedy, who played at the StubHub Center for seven years with Chivas USA and Magee, who they hoped would once again add some creativity as a utility player in the attack.
The result tonight, while flawless in narrative, was not easily predicted. Even Galaxy head coach Bruce Arena had to smile.
"He didn't do a whole lot. We just had to stick him out there because Gio got hurt," Arena joked. "But in all seriousness … this is the reason we wanted to bring Mike back here. We think he's a great player, can score goals. I think he kicked it off pretty well tonight."
Despite his bravura performance tonight, there is no guarantee moving forward that Magee will be anything but an understudy. The Galaxy have a lot of very high-priced talent in the starting lineup, including Designated Players Robbie Keane, Steven Gerrard and Gio Dos Santos. And Gyasi Zardes, the Galaxy homegrown poster child and U.S. Men's National Team regular just signed a new long term contract as well. But Magee knows that even when the hero saves the day, the script doesn't always go the way you want.
"I came here with one goal in mind, to try to win games," Magee said in the post-game press conference. "I will keep pushing him (Arena) to start, no matter how fit or healthy I am. That's my goal. But I think Bruce has earned the right to dictate who plays where and when. I might argue with him, but I'll accept it."