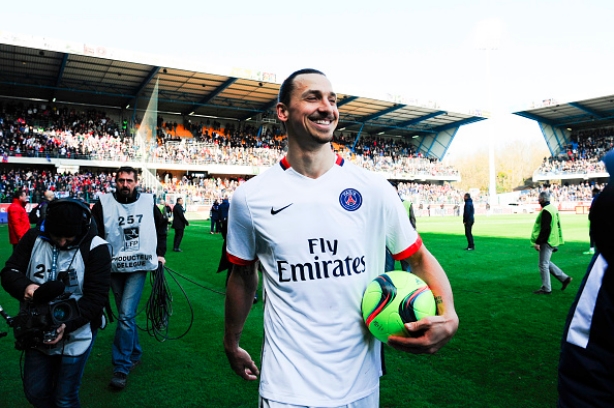 Paris Saint-Germain became the first club from Europe's top leagues to win the domestic title, doing so in impressive fashion.
PSG defeated Troyes, 9-0, at the Stade de l'Aube to claim its fourth consecutive Ligue 1 title. (REPORT)
Zlatan Ibrahimovic, who scored four goals in PSG's 9-0 win on Sunday, said he is not planning on staying at PSG next season, but he jokingly said: "If they replace the Eiffel Tower with a statue of me, I will stay at PSG." (REPORT)
Following his club's loss in the FA Cup quarterfinals to Watford, Arsenal head coach Arsene Wenger said the debate surrounding his position as manager with the club "is becoming a farce." (REPORT)
FIFA's Ethics Committee banned officials from the South African Football Association. (REPORT)
Yaya Toure trained with Manchester City ahead of the club's UEFA Champions League matchup on Tuesday. (REPORT)
WEEKEND REWIND
The Montreal Impact won their second game of the season after scoring three goals in the second half to top the New York Red Bulls, 3-0. (REPORT)
After officially joining Heart of Midlothian on Wednesday, Perry Kitchen made his Scottish Premiership debut on Saturday, helping the club earn a 1-0 victory against Dundee. (REPORT)
Sebastian Giovinco scored once and assisted once en route to helping Toronto FC tie New York City FC, 2-2, at Yankee Stadium. (REPORT)
American midfielder Russell Canouse, 20, earned his first minutes for German Bundesliga club Hoffenheim in its 1-0 win vs. Wolfsburg on Saturday. (REPORT)
Quincy Amarikwa's Goal of the Year contender saw the San Jose Earthquakes defeat reigning MLS Cup champions Portland Timbers, 2-1. (REPORT)
—
What do you think of PSG's title? Where do you think Ibrahimovic will play next season?
Share your thoughts below.